How to Convert Video into GIF on iPhone for Free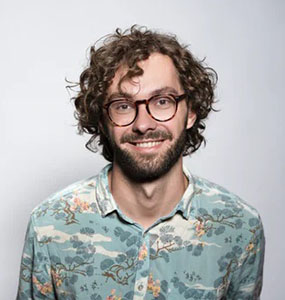 Currently, it's hard to deny that Apple's iPhone is the most popular smartphone brand. It's sleek, powerful, and has a wide range of interesting features. With an iPhone, you can enhance your social media profile with funny stories and memes on the move. For your social networking connections on the go, you don't have to download those overrated App Store apps that make GIF from video iPhone. So, we want you to have a look at these four efficient ways how to turn a video into a GIF on iPhone quickly.
Solution 1. Convert Video to GIF on iPhone with Shortcut
Shortcuts is pre-installed on iPhones and iPads running iOS 13/iPadOS 13 or above. It is necessary to reinstall Shortcuts, though, if you uninstalled it or if your device is running iOS 12. Now, let's have a look at how to make a GIF from video on iPhone:
1

Open the Shortcuts app on your iPhone or iPad by tapping the Shortcuts icon.

2

When you open the app for the first time, you'll be taken to the My Shortcuts section. To get started, click on the "Gallery" link at the bottom of the page.

3

The "Starter Shortcuts" banner may be seen right below the search bar in this area. Tap on this banner to locate the required installation shortcut.

4

Now, as shown in the screenshot below, scroll down and press the "Make GIF" shortcut.

5

Tap on "Add Shortcut" to complete the shortcut installation process and add it to your list of My Shortcuts.

6

To begin utilizing the "Make GIF" shortcut, return to the My Shortcuts section of the app and touch on it.

7

To use the shortcut, you'll need to grant access to the Photos app immediately. To proceed, press "OK."

8

Finally, you'll be able to see all of the videos in your Photos collection. Make a GIF from the video you've chosen.

9

You may now crop the video to only the part you wish to turn into a GIF using the sliders. tap on "Save" when you've selected your choice.

10

The GIF has been saved to your iPhone's Photos app. There will be a preview of your GIF in the Shortcuts app. To exit, use the "Done" option.
There you have it. Finally, you've produced an animated GIF from a video saved on your iPhone or iPad!
Pros
Easy and simple to use
No need to download any app
Fast and quick option
Solution 2. Make GIF from Video on iPhone with Photos App
You may easily convert a video to GIF on your iPhone using a variety of applications. Most of them, on the other hand, is overrated and provide functionality that can be found in the Photos app on an iPhone. As a result, we'll show how to make a video a GIF on iPhone in this section:
1

Launch the Photos app and look for the live photos you want to turn into a GIF once you've taken them. To find them, go to the Albums and then pick the Live Photos option under the Media Types.

2

Once you've done that, you'll be able to see the location of where you took the live photo and the effects you applied. You'll also be able to see a list of similar images.

3

Make your choice between the animations that Loop or Bounce.

4

In the Media Types section, you'll discover your new GIF picture. You are free to share it via social media, email, etc.
Pros
Effective and faster
Easy to use
Loop or bounce options
No need to download any app
Solution 3. Turn Video into GIF on iPhone using GIF Maker App
Video to GIF - GIF Maker  is a wonderful GIF-creation app that can be used on iPhones. Using your own images, you may create stunning moments for free. Also, GIFs may be edited with other elements such as stickers and music. It can help you with how to turn video into GIF iPhone.
GIFs may be shared on Instagram, Instagram Stories, Snapchat, Messenger, iMessage, and more after they've been created. Some features will only be accessible if you purchase Video to GIF - GIF Maker Premium.
Pros
Lovely user interface.
Feature-rich app.
Fast conversions and sharing.
Cons
The free version has some ads.
Not so beginner-friendly.
Solution 4. Convert Video to GIF on iPhone Online
In addition to converting through the above methods, you can also easily open online websites on your iPhone and import videos for conversion.
Alternatives to Mac-based video and GIF creators abound on the internet. Most online converters are free, but quality varies widely, and others don't even work. Consequently, you must be extremely careful when transferring your files to any website for conversion. The finest video to GIF converter is HitPaw Video to GIF Online.
Here are the amazing features of the HitPaw video to GIF online converter:
All Windows and Mac operating systems are supported.
Capable of creating GIFs from long videos.
All popular video file types are supported.
Preview can be used to trim the video to the proper size.
Users of any experience level can use it because of the user-friendly UI.
You have complete control over the video's starting and finishing points.
Let's take a look at how to make GIF from video iPhone using HitPaw Video to GIF Online
Step 01 Drag or drop the video to upload it.
Step 02 Choose the portion of the video you want to convert to GIF. Then, choose the suitable resolution and frame rate.
Step 03 Lastly, click Next and then select the quality to save the GIF to your device.
That's it. Isn't it simple? It was all about how to make a GIF from a video iPhone.
Bottom of Line
We have discussed the 4 solutions to help you convert video to GIF iPhone. Most of these solutions work, but we always recommend using the HitPaw Video to GIF Online. It is free and really simple to use. You don't have to download any third-party app to turn video into GIF iPhone.