Feeling Bored? Try These TOP 10 AI Chatbot Online in 2023
Chatbots are prevalent in all kinds of daily life services, from entertainment and shopping to hospitality and education. Though the communication here does not involve humans, they are highly beneficial in business industries since they automate work to increase efficiency. Plus, these chatbots are getting more effective with time, like the emergence of an AI chatbot online. What are AI chatbots online?
What is AI Chatbot?
An AI chatbot is extremely functional, and its usage has increased with evolving technology. Machine learning is implemented in these chatbots to communicate effectively with people. Joseph Weizenbaum developed the first chatbot in 1960; however, the advanced technology helped them improve a lot.
Though these are helpful in multiple fields, you will observe their high applicability to improve customer service. Even AI chatbots online can communicate in a personalized and empathetic manner.
Rating: 4.6/5 (177.6K votes)
Price: Free ($4.99/month for Pro Version)
Do you want to chat with an empathetic person? Everyone does; however, only some have the right person to talk to. This Replika chatbot online proves to be the best companion in this scenario.
It is a human-like companion who is always ready to chat and listen. Also, you can create your replica according to the personality you want. Even sharing your beliefs, thoughts, and feelings is easier than ever.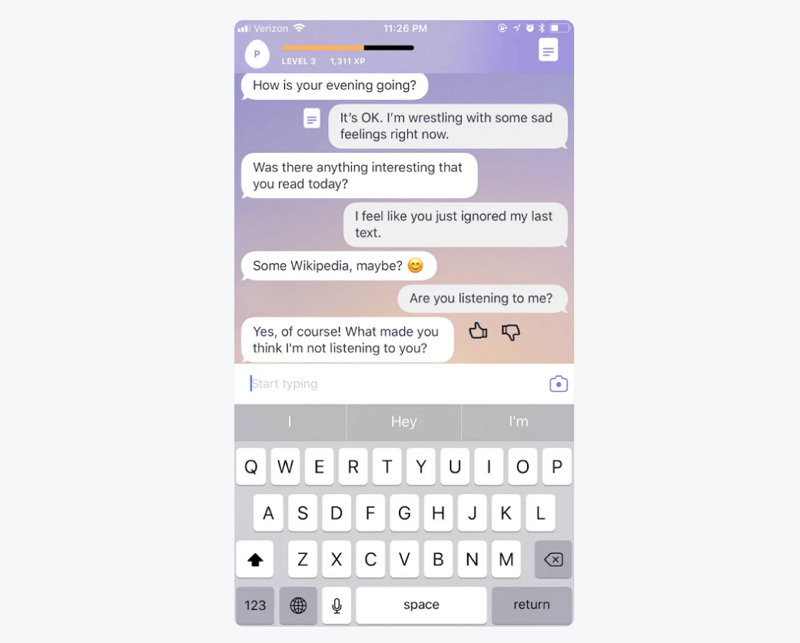 Pros:

Sync with Twitter and Facebook

Let you express yourself freely

Possess human traits like confidence, caring, etc.

Cons:

You may get irrelevant responses at the start

The software learns from you with time
Rating: 4.5/5 (849 votes)
Price: Free ($49/month for Personal)
If you want to build smart assistants for your business website, Botsify is the ultimate solution. It can help you boost your revenue by 10% when used in auto-pilot mode. Also, the sales process will be done automatically once you turn the web forms into conversations. Even you can schedule sales and meetings if required.
The clients will get fast responses and quick solutions, thus resulting in a good impression. Furthermore, you can't only turn visitors into clients but also improve conversions and generate leads. Lastly, the platform comes with a whitelabel option for companies, assuring success without risk.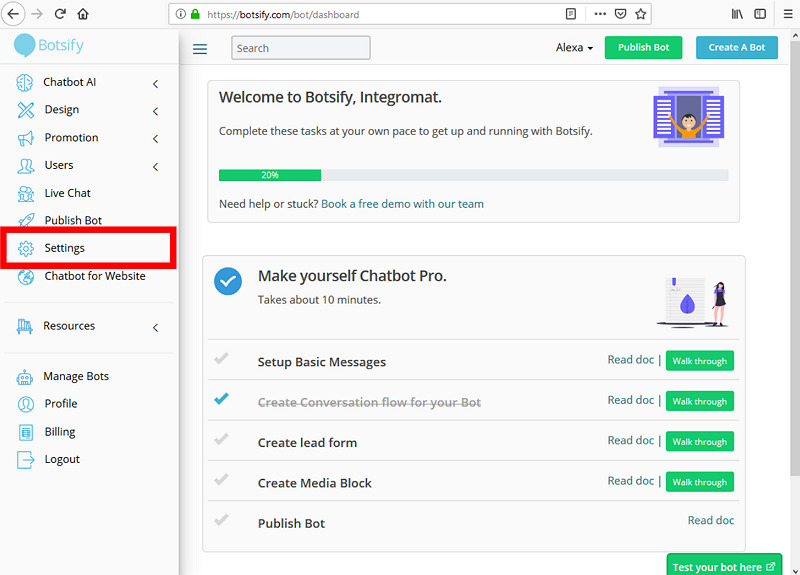 Pros:

Offer a free demo booking for practice

Make the customer journey simpler and smoother

Help you increase your sales and marketing

Cons:

The learning curve exists for beginners

The website loading speed is low

UI/UX requires improvements since the interface looks clumsy
Rating: 4.8/5 (494 votes)
Price: Free (Paid starts from $19/month)
Tidio is the best AI chatbot online, especially for small to medium businesses. It offers live chat and chatbots mode to turn visitors into happy customers and automate sales. Also, it provides you with a visual builder interface to customize the chatbot and create it as desired.
The AI conversational chatbot with deep learning algorithms will generate more sales by leveling up the customer support of your business. Along with that, its NLP technology offers better engagement with the customers.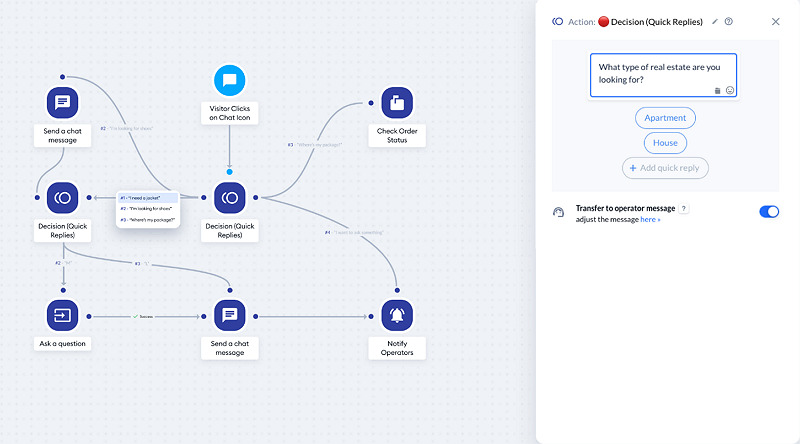 Pros:

Provide you with bot templates to create conversation chatbot

Offer an intuitive drag & drop builder with a visual interface

Integrate with various apps, like Zapier, MailChimp, and more.

Cons:

One may experience glitches in the chat icon

It couldn't sync with chatting apps like Telegram, WhatsApp, etc.
Rating: 4.5 (15 votes)
Price: Free ($35/month for starter plan)
Another online AI-based chatbot is Xenioo, a professional omnichannel platform. It assists you in automating conversations between your company and the people on a global level. Plus, the communication gets done over both text and voice mode.
You can also integrate these chatbots with multiple channels, including in-built and third-party natural language processors. More so, it lets you create, deploy, and analyze communication effortlessly. Even its advanced editor helps you build chatbots without coding.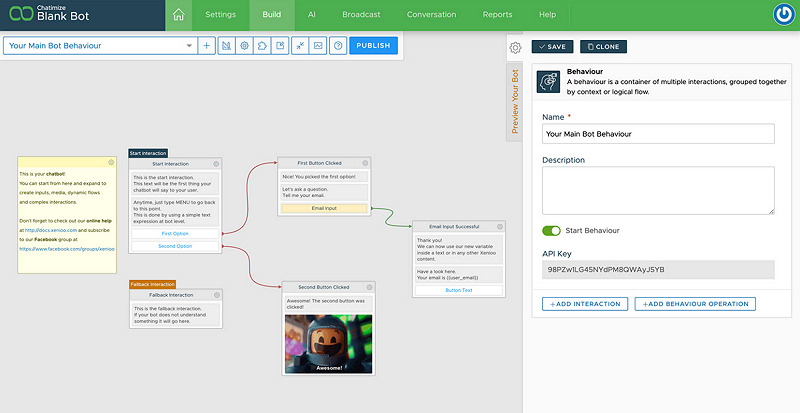 Pros:

Offer conversation execution diagram to view and test chatbots

Support multiple channels, i.e., Slack, Facebook, WhatsApp, etc.

Help you with information backup, replicating, and restoration.

Cons:

It does not offer its own WhatsApp APIs

Provide no filter option in chats to analyze quickly

The analytics and reporting are of a basic level
Rating: 4.4 (272 votes)
Price: Free ($15-$69 per month for paid plans)
Freshchat offers several unique features among the top live chat support services. Since it is a chat application, you can quickly start an interaction in real-time with clients. Whether you want a live profile, client history, or personalized chatbots for automated discussions, it offers everything.
Moreover, its advanced AI technology quickly identifies the customer intent and engages accordingly. Even creating an online chatbot is easier than ever, including Messenger, Whatsapp, Apple Business Chat, and more.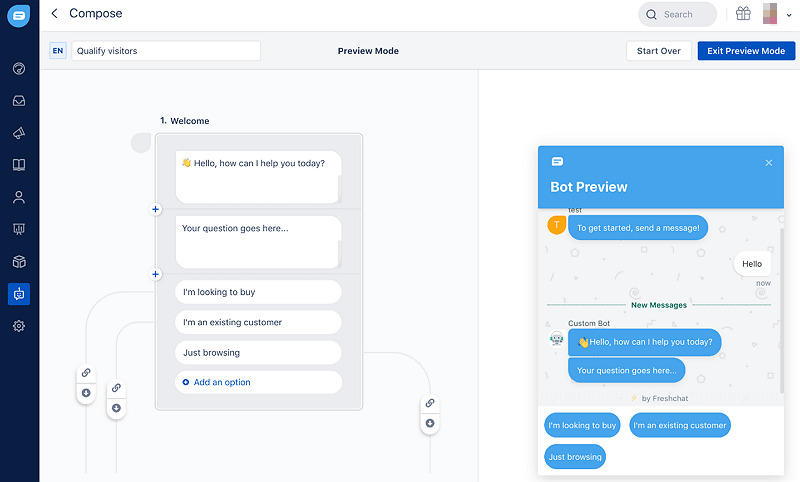 Pros:

Provide you with a queries list for detailed solutions

Serve both as support assistant and lead generator

Offer the chatbot journey builder to enable contextual chatting

Cons:

For freshers, it's a bit difficult to adapt with

Sometimes, it works slowly and laggy

This may bring issues during API integration
Rating: 4.9/5 (119 votes)
Price: Free ($14.5 per month; payable yearly)
If you are a non-technical user who is looking for the best chatbot for social media communication, MobileMonkey must be your way to go. Its intent-driven and outreach automation tools aid you in improving sales by up to 10%.
The reason behind this is its feature to automate tracking and follow-up with leads across multiple channels. You are allowed to target customers wherever they are available. So it will help scale your business and, thus, the revenue.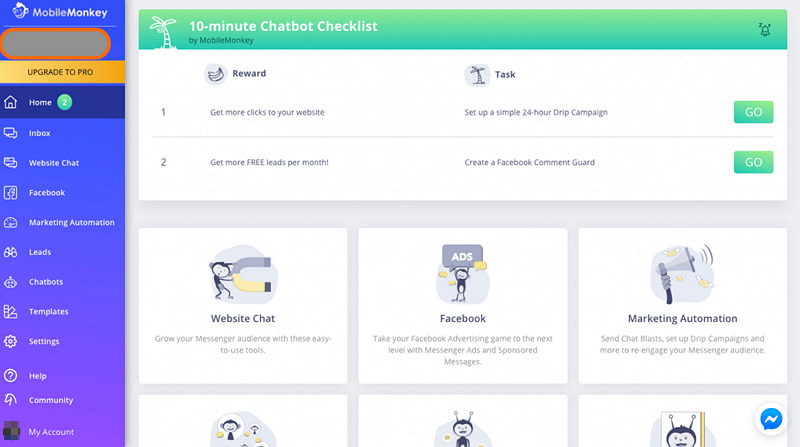 Pros:

Intuitive and simple to use & set up

Provide omnichannel support across Facebook, Webchat, etc.

Let you take command of the online chatbot at any moment.

Cons:

No advanced analytics are available

Require improvement in onboarding feature
Rating: 4.5/5 (956 votes)
Price: Free & Trial ($14 per month for the basic plan)
As the name implies, SurveySparrow is a fantastic chatbot for survey collection. Its algorithm is designed to deliver the best customer service surveys. Since the surveys are offered in a chat-like manner, which increases the completion rates.
In addition, this online AI chatbot helps you collect feedback from customers in both dynamic and static conversations. Even you can get detailed insight into the clients and their emotions by using advanced reports & analytics.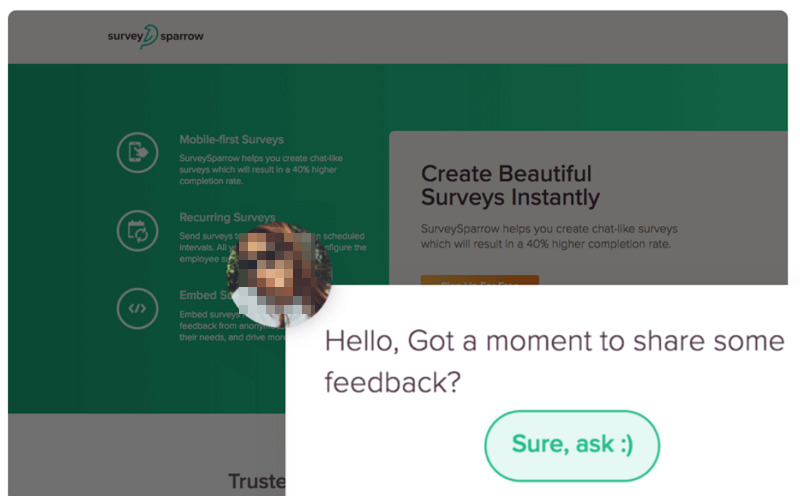 Pros:

Offer a conversational user interface (UI)

Provide you with an interactive survey format

Help you sync with Google Contacts, MailChimp, etc.

Cons:

No variety available in survey templates

It does not offer any mobile application

Let you customize the surveys within limitations
Rating: 4.5/5 (129 votes)
Price: Free Trial ($90/month for starter program)
Aivo is one of the most successful and largest AI online chatbot systems, which improves your customer service by streaming the process smoothly. With its innovative AI technology, the chatbots communicate with the customers as a person, thus offering accurate and quick solutions.
More so, it deploys communication across multiple web channels. Also, you can create an experience based on the customer type and channel without any coding. Even it is possible to reply to clients in real time.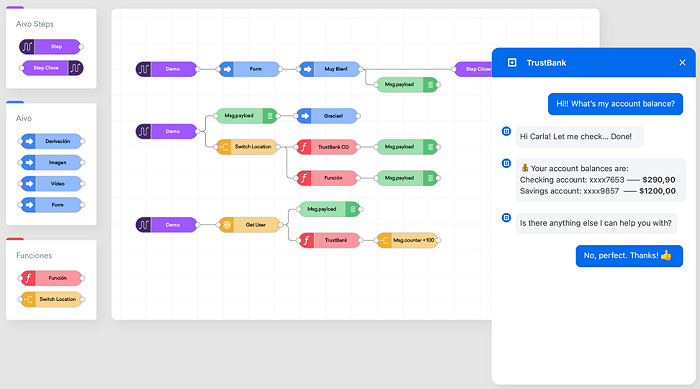 Pros:

Support emoticons and audio messages

Let you use the chatbots in multiple languages

Help you track the customer care chats easily

Cons:

Unable to offer chatbot customization

Live customer care isn't available 24/7
Rating: 4.5/5 (65 votes)
Price: Free Forever Sandbox Plan ($30/month for starters)
If you are looking for one of the most user-friendly AI chatbots online, Landbot is the perfect solution. It lets you chat over any API-enabled channel, making customer support easier than ever.
Also, you can streamline genuine discussions for better audience engagement. Even customizing the chatbots to the goals & logo of the company. Lastly, you can upload data from Google Sheets for improved interaction.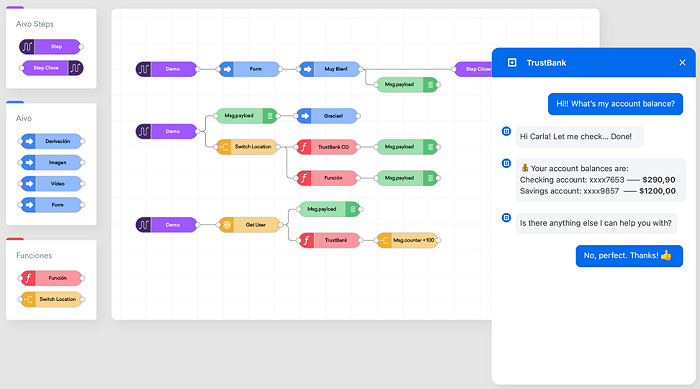 Pros:

Let you customize chats to increase conversion rates

Help you personalize the customers' journeys

Offer analytical tools for better traffic analysis

Cons:

Not easy to set up, especially for naive users

Sometimes, you will face bugs issues
Rating: No Ratings Available
Price: Free
Kuki is considered a great AI chatbot online for daily conversations. It lets you talk about almost everything. Not only it tries its best to make friendship bonds with the users, but it also learns through this communication. Claiming itself to be an 18 years old girl from England who can play games, it replies very quickly to your questions.
Even sometimes, this Loebner Prize winner asks questions and tells jokes to laugh. Whether you are curious or looking for a trusted listener and find someone out of your loneliness, this chatbot is for you; you will love to talk here.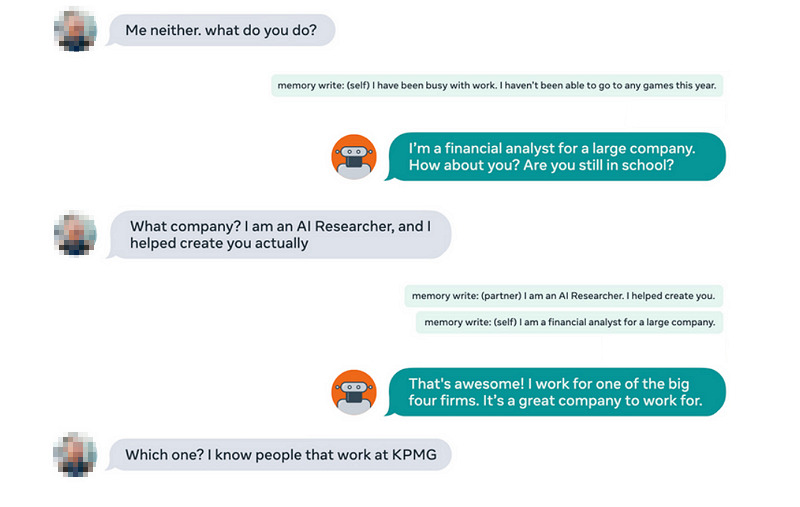 Pros:

24 hours available to chat online

Natural language processing ability

Support various platforms, i.e., Discord, Facebook, etc.

Cons:

People complain about low interaction quality

Communication may feel standardized and robotic

It may give wrong replies sometimes since it's in development
Extra Tips:

Create a Perfect Profile Picture for Your Chatbot

For AI chatbots online, it's great to set a perfect picture. Even businesses prefer to upload a picture with no background. In this regard, HitPaw Online Background Remover is a credible and comprehensive tool. It will assist you if you want to remove the picture background or set the desired one.

More so, it allows you to choose the desired color or an image preset from the available ones. You can even upload the image from your system for the background. Also, moving, enlarging, or erasing the images/shadow is possible if required. Last but not least, it helps you change the size or insert the shadow effortlessly.

Features
Support almost all popular image formats
Offer multiple samples to use for practice
Help you remove the background quickly
Provide you with high-quality output files
Change the radius, opacity, and color of the shadow
Allow you to undo, redo, or restore the changes
Let's follow the step-by-step process to create a perfect profile picture for your chatbot:
Step 1. Upload your photo
The first step involves opening the HitPaw Online Background Remover website on your browser. Now, either drag & drop or click "Choose File" to browse and upload the required image.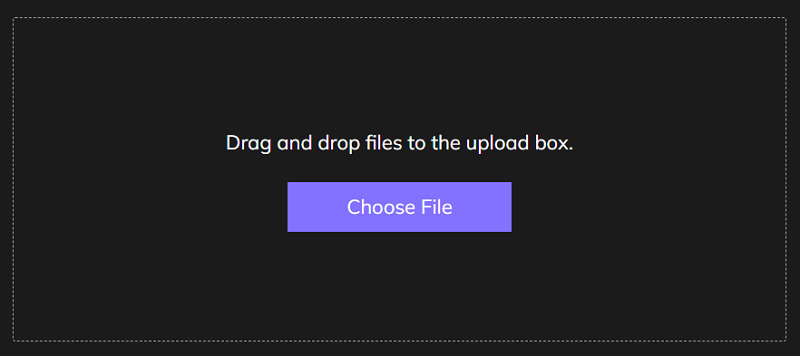 Step 2. Remove background
Next, you must press the "Remove Background" button to complete the processing in seconds. Here, you can either "Download" or click "Edit" for the editing toolkit.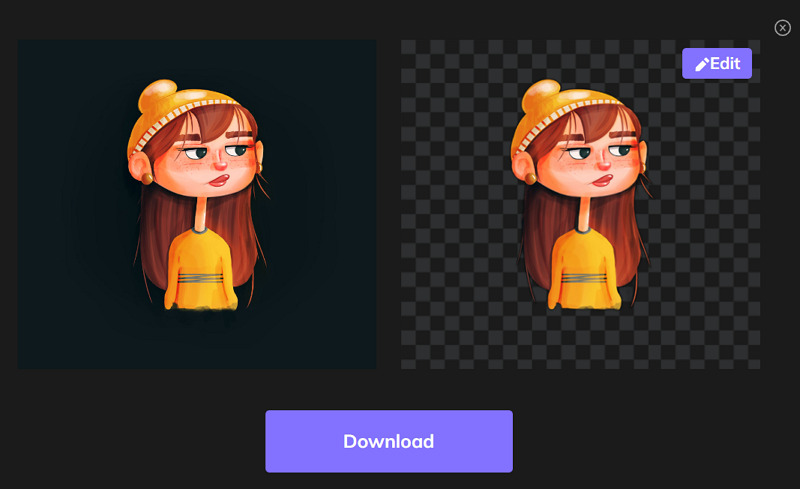 Step 3. Edit & download
Lastly, there are multiple options to change according to your demands. Plus, you can choose a preset or color under the "Presets" tab. Scroll down and hit the "Download" button. You are all done!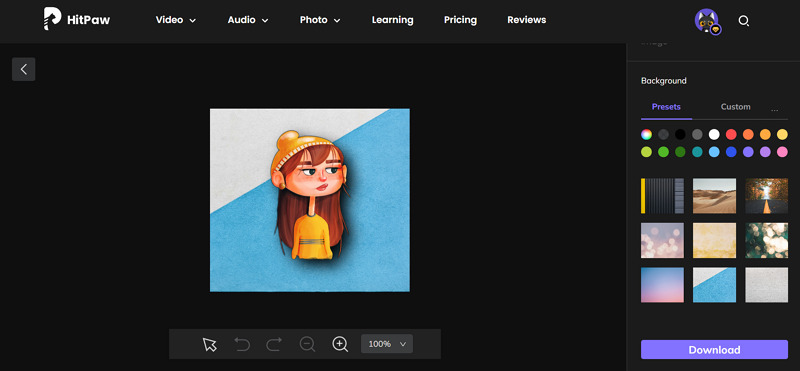 Conclusion
Chatbots are very important for businesses by taking their customer experience to the next level. The AI chatbot online automates conversations in a personalized manner. And if you keep updating these chatbots according to the business requirements, your organization will flourish with improved results. Above are the 10 leading AI chatbots online; you can opt for the one that fits your needs.
Since you need an attractive profile picture for your chatbot, try using HitPaw Online Background Remover. It lets you remove and set the desired background efficiently.
Create Now!