Top 5 Quandale Dingle Text to Speech AI Voice Generators
People started to admire the Quandale Dingle meme after it got viral on the internet. While you can now find tons of Quandale Dingle memes, opting for the Quandale Dingle AI Voice after writing the text prompt seems to be an option for many users.
To generate the brilliant Quandale Dingles voice, you'll need to go for an appropriate Quandale Dingle voice generator. The good thing about this article is that it will reveal the 5 mind-blowing Quandale Dingle Voice generators for you.
Part 1: Top 3 AI Quandale Dingle Text-to-Speech Generator
Playing the Quandale Dingles voice meme becomes simple courtesy of the below-mentioned text-to-speech generator.
Uberduck.ai
If you ask for one Quandale Dingle voice text-to-speech tool that can help you play the voice meme in excellent sound quality, it won't be other than Uberduck.AI. It is an excellent tool that empowers you to generate the top-notch Quandale Dingle voice by only typing the text. Besides offering the Quandale Dingle voice TTS, Uberduck.AI also comes up with more AI voices.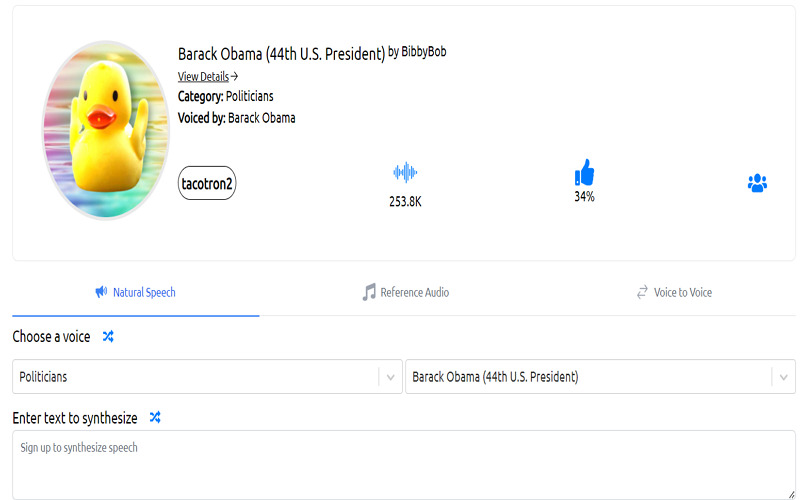 Features
Comes up with the simple user interface
Generates the Quandale Dingle voice automatically courtesy of the AI-powered technology
Free to use
Offers the multiple AI voices of various celebrities
FakeYou.com
FakeYou.com is another amazing Quandale Dingle voice generator text-to-speech tool that offers a simple user interface and allows you to produce mind-blowing Quandale Dingle voice memes.
Generating the AI voices through FakeYou.com is pretty simple, as all you need to do is visit the official website of FakeYou.com to put things in order.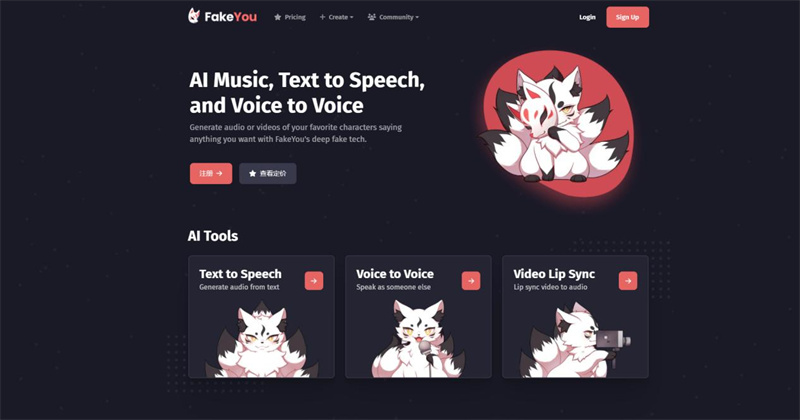 Features
Comes up with multiple AI voices
Generate the speech through a speech.
Offers the AI-powered technology
Easy to use
101 Soundboards
You have indeed heard about the 101 Soundboards, as it is a remarkable text-to-speech tool enabling you to access hundreds of celebrities' voice memes. The sound quality Quandale Dingle voice generator comes up with is exemplary, allowing you to produce the Duandale Dingle voice in a few clicks.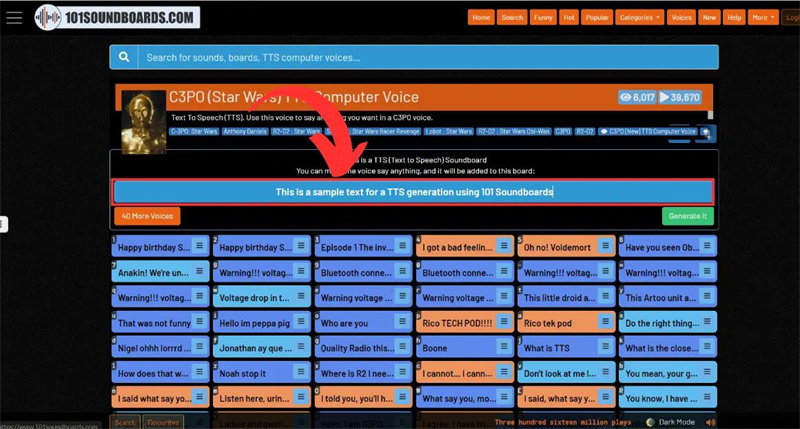 Features
Offers a wide variety of AI voice effects
Comes up with the simple user interface
No installation is needed
Offers the reliable sound quality
Download the generated Duandale Dingles voice easily
Part 2: Best 2 AI Quandale Dingle Voice Changer
Apart from using the AI Quandale text-to-speech generators, you can also access the mind-blowing Quandale Dingles voice through voice-changing tools. Three of the most reliable voice changers are listed below.
Voicemod
Another Quandale Dingle voice AI changer that allows you to turn your voice into someone else's voice is Voicemod. You can use this great Quandale Dingle voice generator to generate the Quandale Dingle voice in real-time while playing online games or conversing with friends.
Since Voicemod is an AI-powered voice changer, it automatically produces all voice filters or sound effects. Like MagicMic, Voicemod also offers a simple user interface, enables you to record live audio, and offers audio customization features.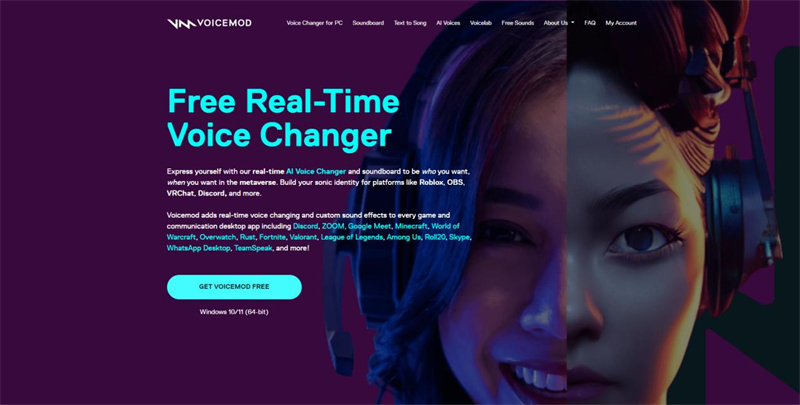 Features
It is a brilliant real-time voice changer
Offers hundreds of voice effects
100% safe
Offers the simple user interface
Download the Quandale Dingle voice in a few clicks
Tends to get updated every week
Voice AI
You can try out several voice-changing generators to produce the Quandale Dingle voice, and Voice AI is surely one of the most prominent ones. With offering AI-powered features, the best thing about Voice AI is that it doesn't ask you to install any software.
Instead, only visiting the official website of Voice AI will assist you in generating the mesmerizing Duandale Dingles voice. It allows you to import the desired audio to the main interface of Voice AI and then apply the remarkable voice-changing filters.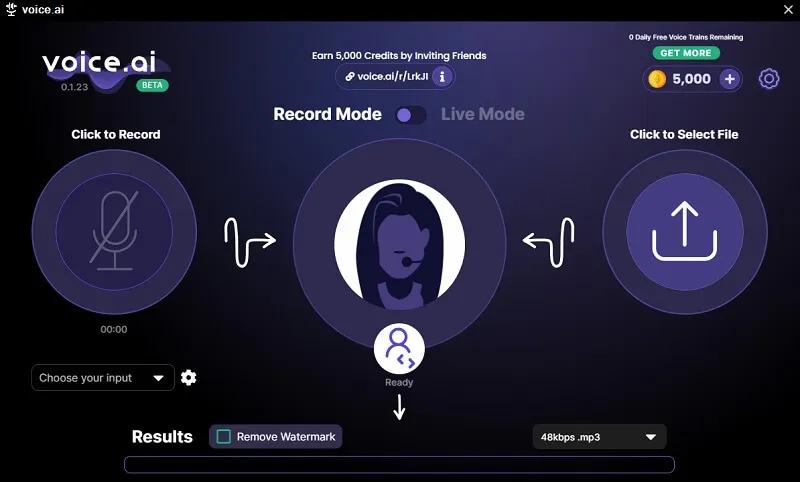 Features
Supports Voice cloning
Generate the voice-overs automatically
Allows you to apply the Duandale Dingle voice filter in real time
Offers the simple user interface
 Part 3: FAQs About Quandale Dingle AI Voice
Q1. Who voices quandale dingle?
A1. Duandale Dingle AI voice remains a fictional voice as there is no specific character associated with the voice meme or Quandale Dingle.
Q2. What is the Quandale Dingle Meme?
A2. Duandale Dingle meme got an unbelievable response on the internet. If you talk about its origin, you'll be surprised after learning that Quandale Dingle was a football player in high school. His image became famous, and people started creating memes about Quandale Dingle voice.
Q3. How to do Quandale Dingle voice for meme sound?
A3. You can access the Quandale Dingle Voice by acquiring the services of text-to-speech generators and voice-changing tools we've listed in this guide. Opting for MagicMic or FakeYou.com will be a good option to generate the Duandale Dingles voice.
Part 4: How to Add the Generated Quandale Dingle Voice to Video?
You'd have wondered at some point whether you can add the generated Quandale Dingles voice to your video. The emergence of HitPaw Add Audio to Video Online has opened up various options for you. Now, you can add audio to your video without affecting the audio quality and video courtesy of the HitPaw Add Audio to Video Online.
Features
Supports all the operating systems
Offers the effortless user interface
Supports multiple audio formats
Blesses you with the in-built media player
Take a screenshot during a playback
How to add Quandale Dingle voice to video via HitPaw Online?
1.Visit the official website of HitPaw Add Audio to Video Online and hit the ''Add Music to Video Now'' icon. Import the video file you'd like to add them into by pressing the ''Choose File'' icon.

Add Voice Now!

2.Click on the Add icon in the right side column, and doing so will appear various options for you. Next, select the audio part by hitting the '' Trim Audio'' icon.

3.After setting the starting point of your audio, hit the '' Save'' option to download the videos.
Final Words
Finding the best Quandale Dingle voice changer might take much effort, but this guide has made it easier. By offering the 5 stunning Quandale Dingle voice text-to-speech generators, we've made sure you don't have to roam about to get the Quandale Dingles voice.
You can also opt for the HitPaw Add Audio to Video Online to add AI-generated audio voices to your video.
Add Voice Now!