5 Best AI Voice Generator President in 2023
Keeping in view the latest trend of generating president voices like Joe Biden, everyone is trying their best to stay in. But don't worry; creating high-quality voices that sound like humans is not challenging with advanced AI technology. Even you can customize them to use for virtual assistance, videos, and audiobooks.
The AI voice generators offer realistic voiceovers using deep learning algorithms. However, this happens by exploring the extensive voices database of the presidents, such as Joe Biden, Barack Obama, Donald Trump, Bill Clinton, etc. Hence, let's try out the top 5 cutting-edge solutions!
Part 1: Top 5 AI President Voice Generator
Since exploring a ton of president AI voice generators is time-consuming, below is a compiled list of the 5 best tools to facilitate you!
Uberduck AI is an easy-to-use online tool that helps you create desired voiceovers for free, including presidents voices. Using deep machine learning technology, Uberduck lets you generate voices that replicate the accent, pitch, speech pattern and other features of a specific president voice. So the resulting voices will seem to be the sound of actual presidents.
With its set of 5000+ expressive voices, you can easily bring out the best vocals. Its Text-to-Speech feature enables you to choose not only the voice but also the output file format. Even it is in your control to enter the text that needs to be synthesized.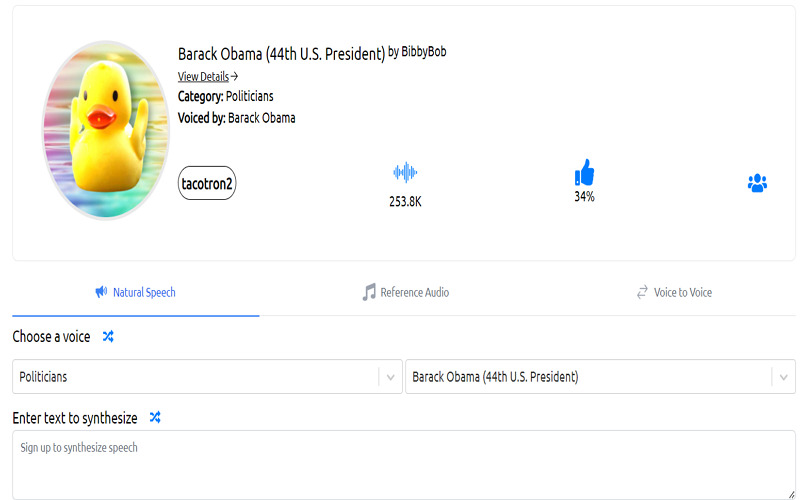 Whether you are a gamer, streamer, or one who wants to add fun to their Discord, Skype, and Zoom calls, Voice AI is for you. It is a real-time voice changer for desktop users, bringing out the best voice filters and the highest-quality audio effects to alter your speech as desired. With a combination of AI technology and deep learning algorithms, you can use this software as the president AI voice generator.
Creating naturalistic vocals from already generated AI voices while streaming is its most unique feature. Besides using its speech-to-speech functionality, you can also go for its text-to-speech feature if required.
Are you looking for an AI-powered voiceover generator capable of converting your text to speech? If yes, Typecast must be your way to go. It provides you with 300+ voices and a comprehensive list of characters to create engaging video content. The amazing thing is that it offers the president AI voices, including Joe Biden's voiceover.
Along with that, choosing the speech style, tone, pace, intonation, tempo, and pauses is not a hassle. You can also add the desired images, captions, backgrounds, and more. Last but not least, it lets you download the audio or video in the desired output format.
For Android and iPhone users, Celebrity Voice Changer is a perfect app. It facilitates you in turning your speech into a celebrity voice, i.e., Barack Obama, Donald Trump, etc. Even if any of them is not available, you can request it, and the support will surely add it sooner or later. So creating the president AI voice with the ease of your phone is possible.
You can add multiple filters and effects to give your voiceover a realistic touch. In addition, its voice cloning and changing algorithms help you perform the task in a snap. Even its intuitive interface makes this app easy to use and quick to master. To conclude, you can achieve the highest voice detection and transformation accuracy.
Murf.AI is an exceptional AI voice generator with a wide range of AI voices in 20+ languages and 120+ accents. Once this tool is paired with a presidents AI voice generator, you can generate voiceovers for political videos, debates, speeches, etc. Ultimately, you will get lifelike voiceovers in studio quality.
Moreover, it helps you effortlessly choose the Gender and age group of your vocals. Even the adjustment of the category, pitch, speed, and pauses are also in your control with the voice changer. Though you can use this tool in all ways, it cannot download the generated audio without making a purchase.
Part 2: FAQs About AI President Voice Generator
In addition to the explanation above, below are some commonly asked questions regarding the president AI voices generator for a better understanding:
Q1. What is a President AI Voice Generator?
A1. A president AI voice generator is a software or a tool that works over artificial algorithms to create a natural human-like voice of a specific president, especially the U.S. Using the database of presidents voices, it assists you in creating and customizing the required sounds.
Q2. How to do president AI voice?
A2. An extensive range of president AI voice generators are available with which you can create the voice of the desired president. It depends on you to choose the one that suits your requirements. Some top ones include Uberduck.ai, Typecast, Murf.ai, Voice.ai, Celebrity Voice Changer, etc.
Q3. What is the AI that sounds like Trump?
A3. Voice.ai is a platform that works over AI, helping you create the voices like Trump. Trumped.com, Celebrity Voice Changer, Voicemod, and multiple other tools also exist with which you can generate realistic sounds of famous voices.
Part 3: How to Add Generated President Voice to Video
After generating the president AI voices, it's time to use an efficient tool for adding this voice to your video. Since people prefer online tools for rapid functioning, HitPaw Add Audio to Video Online is the ultimate solution. It helps you effortlessly complete the task without compromising the video quality. Along with an intuitive interface, the processing is completely safe and secure.
You can listen to the audio for quick trimming functioning. So not only selecting the voice part is in your control, but also setting the video timing at which you want to add this audio. In addition, you are allowed to change the audio and video volume as per your choices. Even previewing the output video is possible to ensure the desired results.
Key Features:
Work on all devices, irrespective of the system
Offer a sample video to practice beforehand
Support almost all popular audio formats
Let you play your audio while trimming
Provide you with an in-built media player
Help you take a screenshot during playback
How to add the generated presidents AI voice to a video:
1.Head to official website of HitPaw Add Audio to Video Online.

Add Voice Now!

2.After opening the tool's website on your browser, click the "Add Music to Video Now" button for the main interface. Now, tap "Choose File," browse, and upload the required video.

3.From the right-side column, press the "Add Audio" tab or drag and drop the generated president AI voice. Once the audio is uploaded, you will see various options. Click the "Trim Audio" button to select the audio part.

4.Next, you need to set the starting point for the generated voice. Also, choose the audio and video volume. Once done, you can hit the "Save" tab, and that is all!
Final Thought
The presidents AI voice generator helps you change your voice and turns them into the sound of famous leaders & politicians. So the above guide provides you with 5 superb methods on how to make a president AI voice. You can pick up the tool that suits your needs and customize the voice as desired.
In addition, give HitPaw Add Audio to Video Online tool a try. It assists you in effortlessly adding your generated AI president voice to the required video. You will surely get excellent results.
Add Voice Now!