FakeYou Review: Features, Price and Best Alternatives in 2023
Always wanted to try text-to-speech or voice-to-voice, and experience a different voice journey? But don't want to be exposed to too many advertisements or cumbersome operation steps? Why not think about fakeyou text to speech? But you don't know for sure whether it's worth paying attention to? I promise that after reading this article, you will find that it's a wonderland where you will get the satisfactory results. 
Part 1: Fakeyou's Features and Price
Fakeyou is a text to speech wonderland where all of your dreams come true.
There're mainly three AI tools for you to explore: text to speech, voice to voice and video Lip Sync.
Through all the tools, you can easily convert your text or voice into your favorite character's voice, doesn't it sound appealing? Let's go on to get more information!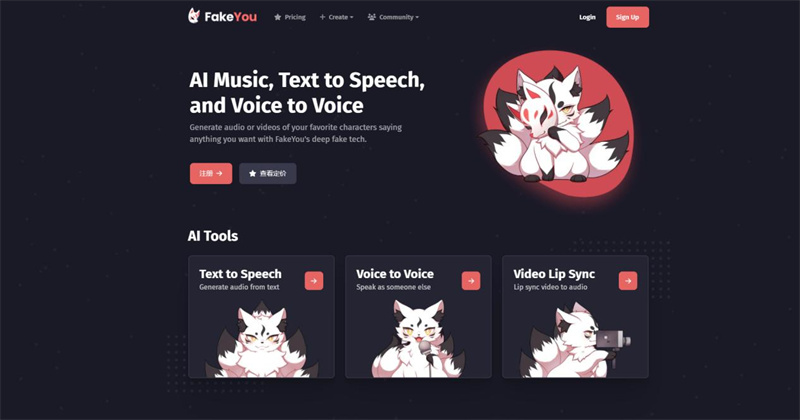 Key Features:
The AI technology behind it makes it easy to use. 
AI provides you with realistic Fake You text to speech.
Each regular update improves voice over quality.
There are up to 2,400 quality voices in our library.
Edit and save in popular formats for later use.
Price: not free
Usually only one text-to-speech tool cannot meet your diversified needs. You want to know more products. Fortunately, you can have other options when performing text-to-speech or other operations. Now let's take a look at what other TTS tools are available!
Part 2: The 5 Best Fakeyou Alternatives in 2023
While ChatGpt is a great tool for copywriting, it's not as good as those tools that specialize in AI-generated tweets so many years. Most of the AI tweet generators I recommend below are free trials in the early stage. Of course, when you encounter a suitable tool, you can choose to pay for it! After all, they can greatly help improve your efficiency. So, walk through the list to pick your favourite ai tweets generator!
Fliki:
With Fliki, you can convert text into voice and video using artificial intelligence. Using artificial intelligence and machine learning, it produces high-quality audio that sounds as close as possible to human speech.
You can select from over 800 voices, each with a demo, to help you create your content. Fliki supports over 75 languages and 100 dialects, making it an affordable solution for audio and video content creation.
If you need to create voiceovers, host a podcast, create an audiobook, or generate a video based on text, Fliki can help.
Key Features:
Transform blog articles into videos
75+ languages with 1000+ accents
Ultra realistic voice cloning
Rich stock media library
In-built translations
Background music
Text to video capabilities
Price:
Not free but cost-effective.
Speechify:
Speechify is a tool that makes listening a better way to read,actually, it's main functions can be explained in three ways. The first one is to boost your understanding and focus, and it can remember more of what you read. The second is to breeze through your content 2-3x faster than it takes to read it, which equals to saving your time. At last but not least, it will take your reading wherever you go- to the gym, the park, or the couch, so amazing!
Key Features:
Listen at any speed
Listen on desktop or mobile devices
Natural-sounding human voices
Listen at any page
Price:
Yes, it is. Speechify's text to speech tools increases productivity, lets you rest your eyes, and makes reading much easier. You can get it for free in only a few steps. Download and install the service on any device anytime for free. Set the speed, choose a language, and you're ready to go.
Murf.ai:
Although there are some similarities between Murf and FakeYou, especially when it comes to their user-friendly interface, voice cloning services, and multi-lingual capabilities, as a saying goes, every coin has two sides, there are a few reasons why Murf is better than FakeYou. Let's take a detailed look.
Key Functions:
Voice cloning
Text to speech
Voice over video
Voice changer
Price:
Of course, there is a free vision, but if you like it very much, you can also consider its basic and pro vision for more uses.
Lovo.ai:
LOVO AI is a technology for all, whether they are content creators, businesses, educators, entrepreneurs, etc. It offers real-sounding human voices through AI and claims to have the world's most extensive voice library. It is worth a try!
Key features:
It has an intuitive, feature-packed UI, allowing you to create videos too from scratch.
It has a community of 500,000+ creators for support.
You can create content in 100+ languages using Lovo AI.
Price:
It's free for getting started, you know that.
Typecast:
Typecast allows us to create contents due to it provides a natural, human-like voice. And you can choose one voice that you want to apply within 300 kinds choices without screen recording needed.
Key Features:
It's easy and simple to use.
300+ Typecast voice overs to help you turn text to sound
Saving you time and the hassle of production costs
Making videos with AI generated virtual avatars
No screen recording needed
No post-production editing required
The perfect web-based platform
Price:
It's free for getting started but not for all plans..
Part 3: FAQs About Fakeyou
After reading the above introduction, I think you may be confused about fakeyou with some misunderstandings, the following provides you with some common questions and answers, I hope to help you solve doubts! One more word, if you need to improve video quality, have a look at the article will help a lot.
Q1. Is fakeyou free?
Not free.So it is recommended that after reading the above information, you choose which one is best for you, then here comes the answer that whether you should pay for it.
Q2. How to fix the fakeyou not working problem?
Here are some steps to help you handle the problems.
Reload your web browser.
Open the website in incognito mode.
Remove any unwanted extensions.
Check the internet connection.
Q3. Is fakeyou.com safe to use?
FakeYou.com is entirely safe for use as it's used by thousands of users daily who support and fund the web-based tool. So, if you want to explore its more functions, you can have a try to purchase it. What's more, if you want to know more about voice changer, you can read the article: 5 Best Alternatives of Clownfish Voice Changer in 2023.
Extra Tip: How to Enhance an AI Generated Video?
If you have got a video and you find that there are many problems, such as: unclear faces, too much noise, or you can't transform it into your favorite cartoon character image, or you can't colorize a black and white video. And these problems prevent you from having a good text-to-speech or other experience in fakeyou.ai, then you need the help of HitPaw Online Video Enhancer. It can help you solve all these problems, and you can try HitPaw Online Video Enhancer for free beforehand to check the results, and then dare to create your own!
Features:
Support previewing part of the video to see the effects
4 different AI models to meet all your needs
Colorize the old video and bring memory back
Animate what you want and give them vigor
Steps:
First, launch the HitPaw Online AI Video Enhancer.

Enhance Now!
Second, you can try the examples that HitPaw Online AI Video Enhancer has presented at the sample area, or just handle the video that you have problem with.
Then, choose the effect that you desire for. And click the "preview" to see the result, then just wait for moments.
At last, you can choose the resolution and format that you prefer. Then, click the "Download" to have the enhanced video.
Final Thought
When you understand and get the access to fakeyou.com and how to use it, you will have achieved a better experience in converting between text and audio. You can imitate the voice of your favorite anime character or other interesting attempts, in the process, if you need video enhancement, welcome to use HitPaw Online AI Video Enhancer, it will help you have a better experience in your sound journey, all the best!
Enhance Now!