6 Best Billie Eilish Generator (AI Art & AI Voice)
Succeeding the music industry, Billie Eilish's voice is also gaining popularity in the AI globe. So if you don't want to miss this trend, let's consider the top 6 Billie Eilish AI art generators to consider!
No doubt, the voice of Billie Eilish is considered notable in the music industry because of her unique style and charming voice. But over time, it has also become a sensation in the world of artificial intelligence. With AI advancements, you can effortlessly generate the Billie Eilish AI art and voice as desired. However, an efficient tool is necessary to perform this task.
Do you also want to create Billie Eilish AI art pictures? If yes, this write-up covers the 3 leading methods, along with the three best Billie Eilish voice generators. So without any further ado, let's dig out the details!
Part 1: Who Is Billie Eilish and Why Is Billie Eilish So Popular
Billie Eilish is an American songwriter, singer, and musician who earned worldwide attention with her first debut single, "Ocean Eyes." She has gained much popularity since 2015 and is counted among one of the most praised artists of her generation. After her brought up in a musician's family, she started to write & sing her own songs at an early age.
She won a lot of rewards, such as the Grammy Awards, and is an acclaimed singer due to her distinctive voice and remarkable style with truthful, thoughtful, and emotional lyrics. Also, she is capable of addressing sensitive topics.
By combining alternative & electronic music and elements of pop with bright hair colors, voluminous clothes, and striking accessories, she gives you an excellent piece of music. Read the details if you are also interested in generating Billie Eilish AI art or hot pictures!
Part 2: Best 3 Billie Eilish AI Art Generator
In case you like the Billie Eilish character and want to create its AI art photo, you are at the right place. So let's explore the top 3 Billie Eilish AI art generators!
1. HitPaw 4AiPaw Online
If you are looking for the most innovative Billie Eilish generator for AI art, HitPaw 4AiPaw Online is the ultimate solution. It lets you create the desired artwork with its trained algorithms on the web, iPhone, and Android. Even you can use its Chrome extension for easy accessibility. It comes up with a lucky dice feature that helps you generate the AI prompts automatically. Even you are allowed to enter the text prompt manually.
Furthermore, choosing the desired art style and artist is in your control. You can effortlessly adjust the output size and size. So the processing is simple, and you can finish the task in just a few clicks. Even you can preview the output image before downloading or sharing.
Offer a clean and intuitive interface
Ensure completely safe and secure processing
Provide you with a wide range of artists & styles
Keep a record of output art pieces for up to three days
Let you join the Discord community of artwork gallery
Here is a brief tutorial on how to use HitPaw 4AiPaw Online as the Billie Eilish AI art generator:
Step 1 : Firstly, open the tool's website in your browser. Now, tap the "Start Creating" button to get the main interface. Now, it's time to either write your own prompt by entering Billie Eilish AI art. However, you can press the dice icon to generate a prompt itself.

Generate Now!

Step 2 : The second step involves choosing the "Style" and "Artist" for the output art. You have to click the menu button next to each category and select the best one. Later, extend the "Generate" drop-down menu, and opt for the desired size and saturation level.

Step 3 : Once done, hit the "Generate" tab and wait for a while. Now, you can hover your mouse over the art to "Download" or "Share" the output.
Add Voice Now!
Hotpot AI Art Generator
URL : https://hotpot.ai/art-generator
Platform : Online
HotPot AI Art Generator works perfectly to give your imagination a life. It helps you create artistic pieces, images, and illustrations. You can either enter your creative text or generate ideas using AI in the given box. Even it lets you select the art style from the available set or the custom one.
In addition, turning on the Vary option provides different results each time with the same prompt. Lastly, you can choose the number of the output up to 500.
Offer simple and quick image processing
Let you use paid image creations commercially
Provide good quality artwork as the output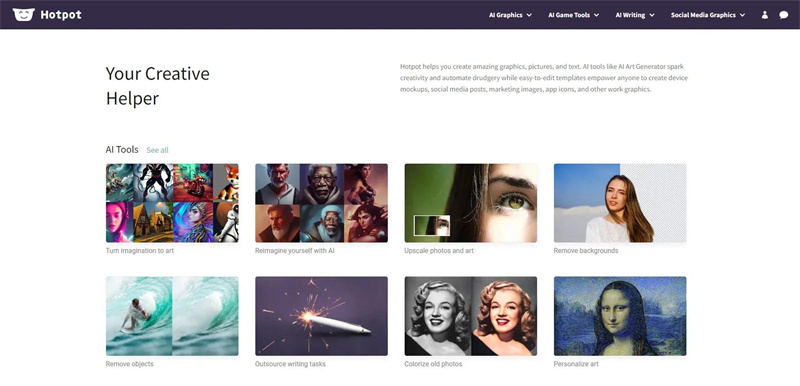 3. NightCafe
URL : https://creator.nightcafe.studio/
Platform : Online, Android, iOS, Desktop
If you want to generate stunning AI artwork in a snap, NightCafe is the ultimate solution. It provides various AI algorithms for your creation, including Stable Diffusion, Dall-E2, Coherent, Artistic, and Style Transfer. You can effortlessly turn your photos into art using its neural style transfer.
The selection of the art style is also in your hands, i.e., Striking, Color Painting, Anime v2, Vibrant, and many more. Even you can edit, download, delete, share, or publish the design with others.
Help you create artwork from scratch
Change the aspect ratio in advanced settings
Let you share the output to Reddit, Twitter, etc.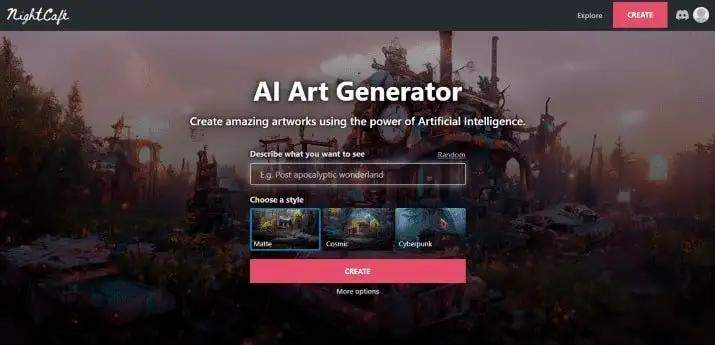 Part 3: Best 3 Billie Eilish AI Voice Generator
Besides generating AI Billie Eilish art pieces, some people have an interest in her unique voice & style. So below are the 3 best Billie Eilish AI voice generators!
1. ElevenLabs
URL : https://beta.elevenlabs.io/speech-synthesis
Platform : Online
ElevenLabs is a fantastic software that uses deep learning technology to generate natural and engaging voices for videos, podcasts, and stories. Its text-to-speech and voice cloning feature helps you generate a Billie Eilish AI voice from scratch, your voice, or the one for which you have permission.
Even you can adjust the voice settings, such as stability, clarity, and similarity enhancement. Lastly, it is possible to choose various aspects, including gender, age, accent, accent strength, etc.
Offer user-friendly interface with easy navigation
Provide you with a lot of voices without a royalty fee
Let you customize Billie Eilish's voice as desir
Come up with affordable APIs for app developers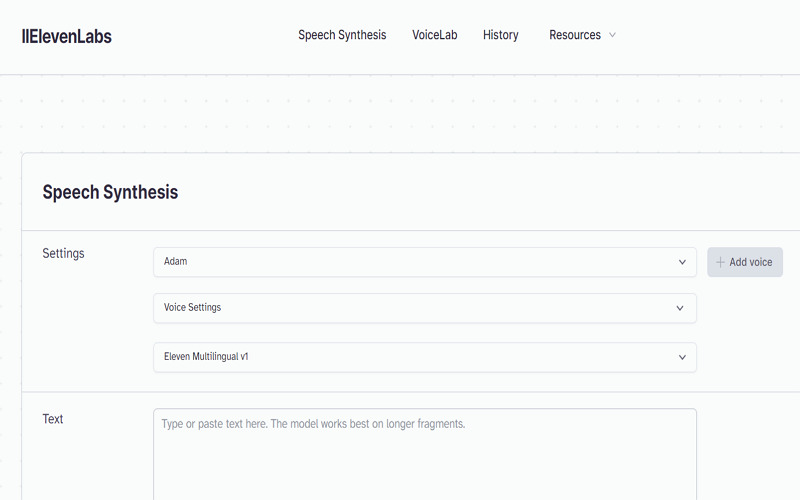 2. Parodist - Celeb Voice Pranks
URL : https://apps.apple.com/us/app/parodist-celeb-voice-pranks/id1489706295
Platform : Android and iOS
If you want to create personalized audio that closely resembles celebrity voices to amaze friends & family members, the Parodist app is a perfect choice. It offers more than 20 lifelike celebrity voices and 100+ voice cards in a free plan. So you can opt for the desired voice or voice card with the text prompt to create a customized message.
Using deep fake algorithms, this Billie Eilish AI voice & art generator also helps you make personalized jokes and videos to your liking.
Come up with an easy and intuitive interface
Offer no limitations in the free trial version
Compatible with the TikTok platform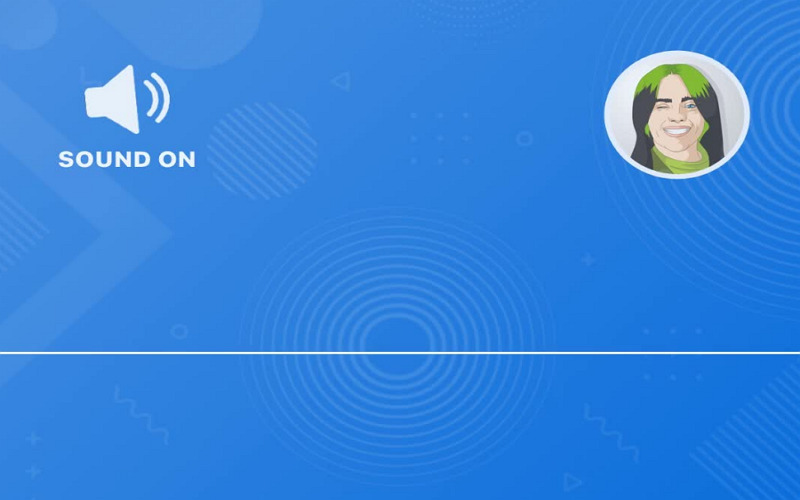 3. VoiceMod
URL : https://www.voicemod.net/
Platform : Windows
VoiceMod is a well-known Billie Eilish AI voice generator that can be used in live streams or recordings. It helps you change your voice in real time by applying desired filters from the available set. You can also apply the background effects to enhance your voice-changing experience.
Moreover, it is possible to keybind the chosen voices to access them easily anytime. After processing, you will achieve a high-quality and clear Billie Eilish voice.
Compatible with popular programs and games
Offer a wide variety of voice effects and filters
Provide regular updates for a better user experience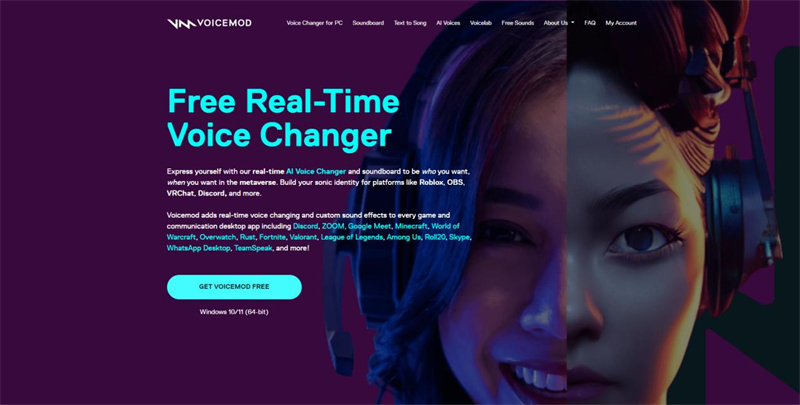 Final Thought
To conclude, all the methods of creating AI art and the voice of Billie Eilish have been explained above. Though each is safe and secure, you should check out all tools and opt for one that suits your needs.
However, HitPaw 4AiPaw Online is the most recommended Billie Eilish generator for AI art. It lets you generate the artwork professionally and quickly without any prior knowledge. Its deep fake technology helps you complete this task with a few simple clicks.
Generate Now!