Top Megamind Peaking Meme Generator Online in 2023
With the Megamind reboot series, Megamind peeking meme has risen to new heights across different social media websites. To join this trend, everyone wants to create their own memes, which is easily possible using an efficient Megamind peeking meme generator. In this write-up, you will learn about the various leading Megamind meme generators online, along with the templates for free!
Part 1: What Is Megamind Meme?
Megamind is a character in an animated movie (2010) with the same name. However, the memes of this movie & character got popular in 2022. Though different Megamind memes exist, the most liked one is an alien looking confused. It is used to show satire and patronizing with a funny phrase. The phrase can be from an animated movie or any other.
Besides, you can see the character battling with arch-nemesis. Also, it gets easier to create your own free Megamind meme via excellent Megamind meme generators online. For example, Megamind looks puzzled by the written phrase, "No Money? Like Always?"
Part 2: 3 Best Megamind Meme Generators Online
In case you want to create your own Megamind meme, Megamind meme maker can facilitate you. Since an efficient tool offers the best results, here are some best Megamind meme generators online to try!
Imgflip
Imgflip is the best and fastest working Megamind meme generator, where you only have to insert many text boxes into your memes or pictures. You can't only draw anything like shapes but also add images and other elements. Even text adjustment is possible, such as color, size, alignment, opacity, etc. Simply, you can customize each aspect of your meme in the desired manner.
Besides Megamind peeking meme maker, it provides multiple unique image templates. Also, you can either resize the images per your requirements or maintain their resolution for higher quality. The processing involves meme template selection, customization, creation, and sharing on social apps.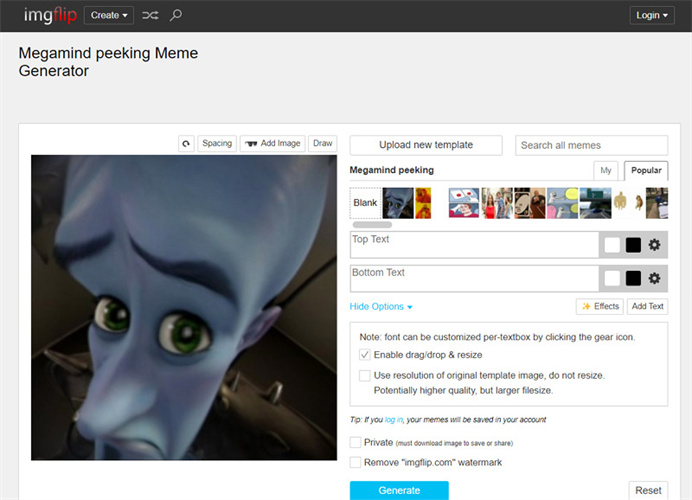 Meme-arsenal
Meme Arsenal is a fantastic Megamind meme maker with an intuitive interface. It proves to be an incredible tool for experienced meme creators and beginners due to an extensive library of Megamind images & templates. Even uploading your desired image is possible, allowing you to create memes according to your experiences.
It features a lot of editing options allowing you to add text, adjust the placement and size of text boxes, and change fonts to create polished and professional memes. Moreover, it offers various filters, color adjustments, and effects. You can also share your memes on social media platforms like Facebook, Instagram, etc. You can even download the memes for offline usage.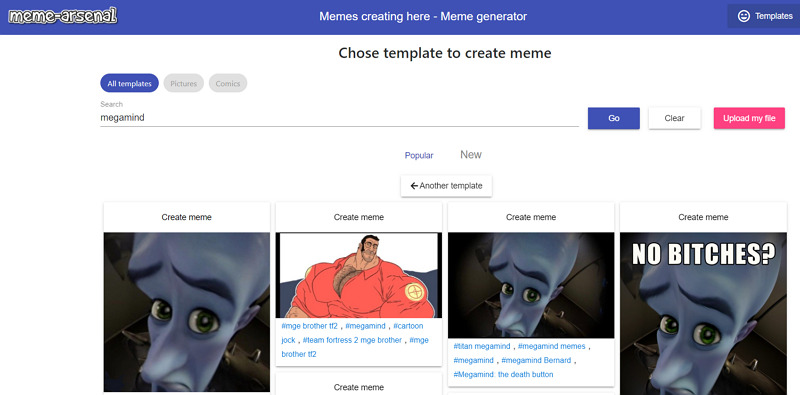 Kapwing
Kapwing is the most reliable Megamind meme maker known for its user-friendly platform for creating and editing memes. This online tool offers a variety of features and options to create high-quality memes in a few minutes. You can even upload your desired images or use Megamind meme templates, add text, use filters and effects, and create a perfect meme.
Kapwing allows you to create GIFs from videos and add audio to your memes. Its various tools can help you trim, resize videos and add captions to them. Hence, this is a fantastic tool for creating and editing engaging memes due to its user-friendly interface and a vast library of templates.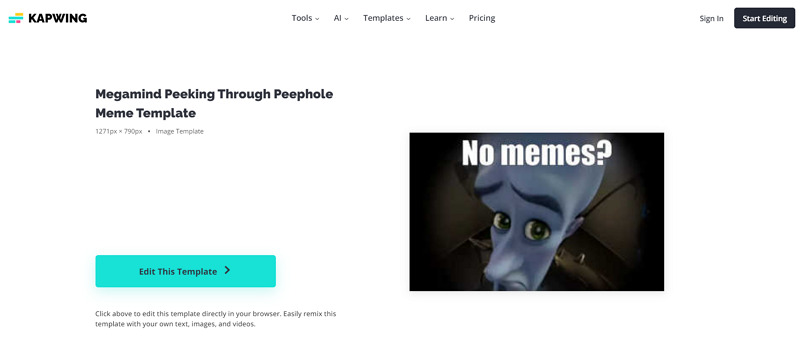 Part 3: Best Free Megamind Meme Templates
Are you looking for a free Megamind meme template to have inspiration for unique memes? If yes, below are some best ones for free to consider!
Megamind Meme Face
The Megamind face meme has become the most recognizable free Megamind meme template online. It perfectly depicts the mischievous nature of internet culture through its calculating gaze and sly smirk. It features an image of the titular character having narrowed eyes and a devious smile from "Megamind." It stands out because of its iconic expressions and versatility.
Also, it is a go-to choice for anyone looking to add humor to their content, whether to poke fun at a political figure or celebrity or in everyday situations. With its endless uses for creating humorous content, it has become ubiquitous across social networking sites. You can find the Megamind meme face template for free on Imgflip, which can be customized per your needs.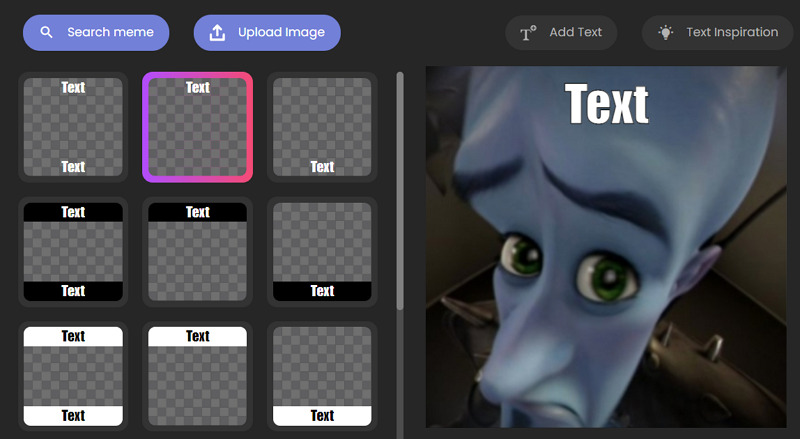 Megamind Meme No Text
The free Megamind meme blank template features a supervillain with neutral expressions and no text added to the image. Its flexibility and simplicity allow you to create relatable and humorous memes. One of its strengths is that this Megamind meme no-text template can convey various moods and emotions. It can adapt to your needs whether you want to portray confusion, disappointment, resignation, or any other emotion. The neutral expressions provide a vast canvas to add your desired text.
In addition, this template is also a go-to choice for meme makers looking to create culturally relevant content to make sure it resonates with the audience. Lastly, you can get Megamind images from stock image websites like MemeTemplates.org.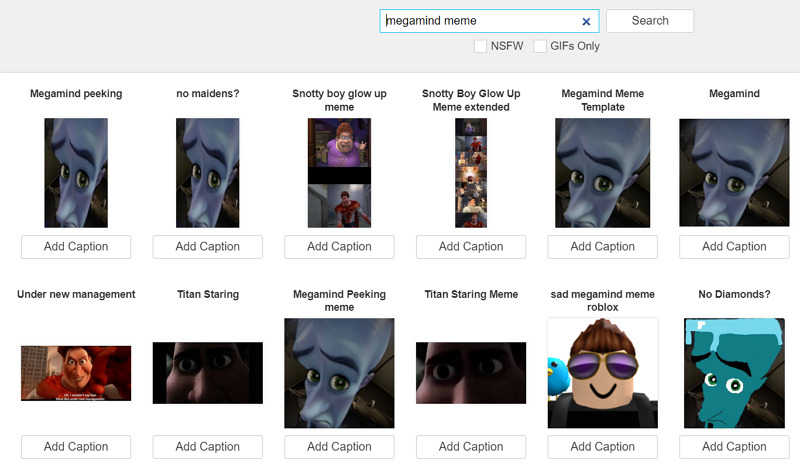 Sad Megamind Meme
The sad Megamind meme template features a melancholic character and has become popular on the internet to express disappointment, ennui, or sadness. It can be used to convey the disappointment of failing at something, missing someone, or the sadness of being alone. The meme creators can quickly speak to their experiences by filling in the text to give their interpretation of the character's emotions.
The sad Megamind meme template is known for its relatability and humorously expressing emotions. You can find a free sad Megamind meme template on meme-generating tools and websites like Meme Arsenal, Imgflip, etc.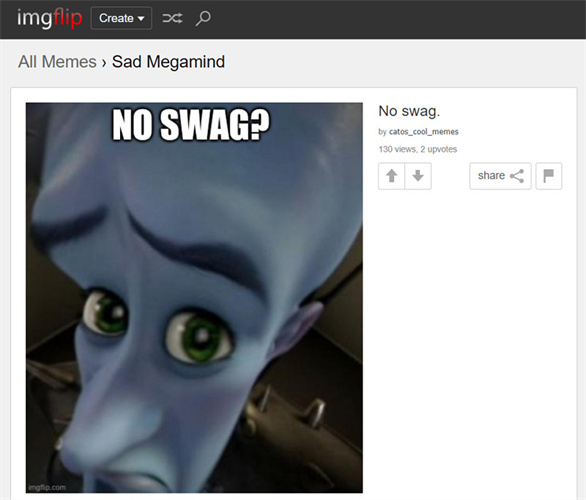 Extra Tip: How to Remove Text from Megamind Meme
If you want a Megamind meme with no text, HitPaw Online Image Watermark Remover must be your way to go. The reason for removing text from Megamind is to either use the Megamind character picture to create a unique meme or to express your emotions only with the photo. You can erase a watermark from your photos quickly and as desired since this tool supports different photo formats, i.e., JPG, PNG, JPEG, and WEBP.
Besides, it helps you edit them later in a snap. Even the processing will be straightforward and lossless, resulting in the best output. Last but not least, you can compare the results with the original image if required.
Pros
Remove logos, objects, text, etc., from your pictures
Help you erase the watermarks in only three steps
Allow you to zoom in/out and adjust the image position
Undo and redo the changes you made while editing
Let you compare the original and processed picture
Provide you with sample images to practice earlier
Here are the steps to remove text from Megamind memes using HitPaw Online Image Watermark Remover:
1.The first step involves opening the tool website on your browser and tapping the "Remove Now" button for the main interface.

Create Now!

2.Here, you have to click "Choose Image" to upload Megamind looking meme or pick up a sample image for processing. Later, you have to adjust the "Brush Size" using the slider. Finally, cover the watermark area from Megamind and hit the "Remove" button.

3.Once the watermark gets removed, the "Download" button appears. Click it and download your Megamind meme photo with no text. That's all!
Final Thought
This article suggests the top solutions to generate Megamind meme. You can opt for any Megamind meme generator based on your needs. Plus, you can perform the task more efficiently with a free Megamind template using three suggested tools.
In contrast, if you want to remove the phrase or text from the Megamind meme, HitPaw Online Image Watermark Remover is the best. It does not only offer editing features but also ensures lossless processing!
Create Now!