Best 5 Curved Text Generators in 2023
Curved or circular text helps you enhance the overall content, but people often think that only Adobe Photoshop is worthy enough to be used for this purpose. However, there are multiple other curved text generators to complete your task with ease.
What Is a Curved Text Generator?
As the name implies, a curved text generator assists you in creating circular or curved text, which is a top favorite for numerous people. It lets you make this text stylish according to your demands. But remember that the curved text can either amplify your message to the target audience or disrupt the overall content cohesiveness. Hence, opting for the right tool holds great importance.
Though Adobe Photoshop can also help you accomplish this function, it isn't easy to use, especially for beginners. So it's better to try other ways to generate curved text efficiently.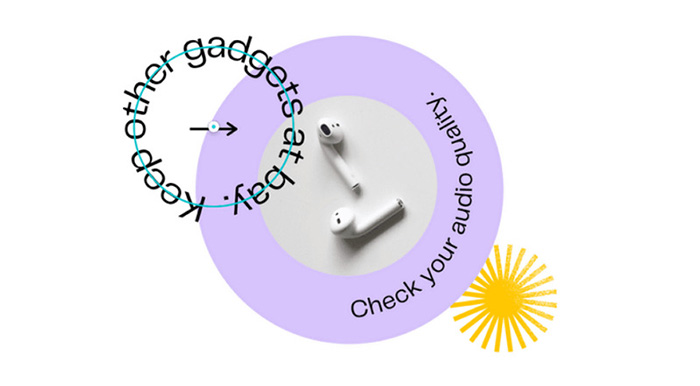 Hot Picks:

Best 5 Curved Text Generators in 2023

After exploring a wide range of tools, here are the reviews of the 5 leading curved text generators to use in 2023. Let's check one by one to decide which one to use!

Platform: Online

MockoFun is a fantastic tool to help you generate curved text in a professional manner. Also, you can effortlessly create circular logos and badges. It provides you with an extensive range of text, background, and image templates, including both free & paid.

Even you can choose its sizes for your social media posts, like YouTube, Instagram, Business Card, etc. Furthermore, speed and efficiency are what make this tool noteworthy. You will get the output in a couple of seconds after processing.
Step 1. After opening the website and signing up, select a template or a size for your post design under the "New" category.

Step 2. Once decided, expand the "Text" section and choose the desired template, such as the "Curved Text" template. Also, select the text and enter whatever you want.

Step 3. Lastly, you can customize it using "Properties" like shadow, alignment, etc. Tap the "Save" button from the left-side column and download the required way.
Pros
Let you import images from your system
Offer a lot of tutorials to facilitate beginners
Hold the trust of numerous graphic designers
Cons
Provide limited functionality in the free version
The user interface requires some redesigning
Platform: Online
Picsart is one of the famous photo editing tools that not only aid you in styling the text but also the photos. It offers complete customization flexibility to do advanced editing in various aspects. So generating curved or circular text is not a problem anymore.
Besides text bending, choosing the blend modes, using stoke, or inserting a shadow is possible. Adding photos, elements, text animations, and styles is also in your control. Even you can upscale the image and select the output format while exporting.
Step 1. Open the website and click "Upload" to import the image on which you want the curved text.

Step 2. You need to select the font style and type your text. Next, pick up the "Bend" tool from the menu bar over the image.

Step 3. After that, click the "Export" button from the top-right corner of the interface to download the design.
Pros
Provide you with an AI writer feature
Offer quick and high-quality processing
Support output sharing on the Picsart community
Cons
Let you export only after account creation
Leave you with a watermark on everything in free mode
Platform: Online, Windows, Mac, iOS, Android
Another excellent photo-processing tool is Canva which also allows you to generate curved text easily. Besides providing multiple text styles, it lets you use the curve-shaped text and control its bending percentage. Also, you will get an extensive library of font designs with this curved text editor.
In addition, you can animate and change the transparency of your text. Even adding audio, photos, and elements is possible, along with changing the backgrounds. Lastly, you can share the editable design link with others.
Step 1. Open the tool website on your browser and tap "Start Using Curved Text on Canva." Now, pick any template to get the functional interface.

Step 2. Here, you have to open the "Text" section to opt for the required text style. Enter your text and tap the "Effects" tab from the top menu.

Step 3. Next, scroll down and choose "Curve" under the "Shape" section. Adjust it per your needs and click "Share" to easily save the generated curved text.
Pros
Offer a clean, simple, and user-friendly interface
Allow you to import audio, videos, and images
Support Google Photos, Drive, and social apps
Cons
Provide a limited free version
It holds all the intellectual property
Platform: Online
Troytube is an easy-to-use curved text generator that requires no technical or graphic designing skills. It can be counted among the leading tools for creating fantastic curve text in a few steps. After writing text and choosing font style & size, you can avail of various options to adjust your text.
These include setting the squeeze, arch, placement, and letter spacing. Even the canvas size can be selected according to your demands. Last but not least, it gives you the option to email yourself.
Step 1. From the main interface of the tool website, tap the "Enter Text" button to write the text that needs to be in a curved style.

Step 2. Now, click "Select Font" to choose the font and its size. Plus, you have to adjust the text and pick the canvas size from the right side.

Step 3. Finally, you have various options to save it. You can either download it or send it as an email to yourself. That's all!
Pros
Let you use a range of text editing tips
Offer complete flexibility to customize fonts
Provide simple and efficient results
Cons
The interface is not up to date
It does not work correctly sometimes
Platform: Online
The last one on the list of curved text generators is Free Monogram Maker. Whether you want to make a customized logo or generate stylish curve text is a decent choice. You are allowed to choose a text path or design to proceed. However, the different circle types can also be inserted later.
Adding multiple texts in a single canvas, along with uploading images, is in your control. Even you can import photos from the system, Facebook, Instagram, etc. Lastly, you can preview the design before downloading, sharing, or printing.
Step 1. Open the tool on your browser and select an option under the "Select Path" section. Type your text, choose impact, and set the font size under "Edit Text."

Step 2. After that, it's time to select a frame from the "Add a Circle" section. Also, you can add an image or edit initials if required.

Step 3. Once done with everything, it lets you print, save, or share the generated curve text. You are all done!
Pros
Support Pixabay for royalty-free images
Offer PDF, SVG, JPG, and PNG as output formats
Let you adjust the spacing, size, curvature, and more
Cons
Limited text styles are available
Lack the advanced functionalities
Bonus:

Remove Watermark from Photo Easily with One Click

Besides using a curved text generator, you may need to erase the watermark from your photos. In such situations, HitPaw Image Watermark Remover comes handy. It not only allows you to remove the watermark but also the objects and logos from your image. You can quickly upload and process the files in a few clicks. Also, the output quality won't be affected while processing. Moreover, some sample images are available to use beforehand for practice. Even it offers the option of checking the original image if required.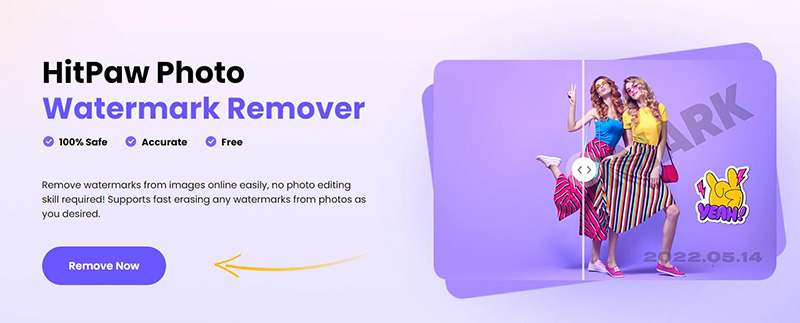 Features
Support formats like JPG, WebP, PNG, and JPEG
Let you remove watermarks, logos, and objects
Offer easy, lossless, and utterly secure processing
Remove the watermark only in three simple steps
Allow you to drag and zoom in/out the image
Step 1.Once you have opened the website of HitPaw Image Watermark Remover on your browser, tap the "Remove Now" button for the main interface. Next, click "Choose Image" to browse and upload the required photo. However, it must be in a supported image format.

Step 2.After choosing a brush size from the right-side column using the slider, you have to cover the watermark part or whatever object you want to remove. You can also use other options if required.

Step 3.The last step involves tapping the "Remove" button and waiting a while. After processing, hit the "Download" tab, and you are all done!
The Bottom Line
Curve text is crucial since it can be used in circular images and logos for enhancement purposes. Above are the top 5 recommendations available, all credible enough to try. You can choose the one that best fits your needs.
However, if you need to remove a watermark from your photo in any scenario, HitPaw Image Watermark Remover must be your way to go. It is a perfect solution to erasing the watermark and getting high-quality output.