Eleven Labs Review: Features, Pricing and Alternative 2023
Technological advancements have brought multiple AI voice-generating software, and Eleven Labs is one of the prominent ones. This write-up lets you explore this tool in detail!
Over time, artificial intelligence technology is undergoing a significant boost in different fields. Likewise, AI voice generators are also making much progress in improving techniques. Though various types of AI text-to-speech converters have been introduced in the market, Eleven Labs AI voice generator is the most prominent one.
Whether you have heard about it or not, let's discover what it is and its functionality in detail without further ado. Also, you will learn about some of its leading alternatives!
Part 1: Eleven Labs Features and Pricing Plan
Eleven Labs is a versatile software that helps people generate AI voices and does voice cloning for publishers and creators. Since it supports multiple languages, styles, and voices, generating the best quality audio clips is in your control. This tool works over TTS technology with cutting-edge deep learning algorithms, so you will get unparalleled accuracy by adjusting playback to the context.
More so, its text-to-speech feature lets you convert your text into the finest quality audio files. So you can effortlessly synthesize realistic voices from scratch. Even cloning your voice is possible instantly and professionally based on your Starter or Creator plan.
Key Features:
Offer excellent features for storytelling
Support monolingual and multilingual models
Allow you to adjust voice similarity and clarity settings
Let you select accent and accent strength of output voice
Help you listen to the generated demos before downloading
Pricing Plan:
Free: $0/forever
Starter: $5/month (80% off on the first month)
Creator: $22/month
Independent Publisher: $99/month
Growing Business: $330/month
Enterprise: Contact First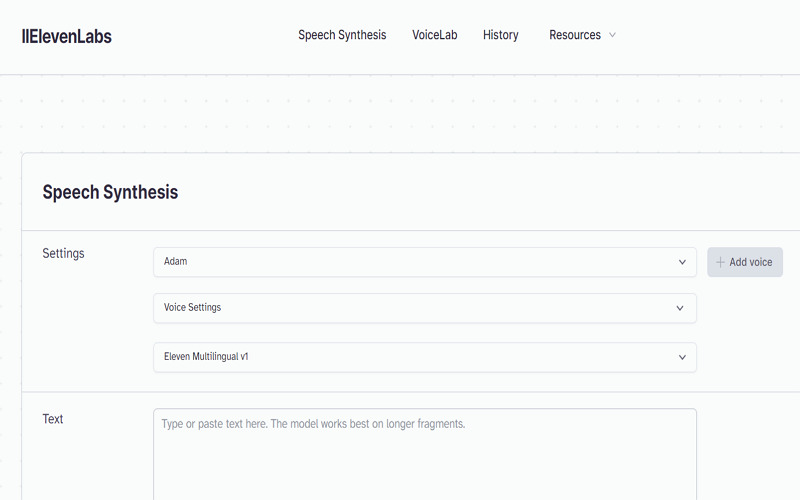 Part 2: Best 3 Eleven Labs Alternatives in 2023
No doubt, Eleven Labs is a great choice. However, some people need to find out software based on their demands. Even you may have seen the discussions about Eleven Labs alternatives on Reddit. So here are the 3 leading tools to consider:
1. BeyondWords
Platform: Online
As the name implies, this Eleven Labs AI alternative helps businesses, writers, and newsrooms enjoy smooth audio publishing. You can access its library of 550+ realistic voices in 140+ languages. Not only the option of custom voices is available, but also its text-to-speech editor assists you in creating the audio files manually if required.
Even you can generate and embed your audio file in CMS by linking your CMS, such as WordPress, Ghost, RSS Feed Importer, and API. Lastly, distributing audio content, monetizing it with ads, and checking the analytics is also possible, but in the paid version.
2. Voicemaker
Platform: Online, API Access
Voicemaker is a remarkable tool for personal use, offering a permanently valid free plan. With a clean and user-friendly interface, it provides you with more than 750 voices in 120+ languages. Besides entering the desired text to be converted into speech, you can adjust the speed, pauses, volume, and even the output style.
Furthermore, it works over two AI engines, i.e., Standard TTS and Neural TTS. You can opt for anyone; however, the latter produces natural-sounding voices. Even this AI Eleven Labs alternative lets you select the output audio format, sample rate, and voice effects.
3. Speechify
Platform: Online, Android, iPhone, iPad, Mac, Chrome Extension
If you are looking for the best text-to-speech software, Speechify must be your way. You can generate lifelike voices using its latest AI algorithms. Rather than typing text to convert it into speech, you can also upload a document like PDFs, books, or articles. So it can save you time by helping you listen to audio content.
In addition, you can enjoy speed listening since it supports 1x, 1.2x, 1.5x, 2x, and higher. With an extensive range of accents, languages, and voices, you can achieve the output according to your needs.
Part 3: FAQs About AI President Voice Generator
Q1. Is ElevenLabs AI free?
A1. Yes, Eleven Labs AI offers a free version, but it comes with many imitations. For example, the voice cloning feature isn't available. To overcome these, you have to purchase its premium version, which starts from $5 per month.
Q2. How to use Eleven Labs voice cloning?
A2.
Here is how to use the Eleven Labs AI voice cloning feature.
Firstly, open the tool, sign up for an account, and subscribe to a plan.
Next, upload your voice clip by clicking Add Voice and selecting the Instant Voice Cloning option. Also, you have to name it and add it to the platform.
Lastly, enter the text, and choose Generate to clone your voice.
Now, you can hit Save to download.
Q3. How to Generate Joe Biden's Voice in Eleven Labs?
A3.
Using Eleven Labs is an excellent choice to generate Joe Biden's voice.
For this purpose, create an account on this platform and subscribe to the Starter plan.
Find and save three audio clips of Joe Biden's voice.
Tap Add Voice to choose Instant Voice Cloning and name it.
Import those voice clips, select the Use button, type your text, and hit Generate.
Next, download your output voice through the Save tab.
Part 4: How to Add Generated Voice to Video
Whether you have used Eleven Labs AI voice generator or any other tool, adding generated voice to video demands efficient software. Here, HitPaw Add Audio to Video Online is the ultimate solution. It lets you complete the task automatically with AI technology; you only need to pass the proper commands. All the processing is secure & quick and won't affect the overall output quality.
In addition, you can play the audio and trim it effortlessly to use only the desired part. It helps you to set the starting time of the video from where you want the generated audio to begin. Adjusting the audio and video volume is also in your control. Last but not least, you can preview the processed video before downloading.
Features
Offer a simple, clean, and user-friendly interface
Help you carry out safe and secure processing
Work on the latest artificial intelligence algorithms
Allow you to capture a screenshot from the video
Provide you with a high-quality sample video
Here are the steps for adding the Eleven Labs AI generated voice to your video:
1.Firstly, open the HitPaw Add Audio to Video Online tool on your browser.

Add Voice Now!

2.Now, tap the "Add Music to Video Now" button for the primary interface. Now, go for the drag & drop option or click "Choose File" to browse & upload the desired video, to which you have to add the audio.

3.In the next step, you are supposed to press the "Add Audio" tab from the right-side column to import the Eleven Lab AI generated voice. You can trim audio and set the starting point from video for the audio besides choosing the audio & video volume.

4.After that, you can press the small "Play" icon under the video for previewing to ensure all the changes are made. Once done, hit the "Save" tab and wait for the download completion. Now, you are all done!
Final Thought
To conclude, all the software discussed above are good enough to be used. However, Eleven Labs is the most recommended one due to its vast list of features and excellent processing. Since each one has unique features, you can opt for the one that suits your demands.
Though a voice generator is an excellent development in AI, the software is required to add the generated voice to your video. HitPaw Add Audio to Video Online comes in handy. Let's try it once, and you will use it ever!
Add Voice Now!