Top 10 AI Painting Generator Online from Text
Artificial intelligence has taken over the world, changing the aspects of life in almost every field. The arrival of AI painting generators has reduced the monopoly of creative industries, as now you can get AI-generated paintings on your own.
The aspiration of turning your ideas into visuals has become a reality, and opting for AI-generated painting is only a few minutes away. You can explore the 10 most great AI painting generators that can indeed change the ways of creating art.
Let us dive into this magical discussion.
Part 1: 10 Best AI Paint Generators
With an AI painting generator, you can create beautiful artworks or images within seconds. Here are top 10 AI painting generators for you.
When translating ideas and imagination into AI-generated paintings, no one can even think of coming close to HitPaw AiPaw.
It is a flawless free AI painting generator that empowers you to generate eye-catching painted images by only typing a few words in the tool's main interface.
On top of that, HitPaw AiPaw is an online AI-generated painting app, meaning you'll only need to navigate to the tool's official website to get things going.
Apart from offering a simple user interface and highly professional features, HitPaw 4AiPaw online is free. Despite offering free services, you won't see this tool providing you with any blurry images.
Key Features of HitPaw 4AAiPaw Online:
Completely free to generate AI artworks
Blesses you with the best AI animations
Offers the exclusively designed AI technology
It helps you create the final art within a few clicks
Doesn't come up with any ads
Offers the effortless user interface
100% safe to use
How to get AI-generated paintings via HitPaw 4AiPaw Online?
1.Launch any web browser and navigate to the official website of HitPaw 4AiPaw online. After visiting, tap on the '' Start Creating'' icon to begin the proceedings.

Create Now!

2.Now, you'll need to type in the text you'd like to generate the paintings according to. The tool empowers you to write up to 500 words and comes up with different styles so you can move forward with it. Once the texts are entered, tap on the luck dice option to initiate generating the paintings automatically.

3.If you want to explore different options, this AI painting generator also enables you to select different anime and sketch styles. You can also pick several artists, including Andy Warhol, Miyazaki, and others.

4.In the final step, you'll only need to select the Saturation and Size level after expanding the '' Generate'' tab. Next, tap on the '' Generate'' icon to get the desired painted images generated and export those images by hitting the ''Download'' icon.
Nightcafe
Nightcafe will be a good AI painting generator with intelligent algorithms and ideas to turn the text into innovative animations.
It offers a simple user interface, and all you need to do is visit the official website of Nightcafe and type in the text of your imagination and get the desired results after a few seconds. NightCafe offers a credit system; you can claim the credit by performing different activities.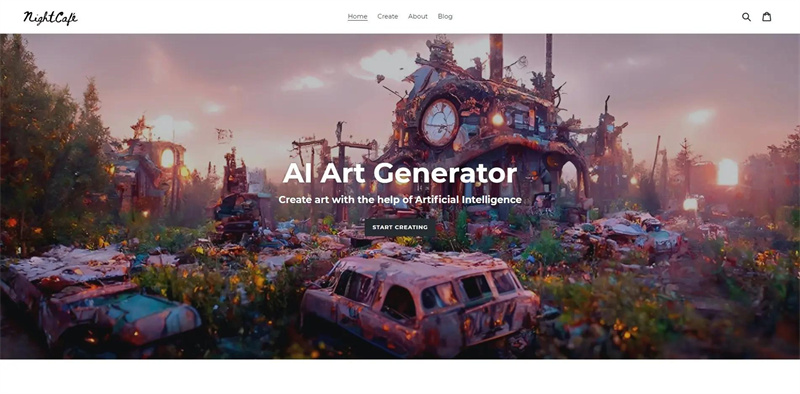 Key Features:
Video generation tool
Credit earning system
Own the art you generate
Useful social features
Dream AI
Another famous painting generator AI that comes up with artificial intelligence to generate realistic images is the DreamAi.
It relies upon the neural network that helps you produce top-notch animations by only entering the prompt text. You can also select the painting style, and there won't be a hectic user interface when using this AI painter generator.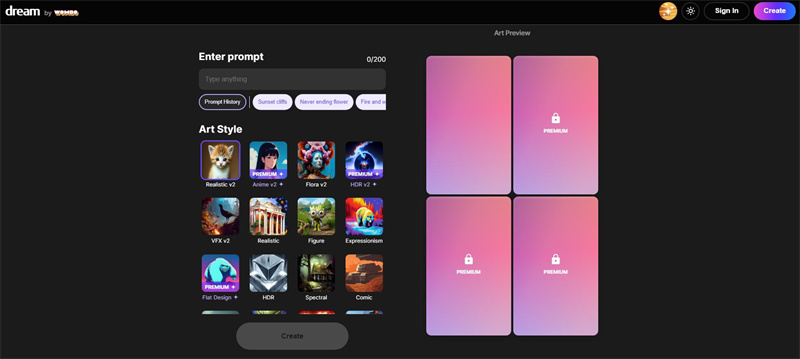 Key Features:
Different painting styles
Text to image
Image to text
Comes up with the neural network on millions of images
Classification of images.
DALL-E 2
If you talk about a popular AI painting generator from text, you won't see DALL-E 2 missing that list. With a simple user interface and brilliant neural network, this AI face-painting generator helps you generate realistic images within a few moments. It allows you to design products, create illustrations and generate new ideas.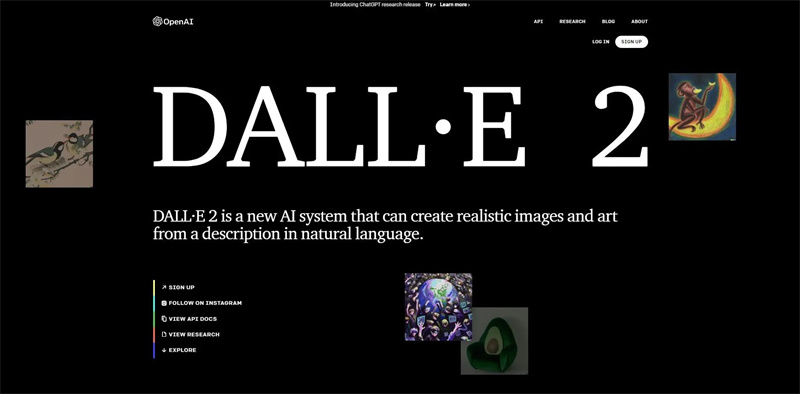 Key Features:
Create illustrations
High realistic images
Customizable multi-layered images
Free trial
Retouching and editing features
Hotpot AI
Hotpot AI allows you to generate brilliant images, graphics, and text quickly. This painting AI generator comes up with easy-to-edit templates and creates style, taking your paintings to the next level.
So, generating the perfect images, illustrations, and paintings won't be an issue using the Hotpot AI painting generator.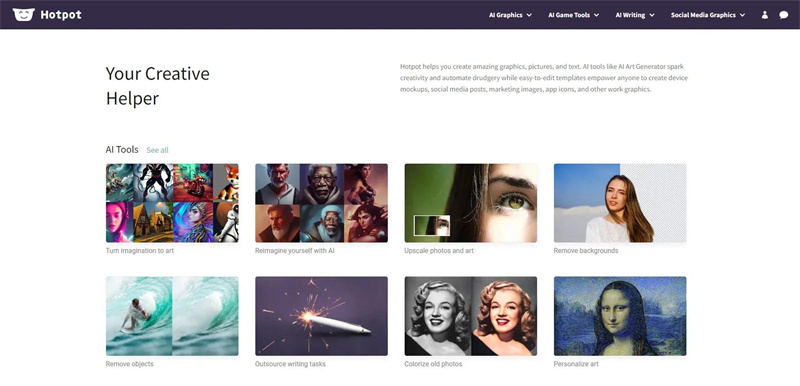 Key Features:
Quick photo generation
Free photo generation credits
Batch/Api creation without code
DeepAI
If finding an appropriate AI painting generator free becomes difficult, save time before taking the DeepAI on board.
It is a commendable AI painter generator that presents a vast quality that allows you to alter the amount of detail, texture, color, and more. All you need to do is enter an illustration, and DeepAI will turn that illustration into realistic image paintings in a few moments.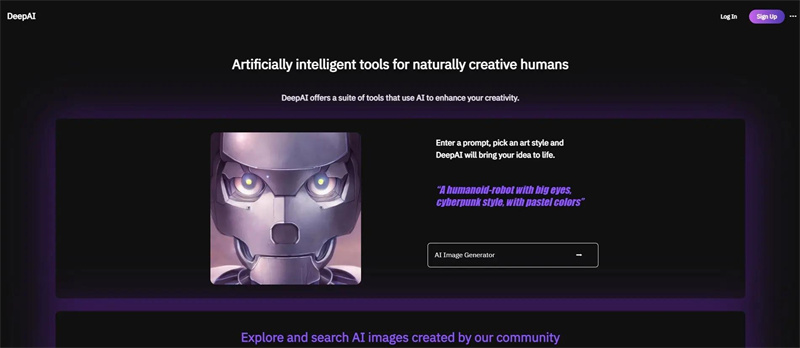 Key Features:
Open source software
Free to use
Generates four output images
Creates cartoons via Cartoon Gan
Craiyon
Only some AI-generated painting tools come up with as many quality features as Craiyon manages to pull off.
Using artificial intelligence, this free AI painting generator app can quickly generate massive images from text.
Every description you type in the search box generates about 9 different, which speaks volumes about this massive AI paint generator.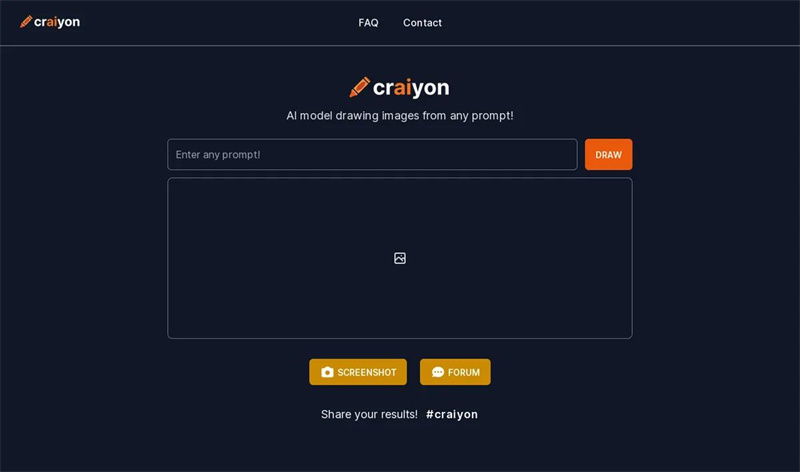 Key Features:
Restore old photos with one click;
The best AI photo enhancer to beautify selfies easily;
Batch enhance images at a fast speed;
Provides powerful color correction feature;
Animate photos and create 3D animation;
Remove blemish and wrinkle to retouch photos.
StarryAI
Starry AI could be the right answer if you like turning your imagination into NFT art. Using this AI painting generator free, you can get ownership of the paintings you generate.
This allows you to use the generated images for commercial or personal use. The cherry on top is that Starry AI Face painting generator is free to use, and you won't have to pay even a penny to generate eye-catching paintings.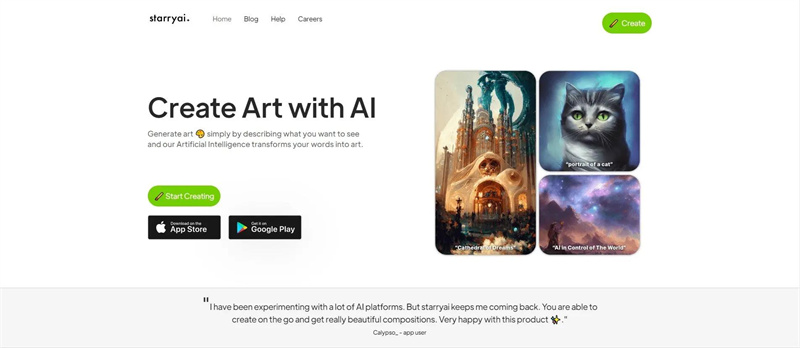 Key Features:
Text to image
Free NFT generator
No user input required
Automatic image generator
Images.AI
There are hundreds of AI painting generators, and Images.ai is among the most reliable tools. It has a simple user interface and can generate eye-catching paintings from simple text.
The algorithm of this AI painting generator works unbelievably well, as it generates the 3 different image sizes simultaneously.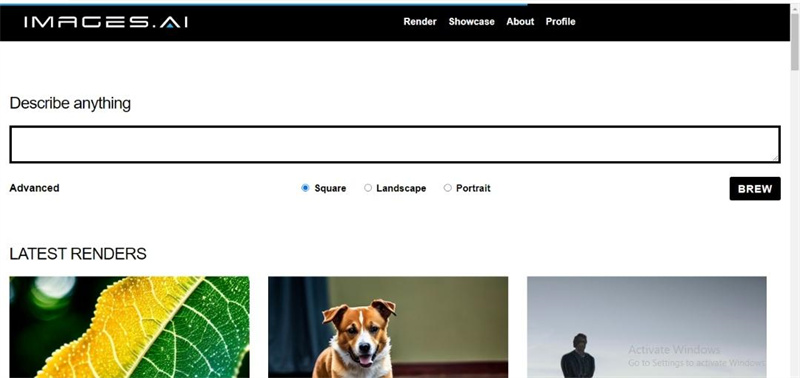 Key Features:
Easy to use
It allows you to generate memes from the images and create a personalized gallery.
Comes up with the various size options
Artflow.ai
Turning ideas into animated stories with creative thinking is one of the most talked about aspects of artflow.ai
Using this evergreen AI painting generator, you won't have to do much, as all it requires you to visit the official website, enter the text, and get your job done.
On top of that, artflow allows you to generate animated paintings of original characters, making it one of the most reliable tools.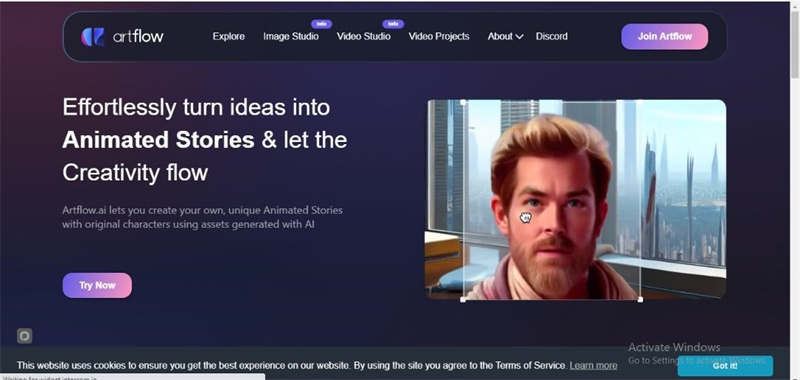 Key Features:
Get the AI-generated paintings for free.
Easy to use
Generates the paintings in different styles
Conclusion
Since this is the Era of artificial intelligence, using the credentials of AI painting generators to generate unique artwork should be your motive.
This post's AI painting generators can help you turn your imagination into unbelievable paintings in seconds.
With all the tools mentioned in this having the massive ability, 4AiPaw Online emerges as the best AI painting generator free.
Create Now!