5 Easy Ways to Convert WebP to PNG Online 2023
Google created WEBP, a contemporary picture format that offers both lossless and lossy compression for photos on the web. However, not many pictures editing software can open or edit them. If you've been following Google's WebP project, you might be interested in learning how to convert your WebP files to a more widely used format like PNG. A file format that supports lossless data compression is PNG. You might be wondering how to convert webp to png online. Fortunately, we've compared and compiled a list of the top 5 WebP to PNG converters available for your convenience.
Part 1: 5 Online WebP to PNG Converters [FREE]
WebP images are substantially smaller than PNG images, therefore there is less strain on the bandwidth. Although it's extensively used in Google Chrome and Android, certain devices cannot support it. Therefore, learning how to convert WebP to PNG is necessary. Yet how? What is the best tool for covertion? Keep reading if you have questions regarding these issues online webp to png. You may convert photographs using the five best tools that we have carefully chosen.
HitPaw Online Image Converter
One of the greatest online WebP to PNG converters is HitPaw Online Image Converter. You may effortlessly convert WEBG to PNG using the online converting tool, which also saves you the time and effort of having to install software. Easily Utilize HitPaw Online Image Converter to convert your photos online to any format without any restrictions and on any device. Without logging onto the website, you may use it. The conversion process is so simple that it doesn't even require for technical expertise.
Features of HitPaw Online Image Converter:
HitPaw supports a huge variety of formats for conversion.
User-friendly interface.
HitPaw always works well whether you possess a Windows PC, Mac, iPhone, or Android smartphone.
Quickest conversion rate without compromising image quality.
The procedures to convert WebP to PNG online are as follows:
1.Open the HitPaw Online Image Converter on your browser and click on "Convert Image Now".

2.To convert your photo click on "Choose File", and choose the PNG format.

3.Now click on "Convert" and download the image.
EZGIF
EZGIF offers the greatest WEBP to PNG converter so you may convert WEBP into PNG online in addition to assisting you in making gifs from movies, and a number of other functions. The benefit of this tool is that it allows for the lossless conversion of files up to 35MB in size at once. All you have to do is click "Convert" after uploading your WebP file. The created PNG is then available for download or editing. It supports a wide variety of different formats.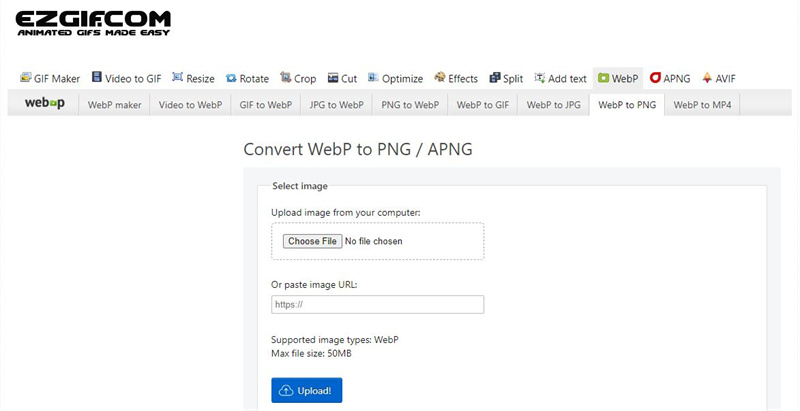 Pros
You won't be bothered with pop-up advertisements.
WebP files with animations will be changed to APNG.
Additionally, you may edit your photos.
Cons
The speed of site processing may be faster.
Convertio
Convertio allows for the conversion of a wide variety of files. It supports the conversion of typeface, archives, and E-Books in addition to some of the most popular file formats. The Convertio team has completed over 1 billion files and has almost eight years of converting experience. Similar to that, it helps users with batch processing. With the least amount of work required from you, this free source gives the user experience and security the utmost consideration.
Pros
Processing for quick WEBP to PNG conversion.
Furthermore, it supports more than a hundred different formats.
Simple UI.
Cons
Numerous users claim that Convertio fails to correctly convert PNGs with transparent backgrounds.
Online-Convert
Now let's talk about Online-Convert. You can convert files including documents, images, music, video, and more with this free online converter, which has an easy-to-use interface. It enables you to upload files via Google Drive, Dropbox, and even input a URL, unlike other converters that only offer local upload. Nevertheless, you are unable to utilise it without logging onto the website.
Additionally, you can select to download locally or upload to the cloud when the conversion is complete, and it even enables downloading zip files, which is more convenient for users.
Pros
It supports several input channels.
Images that have been converted are immediately downloaded.
Cons
The upload rate is sluggish.
The UI has just too many advertisings.
The free versions have a cap on quantity and bath compression.
ZAMZAR
ZAMZAR is a web tool that assists users in converting documents, photos, videos, and sounds. It was developed by a skilled and experienced staff. They have converted more than 510 million files since 2006. Additionally, the procedure's phases are relatively basic. By dropping or opening a folder directly on the web, you may upload your file. However, keep in mind that you may only upload files that are under 50 MB in size. You must pay for any files that are greater than this limit.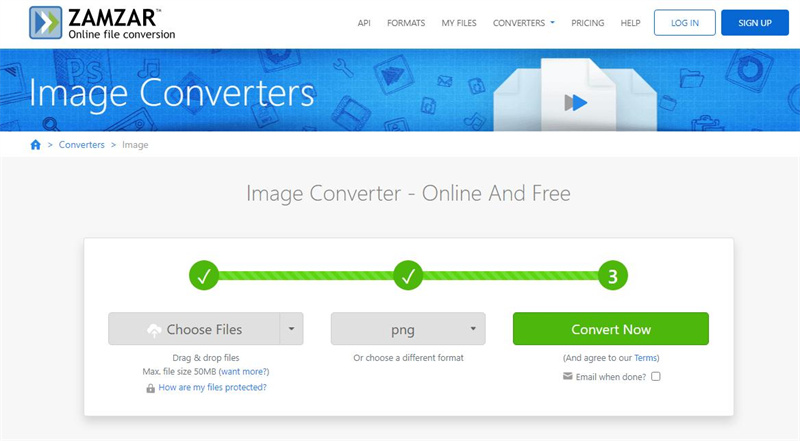 Pros
Your device doesn't need to be downloaded with any software.
Speed is Good.
Cons
There aren't any picture customization choices available.
There aren't many formats that the picture conversion supports.
Part 2: Frequently Asked Questions About WebP and PNG
Q1. What Are WebP and PNG format?
A1. Google created the WebP image file format to take the role of the JPEG, PNG, and GIF file formats. Internet users frequently utilise the bitmap graphic file type PNG (Portable Network Graphics).
Q2. Why we need to convert webp to Png?
A2. WebP is a kind of picture file. You must understand how to convert WebP to PNG because it's commonly used in Google Chrome and Android and incompatible with some device and software for editing image.
Q3. How to convert webp to Png?
A3. Visit HitPaw Online Image Converter, which is the best converter on the market for converting webp to Png and supports a wide range of other formats, to simply convert webp to Png without the use of any software.
Extra Tips: Best WebP to PNG Converter on Windows and Mac
Utilize the HitPaw Video Converter to convert WebP to PNG. It runs on both Windows and Mac and features a user interface that looks professional. Additionally, it may take a large WebP file for conversion to PNG format. It offers several functions, including the ability to download and convert videos. Options for editing are also available. You may convert your images with just one click, hassle-free, and without sacrificing quality.
Features of HitPaw Video Converter
It is an excellent image converter, which can converter image to PNG fotmat and other formats as well.
Videos may be converted 120X quicker to MP4, MP3, AVI, and 1000+ more formats.
With one click, download internet video from 10,000+ well-known websites.
Batch picture conversion, GIF creation, file compression, and sophisticated video/image editing tools are all built-in.
Tool for editing audio, video, and images.
Step to use HitPaw Video Converter
1.On your computer, download and launch HitPaw Video Converter.

2.Next, select "Image Converter" by clicking on the Toolbox option.

3.Select your WebP images by clicking on convert after selecting Add Image. Choose PNG as the output format.
Final Thoughts
Implementing the interconversion between WebP and PNG is occasionally necessary. It is really simple to convert WebP to PNG because of all the image converters available on the market. Finding the finest one, however, is not that easy. In this post, I have told you how to convert webp to png online free and you may get the greatest tool right now. However, I highly recommend that you give HitPaw Online Image Converter a try as it supports a wide range of formats without sacrificing image quality.