What Is Uberduck AI [Uberduck Reviews & Alternatives 2023]
Wanting to make your voice sound like your favorite rapper or intending to make the voice like a favorite mobile character isn't something new.
With the arrival of Uberduck AI, replicating the voice of someone else by typing the text prompt has become possible. You can read this post to learn about uberduck.ai and the best alternatives to Uberduck AI text-to-speech.
Part 1: What Is Uberduck AI?
Uberduck AI is an excellent text-to-speech tool with synthetic media creation and voice automation that can create rap videos and generate speech from text prompts. Uberduck AI rap tool tends to generate rap videos with brilliant sound quality.
Luckily, the Uberduck AI text-to-speech tool empowers you to mimic the voice of multiple characters, including Mickey Mouse, Nicki Minaj, Kanye West, and more.
1. Features:
Allows you to turn the text into brilliant speech in the natural sounding voice
It helps you to customize the style and tone of the voice
It comes up with a voice automation feature you can automate multiple voice-related tasks, including creating voice overs for videos, generating audio files, and more
Synthetic media creation helps you to create artificial media, including rap videos, and music
Allows you to generate your voice clone
It blesses you with tons of Royalty free voices
2. Pricing Plan:
Uberduck AI comes up with four pricing plans, including Creator, Free, Enterprise, and Clone.
The Free Plan:

It offers 10 text-to-image renders, 4000+ voices, and five saved music clips.

The Creator Plan:

It costs you around $10/ month, helping you get unlimited saved audio clips, unlimited text-to-image renders, and the ability to use the Uberduck Studio voices for commercial use.

The Clone Plan:

The Clone plan asks you to pay $25/month and comes up with the feature which you'll find in the Creator Plan. Moreover, it also comes up with the credential to clone the voice or face, add a voice, or choose the models.

The Enterprise Plan:

To acquire the Enterprise plan, you'll need to pay $300/month, which has all the features of the Clone plan. It also offers bulk voice clones, the lowest latency, templated audio generation, and more.
Part 2: How to Use Uberduck AI Voice Generator
Using the Uberduck AI text-to-speech is simple, as only following a few simple words will be enough to generate immaculate AI voices.
Navigate to the official website of Uberduck.AI and sign up with Discord or Gmail credentials.

After selecting the voice artist, you must type in the text prompt you'd want to turn into speech.

Select the synthesize option to proceed ahead. You can use this option to turn the text prompt into the voice of your favorite musician. Next, download the generated audio in the MP3 format on your PC.
Part 3: FAQs About AI President Voice Generator
Q1 : Is Uberduck free to use?
A1: Although Uberduck AI comes up with a free version, you won't be able to unlock some free version features. Thus, you might opt for the premium packages of Uberduck AI voice, including Creator, Clone, and Enterprise plans.
Q2 : Is Uberduck AI royalty-free?
A2: Calling the Uberduck AI royalty-free probably won't be a rational decision, but it comes up with various royalty-free voices. Surprisingly, Uberduck AI allows you to use royalty-free voices for commercial purposes.
Q3 : Is Uberduck.ai safe to use?
A3: Many experts have suggested that using the Uberduck AI is safe, and you won't find any issues while operating on your PC. Google Safe Browsing and Symantec also approve the Uberduck, indicating no harm in using this brilliant text-to-speech generator. Uberduck AI comes up with an SSL certificate that prevents the PC from getting attacked by the virus of hackers.
Q4 : Why Uberduck AI not working?
A4: You might struggle with the '' Uberduck AI not working'' issue, and there could be various reasons behind the problem. However, you can follow the few instructions to fix this issue with minimal effort. To begin with, you can restart the web browser before launching the Uberduck AI text-to-speech generator. However, you can follow the few instructions to fix this issue with minimal effort. To begin with, you can restart the web browser before launching the Uberduck AI text-to-speech generator.
Part 4: Top 3 Uberduck AI Alternatives for AI Voices
If you intend to explore the alternatives to Uberduck.AI voice, the following are the three mind-blowing options for you.
1.Lovo.AI
Lovo.AI could be a mind-blowing alternative to Uberduck AI with all the credentials you'd get in the Uberduck AI voice. It is an award-winning tool with a brilliant collection of voices, including banking, entertainment, gaming, education, documentary, etc.
Apart from generating top-notch text-to-speech voices, Lovo.AI also offers to customize the AI voices, making them per your preference.
Comes up with the brilliant 500+ AI voices
Allows you to edit the videos on generating the voices
Supports the 150+ languages
Offers mind-blowing sound effects, stock photos, royalty-free music, etc
2.Speechify
Another reliable Uberduck AI alternative that can turn text into an excellent voiceover is Speechify. With 30+ natural-sounding voices, Speechify will generally provide top-notch text-to-speech voiceover. Apart from offering a simple user interface, Speechify supports 15 languages meaning generating the voice-over in as many languages as possible.
Offers the 30+ natural-sounding voices
Comes up with the simple user interface
Supports the 15 languages
Offers the top-notch sound quality
Turn the printed text into speech in a few clicks
3.FakeYou.com
FakeYou.com might be the dream Uberduck AI text-to-speech alternative that offers the high-quality voices you can only think of getting in other tools.It comes up with a simple user interface regardless of what language you'd like to use while generating the voiceover, as Fakeyou.com supports multiple languages.
With Fakeyou. Com, you've got the opportunity to explore the 2000+ voice-changing options, meaning replicating the voices of different movie actors and singers is possible. Thus, when looking for the Uberduck AI voices alternative, going for the Fakeyou.com makes complete sense.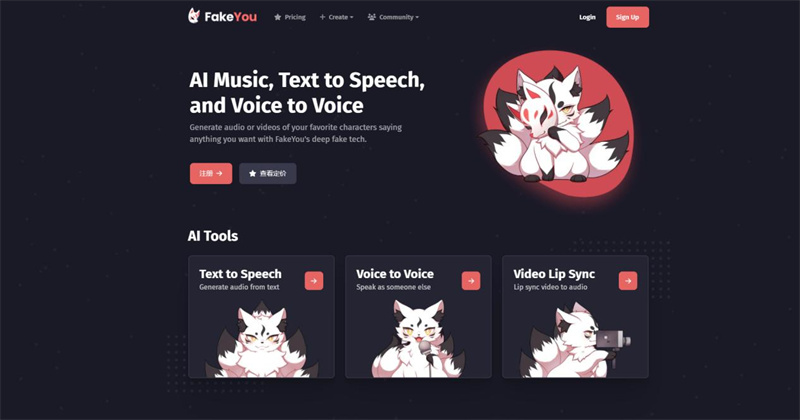 Offers the simple user interface
It tends to enhance the range of products frequently
Generates the remarkable sonic voice changer
Generate the excellent voice-over through a text
Supports the multiple languages
Supports the 2000+ voices
100% safe
No installation is needed
Final Thoughts
Uberduck AI voices have been considered the best AI-generated voices recently. It allows you to make your voice sound like other people, and all it asks you to do is to type in the prompt text.
Apart from helping you know how to use the Uberduck AI, we've listed the pricing plans of this excellent text-to-speech generator. You can also find out the three terrific alternatives to Uberduck.AI voice. In case you want to know more voice changer tools, you can continue to read this post about AI voice generation.