7 Useful Soundboard For You To Try
Part1:Why Should You Know Soundboards And Use It?
Soundboard s are not just for professionals or audio enthusiasts. They hold immense value for anyone seeking to enhance their audio experience and captivate their audience. Soundboard sounds can be your secret weapon as a content creator, social media manager, gamer, or simply a person who wants to add a touch of fun to their virtual meetings.
Moreover, a soundboard will give you access to a vast library of sound effects, music snippets, and voice clips ready to amplify your messages, evoke emotions, or create hilarious moments. So, why settle for ordinary when you can elevate your audio experience?
Part2:What Is A Soundboard?
If you've ever wondered how streamers, podcasters, or gamers effortlessly inject funny sound effects or catchy tunes into their content, the answer lies in the magical world of soundboards.
A soundboard is a tool or software that has a whole library of audio clips, musical excerpts, and sound effects that are all ready to be played at any point in time.
In fact, a soundboard can add more character, humor, and immersion to your interactions. So, if you're running a virtual event, interacting with your followers on social media, or having an engaged conversation on services like Discord, soundboards have something for everyone.
So, if you want to punctuate your chats effortlessly with perfectly-timed sound effects or engage your listeners with catchy jingles, it's time to dive into the world of soundboards and unlock the power of audio creativity.
With the rise of platforms like Discord, having a dedicated discord soundboard can improve your conversations, create memorable moments, and transform your online interactions into something extraordinary.
Par3:6 Best Soundboards For PC
Don't worry if you've ever inquired, "Why doesn't my Discord server have a soundboard?" We have compiled a list of the top six soundboards for PC that will improve your audio experiences and seamlessly interact with your discord servers.
1.Voicemod Soundboard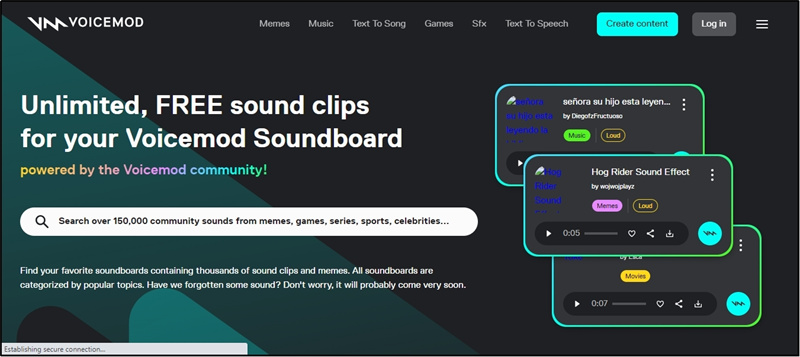 Voicemod Soundboard is your ticket to unlocking a world of audio creativity! With Voicemod's cutting-edge soundboard technology, you can effortlessly enhance your voice chats, streaming sessions, or gaming experiences with a vast library of immersive sound effects, hilarious memes, and customizable audio clips.
Pros
Extensive Sound Library: Voicemod Soundboard offers many high-quality sound effects, memes, and audio clips, giving you plenty of options to enhance your voice chats or content
Customizability: With Voicemod, you can create your own soundboard by uploading your personalized audio files, allowing for a unique and tailored experience
User-Friendly Interface: The intuitive interface of Voicemod Soundboard makes it easy to navigate and operate, even for beginners
Real-Time Effects: Enjoy the convenience of applying sound effects in real time, adding an extra layer of excitement and immersion to your interactions
Cons
Limited Free Version: While Voicemod Soundboard offers a free version, it limits the number of sound effects and features available
Requires Stable Internet Connection: Voicemod Soundboard heavily relies on an internet connection to access and load sound effects, so a stable connection is necessary for smooth operation
2.Clownfish Soundboard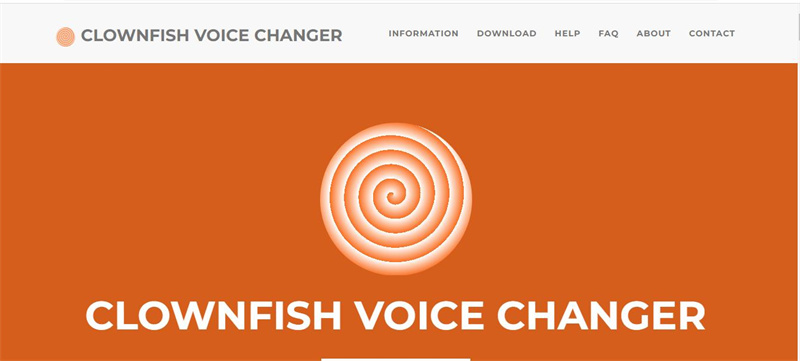 Clownfish Soundboard is a robust soundboard software with several features and customizable options. It is a flexible tool for communication platforms like Discord since it has a distinctive music player, text-to-speech capability, and a sound recorder.
Pros
Diverse Sound Effects: Clownfish Soundboard offers a wide range of sound effects, voice changers, and audio clips, giving ample options to add excitement and entertainment to your voice chats or content
Real-Time Effects: Enjoy the convenience of applying sound effects and voice modifications in real time, enhancing the immersive nature of your conversations or streaming sessions
Cons
Limited Compatibility: Clownfish Soundboard may be limited in terms of the platforms and applications it supports
User Interface Complexity: Some users may find the Clownfish Soundboard interface slightly complex or less intuitive than other alternatives
3.Voxal Soundboard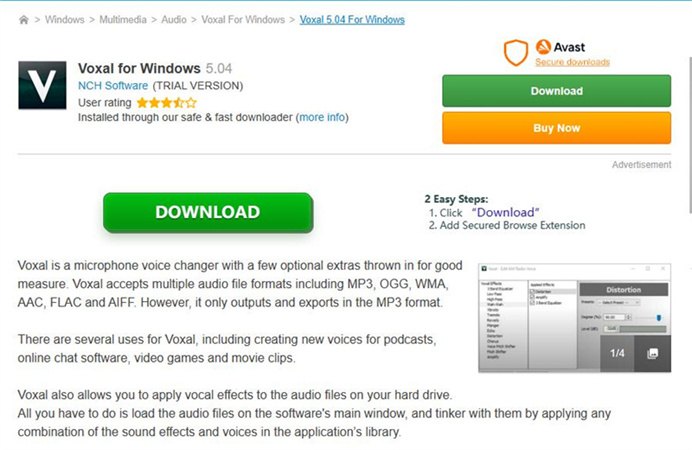 Voxal Soundboard is the ultimate audio companion for adding depth and character to your voice recordings. With Voxal's powerful soundboard, you can quickly transform your voice, apply various effects, and create immersive audio experiences.
Pros
Extensive Voice Modulation Options: Voxal Soundboard offers various voice effects and modulation tools, allowing you to transform your voice in multiple ways and create unique characters or impressions
Real-Time Preview: With Voxal, you can hear the effects as you apply them, giving you immediate feedback and the ability to fine-tune your voice recordings
Customizable Presets: Voxal Soundboard provides pre-built presets you can customize and save, making switching between different voice effects or settings easy
Cons
Learning Curve: Some users may find Voxal Soundboard's interface and settings slightly complex, requiring a learning curve to utilize its features fully
Limited Free Version: While Voxal offers a free version, it comes with limitations on the number of voice effects and features available. Upgrading to the paid version unlocks the full potential of Voxal Soundboard.
4.UnicTool MagicVox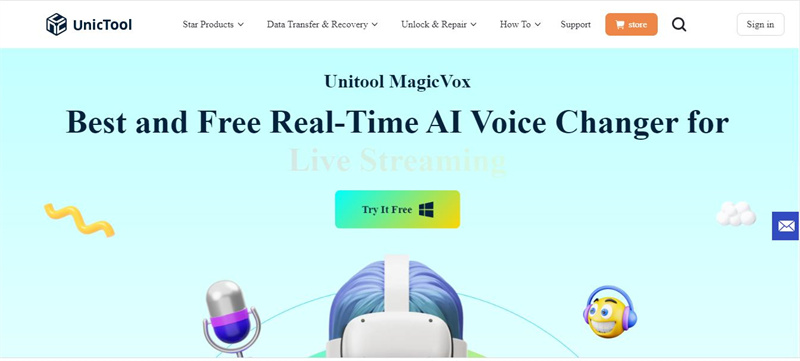 UnicTool MagicVox is a free soundboard software for gamers. It boasts an integrated soundboard that plays a wide range of sound effects, including hilarious jokes and phrases. The user interface of MagicVox is simple and intuitive, allowing users to modify their sound effects as well.
Pros
Extensive Voice Filter Preset: Over 100+ voice filters are readily available
Easy Access: This soundboard is supported by multiple platforms, making it easily accessible to everyone
Multitask: You can set key binds for soundboard buttons to play sound effects in real-time while using any other application
Cons
Limited Free Version: While UnicTool MagicVox offers a free version, it is restricted to fewer voice effects and features available
5.Resanance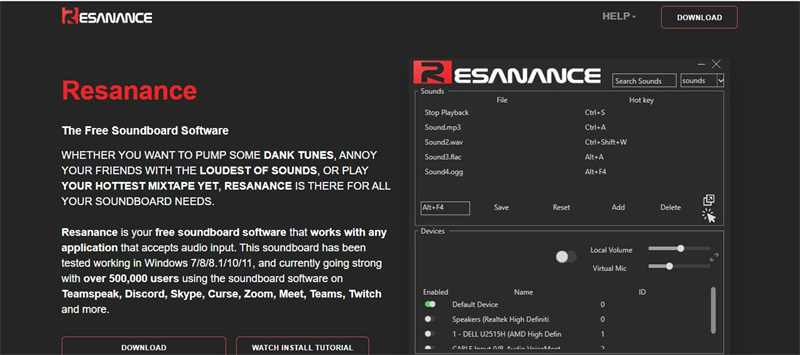 Resanance Soundboard is a free, open-source software offering users various customizable sound effects. It has earned immense praises within the gaming community, as it offers a seamless experience for creating and customizing sound effects. It also provides support for multiple communication platforms, including Discord and Skype.
Pros
User-Friendly Interface: Resanance offers a user-friendly interface that makes it easy to navigate and operate, even for beginners
High-Quality Sound Effects: Resanance provides a library of high-quality sound effects, allowing you to enhance your voice chats or content with immersive audio experiences
Customizable Settings: Resanance allows for the customization of various settings, such as hotkeys and audio output, giving you flexibility and control over your soundboard
Cons
Limited Platform Compatibility: Resanance may have limitations regarding platform compatibility, so it's essential to ensure it works with your preferred voice chat or gaming applications
Occasional Technical Issues: Some users have reported occasional technical problems or bugs while using Resanance, which can affect the overall user experience
6.Voxal Voice Changer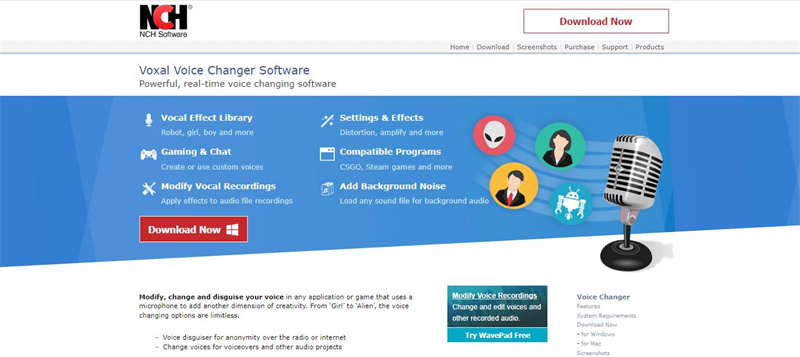 Voxal Voice Changer is the tool that lets you transform your voice like never before. It allows you to modify your voice in real-time, adding various effects and creating unique vocal personas for voice chats, gaming, or content creation.
Pros
Wide Range Of Voice Effects: Voxal Voice Changer offers a diverse selection of voice effects, allowing you to transform your voice into different characters, accents, or genders
Real-Time Voice Modulation: With Voxal, you can apply voice effects in real-time during voice chats, streaming, or recording
Customization Options: Voxal provides customizable settings and presets, allowing you to create and save unique voice profiles
Cons
Limited Free Version: While Voxal offers a free version, it may have limitations on the number of voice effects and features available
3 Best Soundboard Apps
Now that we have looked into the best PC soundboard software and you have realized the significance of a soundboard app, it's time to shed some light on the best smartphone soundboard apps. Below is the list of the top three soundboard apps on smartphones.
1.Yeet Meme Soundboard Generator
Yeet Meme Soundboard Generator shall be your go-to app for creating the funniest soundboard memes! With a collection of 300 different sounds, you can create your meme sounds with basic editing features like speeding up or cutting.
Pros
Regular Updates: Yeet keeps its collection fresh with regular updates, ensuring a continuous supply of new and funny meme sounds
Customization Options: The app allows basic editing of sounds, empowering users to personalize meme sounds according to their preferences
Search Functionality: The search bar feature makes finding specific sounds effortless and efficient
Cons
Limited Meme Sound Collection: Compared to other apps, Yeet offers a smaller collection of 300 meme sounds, which may not cater to users seeking a wide variety
Dependence On An Internet connection: Yeet's online nature requires a stable Internet connection to fully access the meme soundboard and enjoy its features
2.Dank Meme Soundboard
Dank Meme Soundboard provides you with stable functionality and diverse meme sounds!Although the application is free to download and run, it shows numerous advertisements that may bother some users. Regardless, this is a fantastic soundboard app for anyone looking for a little chuckle.
Pros
Regular Updates: Dank Meme Soundboard ensures you stay up-to-date with new sounds, keeping your meme collection fresh and fashionable
Decent Sound Quality: The app provides meme sounds of good quality, ensuring an enjoyable audio experience
Easy To Use: Dank Meme Soundboard offers a user-friendly interface, allowing for effortless browsing and listening to your favorite meme sounds
Cons
Limited Sound Customization: The app primarily focuses on browsing and listening to meme sounds, providing fewer options for customization or advanced features
3.Meme Soundboard
Meme Soundboard is the ultimate leader in meme sound apps, featuring a comprehensive collection of over 1000 popular sounds from memes since 2016!
Pros
Extensive Collection: The Meme Soundboard boasts over 1000 popular meme sounds, ensuring a wide range of options for endless entertainment
Regular Updates And Community Engagement: The app continuously adds new sounds and has a vibrant community where users can share various meme sounds
User-Friendly Search Bar: Easily find specific sounds with the app's search bar functionality, making it convenient to locate your desired meme audio clip
Customization Options: The app allows users to edit sounds by cutting them, adjusting pitch, or even playing them in reverse, providing a personalized touch to your memes
Cons
Basic Interface: The app's interface is straightforward, focusing primarily on organizing diverse sounds rather than offering advanced design features
Limited Availability Of Explicit Content: The app filters out swear words from memes, which may limit access to sounds with explicit language
Extra Tip - How To Enhance Your Video Soundboard With HitPaw Video Enhancer
While HitPaw Video Enhancer is primarily designed to enhance video quality, it can also be a valuable tool for improving the audio experience of your video soundboard. You can employ the following notable features of this platform to elevate your audio experience.
Features:
Audio Denoising: If you have audio clips or sound effects with background noise or unwanted disturbances, use HitPaw Video Enhancer's audio denoising feature to clean up the audio and ensure a crisp and clear soundboard experience
Equalizer Adjustment: Fine-tune the audio frequencies using the built-in equalizer in HitPaw Video Enhancer. Enhance specific elements of your soundboard, such as bass or treble, to create a more balanced and immersive audio experience
Volume Normalization: Ensure that all the audio clips in your soundboard have consistent volume levels. HitPaw Video Enhancer allows you to normalize the audio, ensuring each sound effect or clip plays at an optimal and harmonious volume
By leveraging HitPaw Video Enhancer's audio enhancement features, you can elevate the overall quality of your video soundboard, resulting in a more professional and engaging audio experience for your viewers or audience.
Final Thoughts
In conclusion, soundboards are not just a tool for professionals or audio enthusiasts anymore. They have become essential to enhancing our audio experiences in various settings.
From meme soundboards that bring laughter to your conversations to powerful audio enhancement tools that elevate your projects, there's a wide range of options available for you to try.
So, take the leap, explore the world of soundboards, and discover the ones that resonate with your style and needs. It's time to increase the volume, add that extra spark, and make every audio moment unforgettable.