[Must-Try!] 10 Best Online Free Voice Recorder
Are you looking for the best online voice recording tools to use in 2023? With so many options available, it can be difficult to know which one is right for you. That's why we've put together this list of the 10 best online free voice recorder tools. These top-rated programs offer a wide range of features and capabilities that will help you record your audio quickly, easily, and accurately. Whether you're creating podcasts or making videos for YouTube, these online voice over recorder tools have everything you need to capture great sound quality without spending a fortune. So if you're ready to take your recordings to the next level, check out our list of the 10 best online free voice recorder programs today!
What is Online Voice Recorder?
Online Voice Recorder is a convenient way to record audio without the need for complicated hardware or software. It is a type of digital recording tool that allows users to capture voice, sounds, and other types of audio through their computer's microphone or external input devices and save it in various formats such as MP3, WAV, or even shared in the cloud. An voice recorder online tool lets you easily record, edit, and share your audio files with colleagues or friends. 
Online voice recorders are widely accessible and can be used on computers, laptops, smartphones, and tablets. They come in handy for journalists who need to record interviews, musicians who want to capture their song ideas on the go, and anyone who needs to document something without the hassle of carrying a dedicated recording device. With just an internet connection, you can quickly and easily record your voice with an online voice recorder. So, whether you're a freelancer working from home or a student taking online classes, an online voice recorder is a versatile tool you won't want to overlook.
How to Choose the Voice Online Recorder?
In today's digital age, many options are available to record your voice online for free. But with so many options, how do you choose the one that suits your needs? Firstly, check for important features like recording quality, editing capabilities, and compatibility with your browser and device. It's also crucial to ensure the online voice recorder is free and does not require additional downloads or installations. Some popular options include Audacity, Online Voice Recorder, and Vocaroo. With a little research, you can choose the best voice recorder online free tool that meets your recording needs and enables you to create high-quality audio recordings without breaking the bank.
1. Rev Online Voice Recorder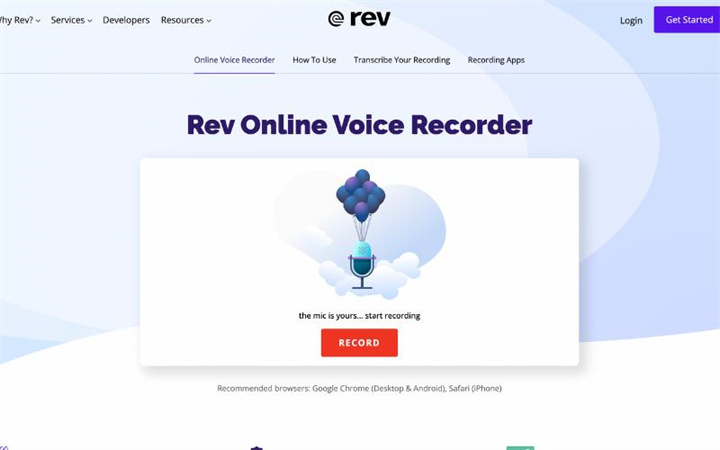 Rev Online Voice Recorder is a versatile tool to help you easily make high-quality audio recordings. This voice recorder with an echo effect online is perfect for capturing important interviews or lectures and personal voice memos. The recorder is user-friendly and accessible with a simple interface that makes recording and downloading MP3s easy and quick. You can enjoy the benefits of excellent sound quality and privacy as all recordings are encrypted and not uploaded to any servers. With Rev, controlling the recording process is straightforward - click the 'Record' button to start recording and 'Pause' when you wish to end it. You can also check if the animation feature is recording your voice. After recording, Preview your work and then download it. Overall, Rev Online Voice Recorder is a great option for anyone looking for a reliable and straightforward voice recorder.
Pros
Simple and easy-to-use interface.
High-quality sound recordings.
No additional downloads or registrations are required.
Encrypted recordings for privacy and security.
Cons
Web dashboard can be confusing.
2. Voice Spice Recorder: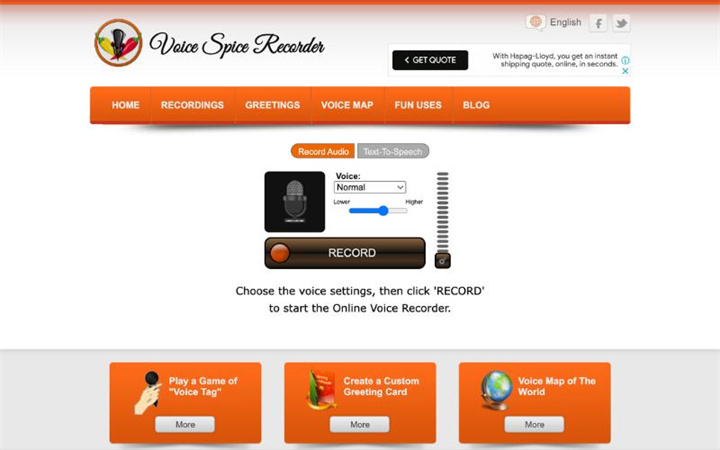 Voice Spice Recorder is an excellent online voice recording tool with a variety of features and capabilities. This free online voice recorder offers a plethora of effects and filters to customize your voice in any way you desire. But that's not all - Voice Splice Recorder also allows you to add background music to your voice recordings, creating a professional and polished final product. With a simple interface and easy-to-use customization options, this voice recorder is perfect for creating unique and creative audio recordings. Whether you're recording a podcast, creating a voiceover, or simply leaving a personalized greeting for a loved one, Voice Splice Recorder has you covered. So add background music to voice recording online with this amazing free tool!
Pros
Impressive range of sound effects and filters.
Easy-to-use customization options.
Free to use.
Cons
User cannot download directly, it only allow sharing recording.
3. Online Voice Recorder
Online Voice Recorder from 123apps is a perfect choice to consider when it comes to recording your voice online. Whether you need to make a short recording for your podcast or a quick voice memo, this tool has got your back. The ability to add music to voice recording online makes it perfect for podcast intros or short voiceover projects. Furthermore, the best part is that you don't need extra editing skills to make a perfect recording! With just one click on the red microphone button, you can start recording with ease. Online Voice Recorder also allows you to add music to your voice recording online, which can enhance the quality of your recording. Moreover, you can use lightweight editing tools to trim your recording and even playback your recording. Finally, the Adobe Flash tools allow you to adjust your microphone settings according to your preferences. 
Pros
Simple and user-friendly interface.
Allows adding background music to voice recordings.
Lightweight editing tools for trimming recordings.
Adobe Flash tools for adjusting microphone settings.
Cons
No sharing options
Sharing option is not available
For a free plan 700 MB file size limit
4. Voicecoach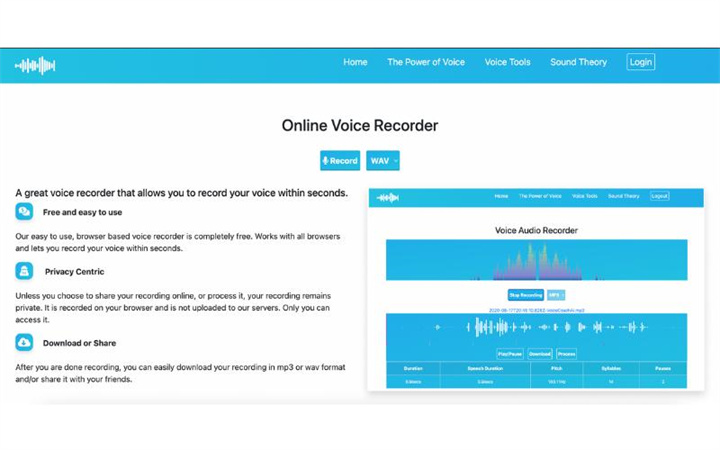 Voicecoach is the ultimate solution for anyone looking for a clear and user-friendly voice recorder that can be accessed online for free. No more struggling to find the right voice recorder or worrying about the storage limit. With Voicecoach, you can effortlessly record your voice within seconds, and the best part? It's completely private! You have the option to share your recordings with anyone or keep them for personal use. The recording can be downloaded in WAV, MP3, or Ogg and shared directly from the online recorder. Compatible with all popular browsers, this clear voice recorder online free tool is a must-have for anyone who wants to record on the go!
Pros
Easy to use and understand.
Clear recordings for best audio quality.
Download in WAV, MP3, or Ogg formats.
Private and secure with no storage limit.
Cons
Lack of editing tools
Limited technical support
5. SpeakPipe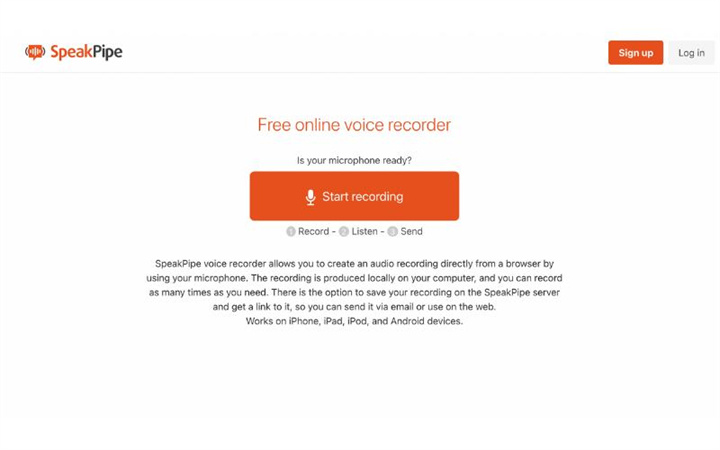 When it comes to the best online voice recorder, SpeakPipe is a great option for those who want a straightforward recording experience. With its user-friendly interface and cloud storage capabilities, SpeakPipe allows users to record and store as many recordings as they desire without worrying about upload limits. This no-frills voice recorder is simple to use, with only three steps to record: click the Start recording button, listen to it, and share it with others. Both Apple and Android users can also use SpeakPipe, making it a versatile option for many. Whether you're recording a podcast, voice memo, or anything in between, SpeakPipe is the perfect choice for the best online voice recorder.
Pros
Easy to use and understand.
Cloud storage capabilities for unlimited recordings.
Compatible with both Apple and Android devices.
Ability to share the recordings with others quickly.
Cons
Audio quality can be improved.
6. telbee Online Voice Recorder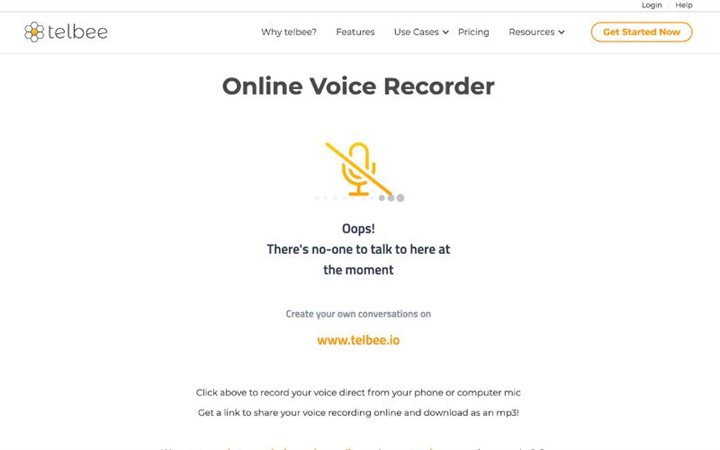 With the telbee online voice recorder, you can easily record crystal-clear audio straight from your microphone, and once you're finished, you'll have a range of options for what to do with your recording. For starters, you can download your audio as an MP3, which makes it easy to share with others however you like. Additionally, you can use telbee on your business page for a personalized touch, complete with your very own branding and custom features. Best of all, telbee comes equipped with an automatic transcription feature, which means you can easily edit voice recording online and use it to respond to customer queries with professionalism and authority. 
Pros
High-quality audio recordings.
Ability to download audio as an MP3 file.
Customizable branding with its own logo and custom features.
Automatic transcription feature for easy editing of voice recording online.
Cons
You need to sign up before using it.
7. Apowersoft Free Online Audio Recorder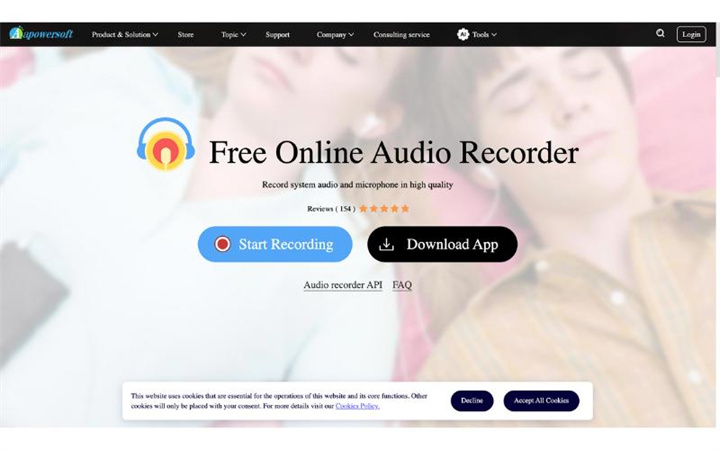 Apowersoft's free online audio recorder is the perfect choice for those who are looking for an innovative and comprehensive online voice recorder. With this tool, recording crisp and clear audio has never been easier. Whether you're using a PC or Mac, you can select your audio source, hit the Start button, and record away. Once you're done, click the Show in folder button to locate your file. But what sets this voice recorder apart from the competition is its ability to add ID3 tags, which makes organizing and sorting files a breeze. And best of all, the recordings will be stored securely in the cloud for easy access anytime and anywhere. So if you're searching for a tool to record my voice online, look no further than Apowersoft's free online audio recorder for a seamless, hassle-free experience.
Pros
Multi-platform support for both PC and Mac users.
Ability to select audio source before recording.
Ability to add ID3 tags for easy organization of files.
Show in folder button for locating saved files.
Cons
The tool necessitates users to install a launcher.
8. Soundation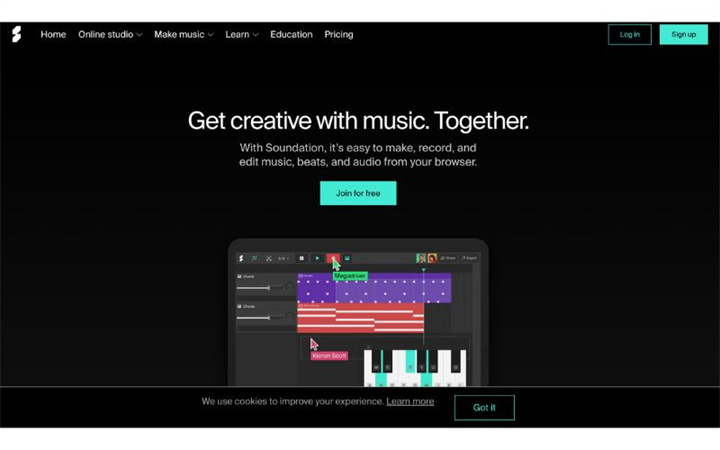 Creating music has never been easier with Soundation. This versatile software is not only perfect for music producers but also for those looking for a reliable voice recorder free online. Unlike other online voice recording tools, Soundation offers an extensive range of features that cater to the needs of music producers. However, this doesn't mean that non-producers are left out. Soundation offers both free and premium versions, and the free version is more than adequate for most voice-recording needs. Although Soundation might require a bit of a learning curve, the software offers extensive documentation and support. You can choose from both Chrome and Flash versions of the software based on your preferences. So why wait? Try out Soundation today and unleash your creativity!
Pros
Comprehensive range of features for music producers.
Choose between Chrome and Flash versions.
Easy to use with extensive documentation and support.
Cons
Limited export options, especially for the free plan.
The complex interface requires exploration time.
9. Vocaroo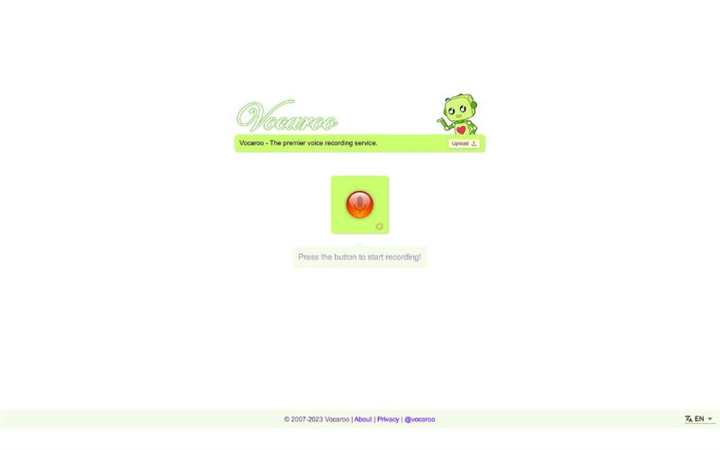 This voice recorder online tool is incredibly simple to use, thanks to its large Click to record button that allows you to start recording at any time. All you need is Adobe Flash and an Internet connection, and you can begin recording your voice right away. You can embed the Vocaroo widget in your blog or website if you want to share your audio with others. And if you ever have any technical questions about using the voice recorder, a comprehensive FAQ page is available to answer your inquiries. With Vocaroo, you can enjoy the convenience of voice recording online without any headaches or complications.
Pros
No ads while recording.
Large Click to record button for easy access.
Embeddable widget for sharing recordings on blogs and websites.
Comprehensive FAQ page with answers to technical questions.
Cons
Lack of editing tools or voice effects.
Limited export options, such as MP3 only.
10. VirtualSpeech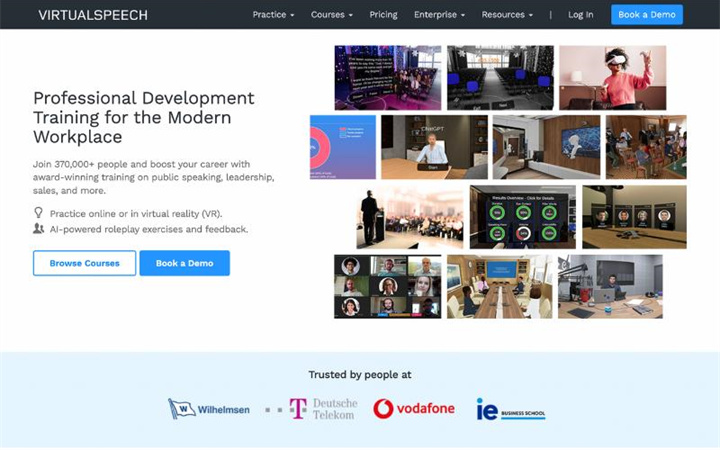 VirtualSpeech is a fantastic free online voice recorder that allows you to record audio with just a few simple clicks. With no need to download any software or external tools, you can start immediately by visiting the VirtualSpeech website. Once there, all you need to do is tap the "start recording" icon to begin capturing your voice using a microphone. The best part? You can easily share your recording with others by downloading the audio file in OGG format. Whether you're recording a voiceover for a video or need to get some ideas down on paper, VirtualSpeech is an essential tool for anyone who wants to capture their thoughts on the go.
Pros
Easy to use, no need to download software or external tools.
Ability to share recordings by downloading audio file in OGG format.
Option for voice activation so you can start recording with just a few clicks.
Cons
Limited export options, such as OGG only.
Charge $5 for the first time to use.
FAQs About Voice Recorders Online
Q1. Does Google have voice recordings of me?
A1. Google may have a record of the things you've said to its voice-activated assistant, Google Assistant. To find out, go to myactivity.google.com and look for the Voice & Audio heading under Activity Controls on the left side of the page. From here, you can view your recordings and delete them if desired.
Q2. How can I record my voice over online?
A2. You can use several online voice recorders to record your voice over. Some of the most popular tools include Audacity, Apowersoft Free Online Audio Recorder, and Soundation. They all offer their own unique features, so it's best to try out a few before deciding which one is right for you.
Q3. How to add a voice recording to build a bear online?
A3. You can add a voice recording to your Build-A-Bear online with the official My Sound Studio feature. To do this, go to buildabear.com, select the product you want to customize, and click on "My Sound Studio" in the customization menu. Then follow the steps onscreen to record your own special message or choose from a selection of pre-recorded sounds. Your recording will be stored in the bear and can be heard when you squeeze its paw.
Extra Tip: How To Enhance Your Voice in Online Screen Recorder?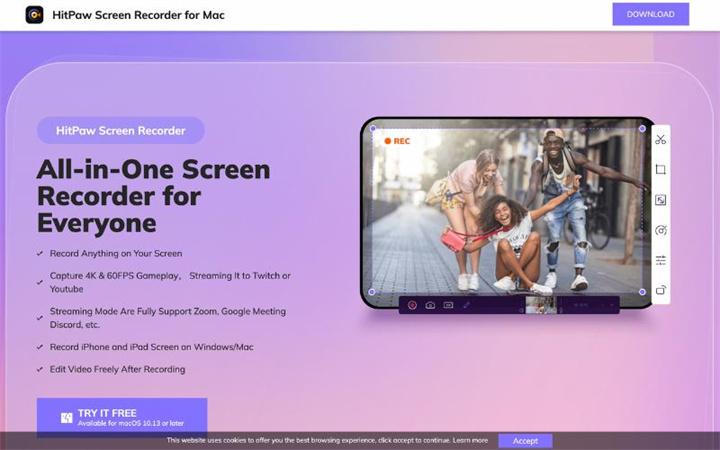 HitPaw Online Screen Recorder is a fantastic tool that lets you easily capture your screen. Enhancing your voice is essential if you're trying to improve your online content. That's why HitPaw Online Screen Recorder includes a free voice recorder online as part of its package. With this feature, you can confidently record your audio with complete clarity and confidence.
Features:
Record anything on your screen in 4K and 60 frames per second.
Stream your gameplay to Twitch or YouTube without any hassle.
Support different streaming modes for Zoom, Google Meeting, Discord, and more.
Easily record iPhone and iPad screens with the help of Windows/Mac systems.
Edit videos freely after recording with powerful tools.
Steps How To Use:
Step 1: Download and install the HitPaw Online Screen Recorder on your computer.

Step 2: Launch the program and choose the "Voice Recorder" mode from the main interface.

Step 3: Adjust the audio settings, such as a microphone, system sound, and volume level.

Step 4: Click on "Start Recording" to begin capturing your audio.

Step 5: When finished, click "Stop Recording" to save your voice recording.

Step 6: You can then export the file in various formats, such as MP3, WAV, or M4A.
Now you know how to enhance your voice recordings with HitPaw Online Screen Recorder tool. With its easy-to-use features and powerful tools, you can capture audio with clarity and confidence.
Conclusion
With the right online voice recorder free, you can capture your thoughts and recordings quickly and easily. Whether it's for a podcast, video tutorial, or webinar, having an easy-to-use tool to record audio is essential in today's digital world.
HitPaw Online Screen Recorder 's free voice recorder online should be at the top of your list when searching for an effective solution to enhance your audio recordings.