How to Make Capcut Logo Transparent Online Free
Welcome to our tutorial on how to make your CapCut logo transparent online for free! CapCut is a widely used video editing app that allows users to create and edit videos with various effects, including adding logos. If you want to add a transparent CapCut logo to your videos, we've got you covered. In this guide, we'll provide you with step-by-step instructions on how to create a transparent CapCut logo online without spending a dime. Whether you're a content creator, social media manager, or just someone who loves making videos, our tutorial will help you achieve a professional-looking transparent CapCut logo to enhance your videos.
Editor's Pick: Best Capcut Transparent Logo Maker Online
Are you looking for the best CapCut logo transparent maker online? Look no further! We've researched and tested various options, and our top pick is the HitPaw Online Background Remover. Hitpaw Online is a popular online image editing tool that specializes in removing backgrounds from images, leaving you with a transparent foreground image, which is perfect for creating transparent logos.  With Hitpaw online, you can easily upload your CapCut logo image, and within seconds, the tool will automatically remove the background, leaving you with a clean, transparent logo.
Features:
The process is quick, simple, and free, making it an ideal choice for creating transparent CapCut logos online without any hassle.
It also offers additional features like batch processing, high-resolution image downloads, and compatibility with various file formats.
The user-friendly interface makes it easy for anyone, regardless of their design skills, to create professional-looking transparent CapCut logos in just a few clicks.
Steps:
1.Safely click on the below button to open this tool.

Create Now!

2.Then you just have to upload an image of CapCut logo. It will automatically remove the background and make it transparent.

3.The last step is you just have to click on the download button and it automatically downloads on your system and your capcut logo transparent png is ready to use.
If you want to make a different capcut logo, you can choose to change its background. HitPaw Online also provides diverse background templates, you can use them for free.
Part 2: How to Download Capcut Logo?
The Capcut logo can be downloaded in multiple formats, including PNG, JPEG, SVG, Vector, EPS, and WebP. Simply choose the desired logo from the options provided below, then right-click and select "Save Image As" on your mobile or PC. Once downloaded, you can use the red capcut logo in your videos or wherever you need it.
Different kinds of capcut logos are here.
Classic CapCut Logo:This could be the official CapCut logo aesthetic, which typically consists of the word "CapCut" written in a stylized font. It may feature a combination of uppercase and lowercase letters, with unique letterforms, colours, and effects that represent the brand's identity and aesthetics.

Iconic CapCut Logo:CapCut may also have an iconic symbol or icon that represents the app's features or functionalities. It could be a graphic element or a combination of shapes and colours that create a recognizable symbol, which can be used as a standalone logo or alongside the wordmark.

Minimalistic CapCut Logo:Some logos may opt for a minimalistic approach, featuring a simplified version of the CapCut name or icon. This could be a clean, minimalist design with simple lines, shapes, and colours, creating a sleek and modern look.

Seasonal/Thematic CapCut Logos:CapCut may create special logos for specific seasons, events, or campaigns. For example, during holidays, festivals, or special promotions, CapCut may introduce temporary logos with thematic elements or colours that align with the occasion.

User-generated CapCut Logos: As a user-generated content platform, CapCut may encourage its users to create their own logos or logo variations that reflect their creativity and individuality. These could include custom logos, fan art, or community-contributed logos that showcase the diverse and creative logo CapCut community.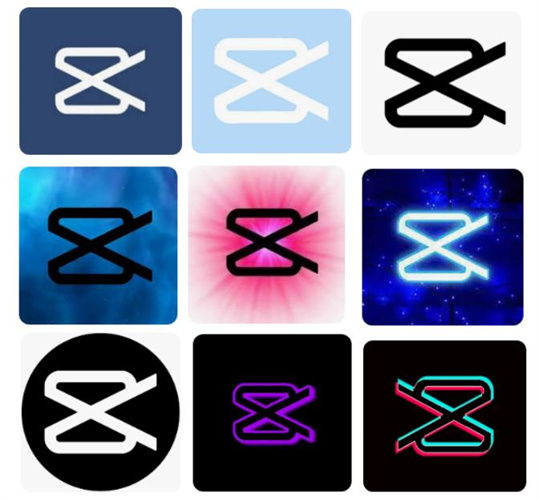 Part 3: How to Remove Capcut Logo from Video?
If you want to remove CapCut logo from video using other tools, instead of in CapCut, We recommend you HitPaw Online Video Watermark Remover. It is a proficient video editing tool you can use to edit your videos. It allows you to remove watermark from videos online. The features included are advanced and easy to use as well. The user interface is also simple, thus, making it easy to use for beginners as well. Here are the general steps to remove the CapCut logo from a video using HitPaw Online Video Watermark Remover:
Remove CapCut Logo!
1.If you are stuck on how to remove capcut logo. First of all, you just have to upload a specific video on the HitPaw Online Watermark Remover.

2.After uploading your video, select the area of capcut logo remove where your logo is placed and you want to remove it. And just simply click on the export button.

3.When the video is exported successfully, then you have to click on the download button on the left side as shown below figure. That's it.
Final Thought 
So, if you're looking for the best transparent capcut logo maker online, we highly recommend giving HitPaw Online Background Remover a try. It's efficient, effective, and free to use, making it the perfect choice for creating transparent CapCut logos that will elevate the quality of your videos. Try it out and see the results for yourself! Once you have a transparent version of the Capcut logo, you can use it in your videos or other design projects to create a professional and polished look.
Start Creating!