Complete Guide on How to Use Brandcrowd Logo Maker
The trend of generating eye-catching logos for representing businesses is increasing daily. If you're looking to grab the target audience's attention, creating the perfect logo and having a terrific style are paramount.
You can hire expert logo designers, but this route might be costly. Various logo makers have been introduced that make generating logos look simple.
BrandcrCrowed Logo Maker emerges as one of the best logo makers, and the best thing is that we're going to write a brilliant BrandCrowed review in this post.
Part 1: What Is Brandcrowd (Features & Price)
If you're looking to make logos for your business, Brandcrowd helps your cause brilliantly. It is an unbelievable online logo maker with hundreds of customizable logo templates, social media banners, matching business cards, branded merchandise, and more.
BrandCrowd Logo Maker empowers different businesses to generate professional logos with minimal effort.
Every design template you tend to put your eyes into has its price, but the thing is that all the packages of BrandcrCrowed are affordable.
On top of that, creating the logo on BrandCrowd is courtesy of this tool's user-friendly interface, designed to ensure that newcomers don't find any issues generating the logos.
Features
Offers the brilliant logo styles
Offers the brilliant logo styles
High-resolution logo images, including JPG and PNG files
Top designers crowdsource the designs
Comes up with full copyright ownership
Allows you to edit the logo designs
Design logos for social media, business cards, flyers, and letterheads
Pricing
The issue you might face with various logo makers is that the price of each logo style might be high.
However, you won't face such an issue with BrandcrCrowed as it comes up with affordable premium rates.
| Plan | Annual Pricing | Monthly Pricing |
| --- | --- | --- |
| Standard logo pack | Free | Free |
| Premium Logo Pack (on logo ideas) | $60 | $9 |
| Premium Logo Pack (upgrade on free design) | $60 | $15 |
Part 2: How to Use Brandcrowd Logos Maker
Creating the logo using BrandCrowd is simple, as you must follow a few simple steps to get your job done.
1.Navigate to the BrandCrowd logo maker's official website and enter the BrandCrowd login credentials.

2.You'll need to type in the name of your niche, which will help you access the relevant templates. You can also navigate the logo maker drop menu and choose a popular keyword. Doing so will help you see the hundreds of templates for you. If you've got the premium package of BrandcrCrowed, you'll be able to access the unique and advanced logo style.

3.In this phase, you must select the appropriate template for your logo. Now, you can save your favorite designs to the favorites shortlist. To do it, you'll need to tap on the heart icon. Next, you can access all the selected templates by hitting the Shortlisted Logos. You'll need to log in with the Brandcrowd credentials again to proceed.

4.Besides generating prolific logos, BrandCrowed also empowers you to customize the logo. Navigate to the editor, which will bring out the various customization options on the screen's right side. You can alter the text content, rotation, size, and more. BrandCrowd also empowers you to look at the logo in different font styles. You'll need to tap on the ''See Options'' icon to preview alternative fonts.

4.Preview the logo after making all the necessary adjustments. Next, click on the Download icon to export the customized logo to your favorite destination on the PC.
Part 3: Frequently Asked Questions About Brandcrowd
Q1. Is Brandcrowd legit?
A1. Many people ask whether creating logos through Brandcrowd logo maker is legal. It is legal to visit the official website of BrandcrCrowed, and you can quickly generate business logos without facing any issues. Besides being legal, the logo maker BrandCrowed is safe and doesn't threaten your PC.
Q2. Is BrandCrowd copyright free?
A2. The Brandcrowd Logo Maker comes up with the standard license that allows you to use the generated logos for commercial and personal purposes. However, if you're using the non-standard license, you can't use the logos for commercial purposes.
Q3. Who are the typical users of BrandCrowd?
A3. The survey suggested that 60% of users of BrandCrowed are male, and the other 40% are female. Different businesses that run their products online are most likely to take the services of Brandcrowd to generate great logos. Apart from different businesses, some people also like to generate logos for personal purposes.
Part 4: Best Brandcrowd Alternative - Canva
Canva is a great design app that empowers you to design visual materials without having the graphic design experience. The tool is designed to generate simple videos, social media graphics, slides, posters, presentations, and more. However, if you're looking for an alternative to Brandcrowd Logo Maker won't be a bad idea.
By offering sensational templates and styles, Canva aims to take logo-making to the next level.
On top of that, Canva comes up with a pretty simple user interface, meaning generating flawless logos will be pretty straightforward.
Features
Comes up with stunning logo templates
It offers a user-friendly interface
Allows you to customize the logos
It doesn't require prior knowledge to get things going
Generate multiple logos simultaneously
Allows you to enhance the quality of photos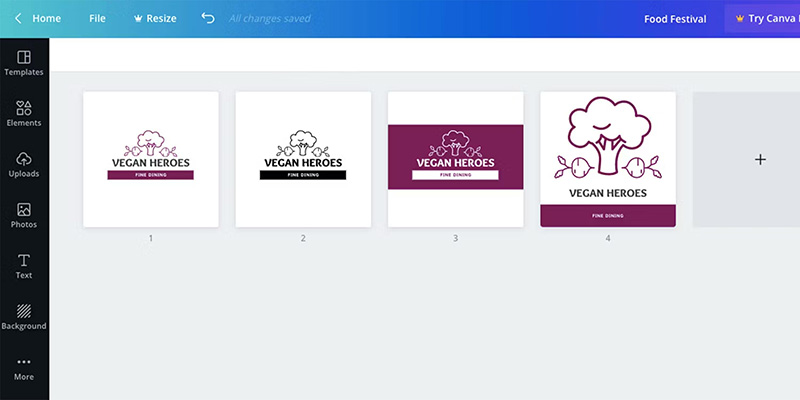 Extra Tip: How to Make Logo Transparent Online
After creating the logo for your business, if you think the logo's background needs to be more transparent, looking for a background remover makes sense. HitPaw Online Background Remover is one of the best tools to help remove the background from your photo, making it top-notch.
The best thing about HitPaw Online Background Remover is that it is consistent with the photo's original quality when making the logo background transparent. The process will only take a few moments before getting the logo downloaded.
Key Features of HitPaw Online Background Remover
It allows you to remove the background automatically.
Doesn't tinker with the resolution of the photo
No watermark.
It lets you customize the background.
100% safe to use.
Allows you to edit the photos as an online photo editor.
How to make the logo transparent via HitPaw?
1.After launching the web browser on your PC, you'll need to visit the official website of HitPaw Online Background Remover.

Create Now!

2.Next, you'll need to tap on the ''Choose Image'' icon and import the photo you'd like to make the logo transparent.

3.You'll see the removal result after uploading image.

4.Tap the transparent background template. Next, click on the '' Download'' icon to export the image on your PC.
Final Thoughts
This post sums up the Brandcrowd review by introducing all the credentials of this brilliant logo maker BranCrowed.
We've also recommended Canva as the best alternative to Brandcrowd Logo Maker, which might assist you in creating stunning logs. You can opt for HitPaw Online Background Remover to make a transparent background from the logo picture. Despite being an online tool, it is brilliant and offers professional features.
Create Now!