Top 5 Vtuber Makers to Make Vtuber Avatar in 2023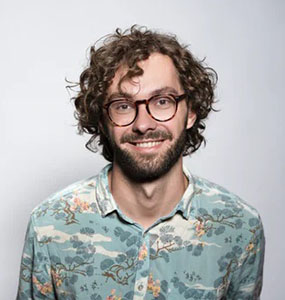 Do you want to be anonymous and be in the camera at the same time? An avatar is a perfect way to do so. For those who want to hide their identity and interact with the audience, using an avatar is the only possible solution. 
But is it that easy to make a graphic or avatar of your face? Definitely not. You'll need some tools and strategies and the best way among them is the VTuber maker. 
Being widely used in the market, VTuber maker helps you to create motion graphics and computer-generated avatars within minutes. In this article, you'll learn how to create a VTuber avatar and how to use it.
Part 1. What is VTuber and VTuber Maker
Before we dive deep into the methods of how to make a VTuber avatar, you should know what VTuber and VTuber maker are. VTuber simply stands for Virtual YouTuber which represents those people who use digital avatars instead of their real faces. 
These digital avatars might be a picture, a portrait, or an animation that is shown on the screen and mostly used for gaming or cooking videos. Similarly, a VTuber avatar maker is some kind of software that helps you in creating high-quality avatars with innovative features. 
Part 2. Top 5 VTuber Makers Software You Must Know
The Vtubing industry is highly competitive nowadays and you might be confused when selecting the best VTuber maker software for your videos. Therefore, enlisted below are the 5 best VTuber avatar creators software that can help you in creating a perfect avatar. 
1. Custom VTuber Models with Fiverr 
Undoubtedly, Fiverr is the most-trusted and most used online platform to make a custom VTuber avatar model. It is the ultimate choice for those who don't have the knowledge of graphics and looking for a skilled person who can assist them in doing so. 
Both in terms of design, and price, you can trust the custom VTuber models made by Fiverr specialists. It also provides you with a multi-currency support system and the best custom offers in the market. 
Pros
Provides premium quality and ultimate support
Available at reasonable pricing
Unlimited custom VTuber models for you
Cons
You cannot control the whole process yourself 
2. Make 3D VTuber avatars with VRoid
Besides hiring a skilled person on Fiverr, you can also try VRoid, which is the best 3D VTuber creator software. The best thing about this VTuber avatar maker is it has multiple features for creating anime characters and motion graphics. 
Hence, you can easily make a sample character and then customize it according to your choice and needs. Texture editing and procedure hair design feature add to the functionality of this avatar maker. 
Pros
Compatible with windows and Mac
Supports layering and sensitivity
Perfect for making anime characters
Cons
Need a paid version for premium features
3. Create 2D VTuber avatars with VSeeFace 
One of the best 2D VTuber avatar maker software is VSeeFace. Being highly used in the software industry, VeeSeeFace is an advanced and super-efficient tool for creating high-quality avatars. And it is a VTuber maker free to use. Its high tracking accuracy makes it stand out from the rest. 
Moreover, the leap motion accessorized hand tracking system allows you to easily create your favourite avatar without any hassle. Even the beta technology used in it provides automatic detection of facial expressions that makes the software super-easy to use. If you want a VTuber avatar maker for free, maybe you can try it.
Pros
Comes with an advanced expression recognition feature
Can automatically detect the facial expressions
Has a manually operated system 
Cons
Does not provide any warranty
4. Wakaru
You might be familiar with the name, ''Wakaru''. If not, then it is one of the most popular VTuber character creator software that is backed up by the windows operating system. The most unique feature of this software is it helps you create graphics without the need of any virtual component. 
Thus, you just need to install a web camera and it will control your expressions, facial movements, and mouth shape while speaking. Hence, it is the perfect VTuber avatar creator for live streaming and broadcasts. 
Pros
Comes with a real-time gesture tracking
Best to use for live streams and videos
Runs perfectly on both mobile phones and PC
Cons
Movements are not smooth enough
5. FaceVTuber
How can you ignore the highly-developed interface of FaceVTuber? Unlike other VTuber studio model maker, it just needs a webcam or web browser to operate. Hence, it is a web-based software that uses multiple formats including VRM and FBX. 
You can also use FaceVTuber for live streams or pre-recorded videos as per your needs. Using computer-generated graphics helps the creators in making a premium quality avatar design for their videos. 
Pros
Equipped with a webcam 
Support multiple formats
Best for beginners
Cons
Available in Japanese interface only 
Part 3. FAQs of VTuber Maker 
Q1. What Software Do VTubers Use?
If you want to level up your skills in YTubing and become a professional VTuber model creator, you might take help from more than one software. Although there are plenty of options available in the market, here are the top 3 software that you can use to make a VTuber avatar. 
Character Creator Software
Facial and Physical Movement Tracking Software
VTuber Software and Video Editor
All these software is user-friendly and come with a movement tracking feature so your facial expressions can be recognised easily. In this way, you can conveniently create, edit, and upload virtual videos for your YouTube channel. 
Q2. How do I make my own VTuber?
For beginners and starters in the VTubing field, it might be difficult to create a virtual avatar for their videos, especially if they don't have the skills. If you're totally new in the VTubing industry and have no knowledge of graphics, then it's highly recommended to use Fiverr for custom VTuber maker online. 
However, if you are willing to invest your time and effort, you can also create it yourself by using one of the tools mentioned above. This will require some prior experience in the avatar model-making field. 
In fact, in real life, it is not difficult to find that we can get more attention on social media because of interesting avatars. For example, when we post our mood today on Twitter or Facebook, a dynamic avatar can always attract many fans for us. Or in our daily instant chat software, if a dynamic expression can be sent, it can more attract the attention of the conversationalist.
Here's a really amazing tool --HitPaw AI Face Animator that can help you make 2D photos move. You can easily make a dynamic avatar or expression with the help of its AI technology, and you just need a face photo. From social interaction to producing dynamic movements, it gives you the freedom to create your best avatar in no time. HitPaw AI Face Animator runs on a pretty simple interface and thus you can easily create incredible avatars. The brainwashing music, facial expressions, and trendy animations take your character to another level.
Features of HitPaw AI Face Animator 
With the help of the HitPaw AI Face Animator, you are 100% safe and can access multiple animator templates for your videos. Enlisted below are its unique features:
Use new AI technology for easy video processing
Trendy and super-easy to use
Make your photo more attractive in fast speed
Completely free to try
Steps to Make Animated Avatar with HitPaw AI Face Animator
Here are how to make a avatar or make the photo more interesting in 2d Avatar with HitPaw AI Face Animator.
Step 01 The first step go to HitPaw AI Face Animator website, then involves the selection of a photo on which you want to make your avatar. Choose your desired photo and make sure the face is facing the lens.
Step 02 HitPaw AI Face Animator also allows you to choose a GIF instead of a photo. Depending on your preference, face movement, and gender, you can choose any GIF from the templates.
Step 03 After selecting the photo and template, it's time to enter your personal information for further processing. This will include your name, email address, and verification code. 
Step 04 When you have entered your email address, you will get a final animation in your inbox. Check that and if need any changes, you can edit and finalize it. 
Part 5. Conclusion
At this point, you have clearly understood the process of how to make a VTuber avatar both manually and by using tools. Discussed above software will surely help you in creating a custom VTuber avatar as per your needs. However, it is highly recommended to use the HitPaw AI Face Animator if you want to get the best-designed avatar for your videos.