[2023 Real Reviews] Is Voicemod Free & How to Use it Safely?
Want to change the sound and try a different style when playing games or using Tiktok? Or do you want to add a variety of interesting sound effects? Or want to add your own unique sound filters? All this can be done with voicemod, and here we will show you how to use the magic of voicemod better and have a better understanding of how to download voicemod!
Part 1: Voicemod's Features and Price
With 10 years in the audio-tech field, Voicemod has become the leading creator in real-time voice changing and soundboard technology. It can not only unleash the power of AI voices, but also can discover the real-time AI voice changer.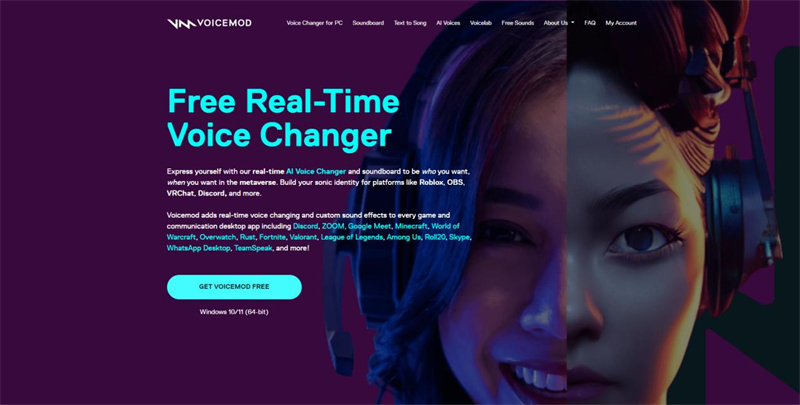 Key Features:
Change your voice in real-time
Set up the voice modulator in less than 5 minutes
Provide you with over 90 different voices and effects
Create your own voices and add any sound clips to the soundboard
Price:
Free
Part 2: Top 5 Alternatives for Voicemod
Voicemod is undoubtedly a quick and easy to use tool, and you can also find its website pages are very well designed. Not only does it showcase the various features, but at the bottom of the page it also shows you how to download and what permissions you need to enable. To learn more about the tools, let's take a look at these next sound tools!
Voxal Voice Changer
Voxal Voice Changer is a powerful, real-time voice changing software that works seamlessly with other applications, and it's unnecessary to worry about changing any configurations or settings in other programs.

Key Features:
Effects can be applied to existing files
Apply effects in real time using a microphone or other audio input device
Load and save effect chains for voice modification
Vocal effect library includes robot, girl, boy, alien, atmospheric and many more
Price:Free.
Voxal free voice changing software is available for non-commercial, home use. But not free online, what a pity!
Adobe Audition
Some hold the belief that Adobe never fails to amaze its users with its products. I believe that once you open the world of Adobe Audition, you'll find its multi-functions and the reason of the saying.

Key Features:
Adding an echo effect
Changing the pitch of the audio.
Use the Automatic Pitch Correction effect to adjust the notes
Use the Reverb effect to sound like your voice comes from a smoky bar or a judge's chamber.
Price:
After a free trial, you can choose the plan or not.
Lovo.ai:
Can you believe that? LOVO.ai is the go-to AI voice generator & text to speech platform for thousands of creators, saving 90% of their time and budget. So what can it bring to us? Let's have a look!

Key Features:
Explore voices that can express 30+ emotions
Create time-synced voiceover for your video
Power your voice into AI wisdom
Generate beautiful art and images
Price:
It's free for 14 days trial of pro plan, but not for the rest three offers.
FineShare FineVoice:
FineVoice is a simple yet powerful all-in-one AI voice changer. Haven't know it before? It can transform your voice into different styles in real time and work with Discord, Zoom, Google Meet, Twitch, YouTube and more. It like a voicemod soundboard. To be honest, you should give it a try.

Key Features:
Make your voice better and more fun
Make adjustments to get better vocals
Customize your voice like a pro with 28 audio effects
Easy to get studio-quality recording
Price:
Free download and some other plans from $9.90 to $39.90.
Murf:
You can transform your own voice from home or anywhere recording to a professional AI voice. Through the experience, you can see that there's a voice for each need to present surprising. And if you encounter that the video is too large, there are some free tools to compress them!

Key Features:
Remove filler words
Sync voice with video
Mute or delete unwanted parts
Change pitch, speed and emphasis
Price:
It has the free vision but also some paid plans.
Part 3: FAQs about Voicemod
I'm sure you will meet some trouble, don't worry! The following will help you use voicemod more smoothly! Let's learn about them together!
Q1. Is Voicemod Actually Safe?
A1. Voicemod is not a virus, and it is completely safe to use. You can use it without any worries.
Q2. Is Voicemod free or pro?
A2. Although Voicemod is a FREE to use Software; being a PRO user unlocks certain features that you cannot enjoy as a FREE User. What are the advantages of being a PRO Voicemod user: Free use of more than 100 voices created by the Voicemod team. (FREE users: Up to 6 random voices every day)
Q3. Does Voicemod work on discord?
A3. Voicemod gives you the freedom to experiment with over 80 distinctive voice filters in Discord. Make people laugh with the Chipmunk or Titan voices. Turn into a musical star using autotune effects with Lil' Mod, Magic Chords, and more. Oh, before doing that, if there is an urge to stretch a video with low resolution over a large screen without damaging the quality, maybe you can use some useful tools
Q4. Why is my Voicemod not working?
A4. If your Voicemod is not working, make sure you have allowed it to receive your microphone's signals. If not, then you can go to your microphone's settings. To check whether or not voicemod is receiving your microphone's signals, try choosing an effect from the Voicemod list and then use it on an app.
Extra Tip: How to Enhance an AI Generated Video?
When you use voicemod girl voice to apply to a desired video, you find that the video you find has some problems, for example, unclear faces, too much noise, or you can't convert it to your favorite cartoon character image, or you can't colorize a black and white video. Then it's time you need tools to fix the video's problems. Here we recommend you to use HitPaw Online Vedio Enhancer, which is fully capable of solving the above problematic phenomena. But worried about not knowing how to use this tool? Never mind, here is a step-by-step enhancing demonstration.
Features:
Support previewing the effect to upscale the video
4 different AI models to meet all your needs, better to add favorite sound effect
Colorize the old video and bring memory back
Animate what you want and create voicemod girl voice
Steps:
1.First, launch the HitPaw Online AI Video Enhancer.

Enhance Now!


2.Second, you can try the examples that HitPaw Online AI Video Enhancer has presented at the sample area, or just handle the video that you have problem with.

3.Then, choose the effect that you desire for. And click the "preview" to see the result, then just wait for moments.

4.At last, you can choose the resolution and format that you prefer. Then, click the "Download" to have the enhanced video.
Final Thought:
To sum up, after using voicemod, it's easy to find that you have gained the best discord voice changer- voicemod discord. With 6 simple steps, you can start with the free voice changer for discord.It's attractive that you can create your own voice and improve your natural voice, which really enrich and improve your voice experience.
Hey, what's more, do remember to enhance your video through the help of HitPaw Online Vedio Enhancer!
Enhance Now!