Top 5 Text to Video Converter for Free Online
The demand for producing video content has skyrocketed in recent years, and a lot of individuals are seeking for quick and simple solutions to turn their words into interesting videos. Online applications called text to video ai converters let you make videos from text-based content without having to know how to edit videos. The best five text to video converters that are freely available online will be covered in this article. These simple-to-use tools can assist you in turning your written material into engaging videos that can be posted on social media or other websites.
Part 1: Top 5 AI Text to Video Generator Online
Online applications called artificial intelligence (AI) text to video generators use advanced machine learning algorithms to assist you in producing videos from text-based content. With the development of artificial intelligence and human-like avatars, making videos has been much simpler. Fortunately, there are several text to video converter for free available nowadays. See which ones are the best.
Animaker
AI text to video generator, Animaker, provides a wealth of tools and features to assist you in producing interesting videos. You may simply and quickly make animated movies, whiteboard videos, and other sorts of films thanks to its user-friendly interface. Animaker also offers a selection of pre-made layouts, pictures, and music. People praised Animaker for its adaptability and incredible variety of materials.
Key Features:
The user interface is simple to use and welcoming for beginners.
The UI makes it simple to utilize the video making tools.
Animaker offers a number of customization templates to help you get started with generating videos.
Since Animaker is a cloud-based programme, you may access your project from any location.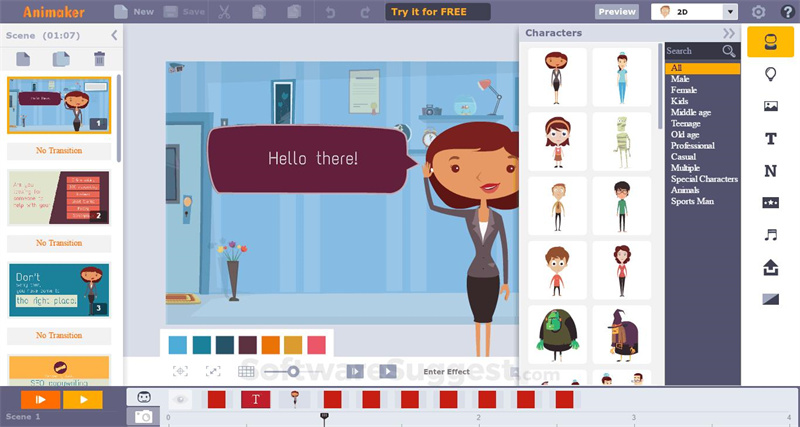 Lumen5
Numerous video-making options are provided by Lumen5. Most exciting is its AI-powered video editing feature, which makes it simple to convert your blog entries or news items into films. Users may convert their textual material into movies using the AI-powered video production platform Lumen5. It has a lot of features, including a drag-and-drop interface that is simple to use, templates that can be changed, and the option to add pictures, music, and other multimedia components to your films.
Key Features:
With the use of A.I., it can help you generate films in a matter of minutes and has Such a huge library of templates in various sizes.
Large collection of stock images and movies for your videos.
User interface is simple to use.
Libraries with music are pretty varied.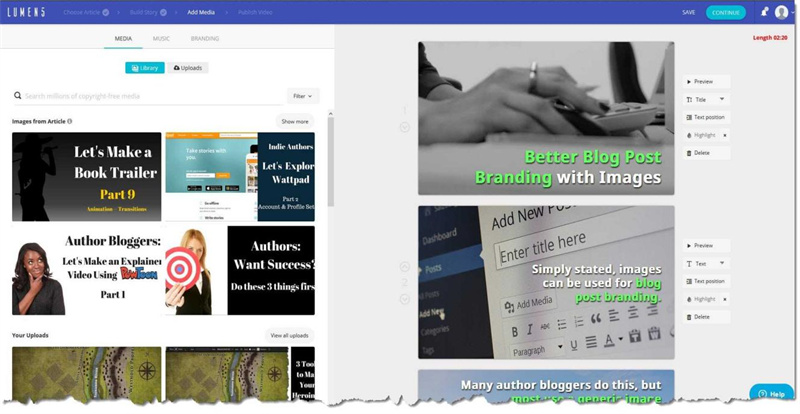 Vidnami
An online cloud-based AI platform is Vidnami. Mainly, it allows users make and edit films simply and gives a full collection of tools for expert video editing. An internet programme called Vidnami (formerly known as Material Samurai) uses artificial intelligence to automatically produce movies from your textual content. The quickest and simplest way to make amazing films for your website, brand, or company is with this method.
Key Features:
Enables you to produce promotional materials for your goods or services.
Transcribing and adding subtitles to your videos
Vidnami is special for its infinite storage.
An amazing auto voice-over service is provided by Vidnami.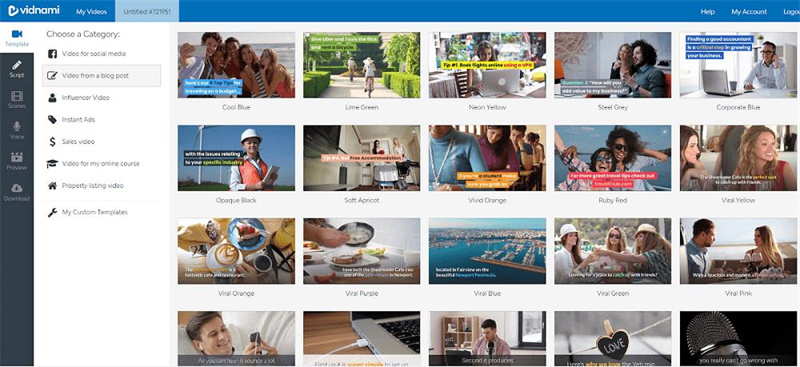 InVideo
With the aid of premium themes, photos, movies, and music from InVideo, you can create excellent videos for all social media sites, including Facebook, Instagram, and YouTube. InVideo is a platform for making videos that employs AI to make it simple and quick for consumers to produce videos of high quality. It offers a collection of jerry-built templates, stock video, and audio, and has a drag-and-drop interface. Along with a variety of customizing choices, InVideo also lets you brand and decorate your films anyway you choose.
Key Features:
Innovative and uncomplicated service.
Excellent for both pros and novices.
There are many template options.
Access to a good catalogue of royalty-free music.
Text-to-speech function.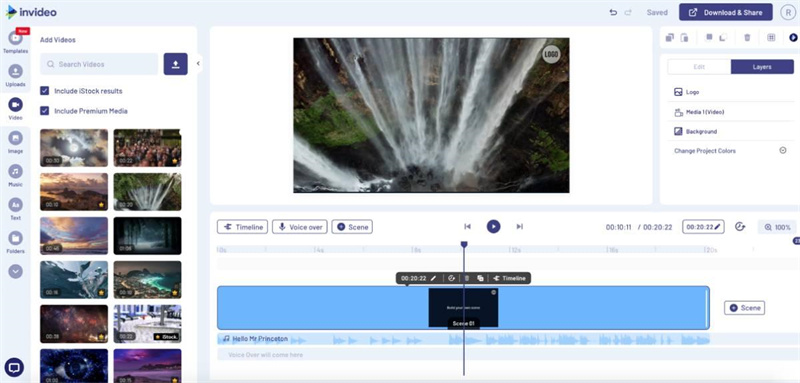 Wave.Video
You will have everything you need to create a wide variety of videos with a polished appearance with Wave.video editor. Among online video editors, it has the most complete range of editing tools. You may make films from text-based material using a variety of tools and capabilities on the video marketing platform Wave.video. It offers a collection of over 300 million royalty-free materials, including photos, movies, and music. Additionally, it contains an intuitive video editor that enables you to modify your films how you like.
Key Features:
There is no need for any code to alter layouts.
Supports a variety of video sizes and formats.
Features editable auto-captions with several styles.
Text-to-video functionality enabled by AI.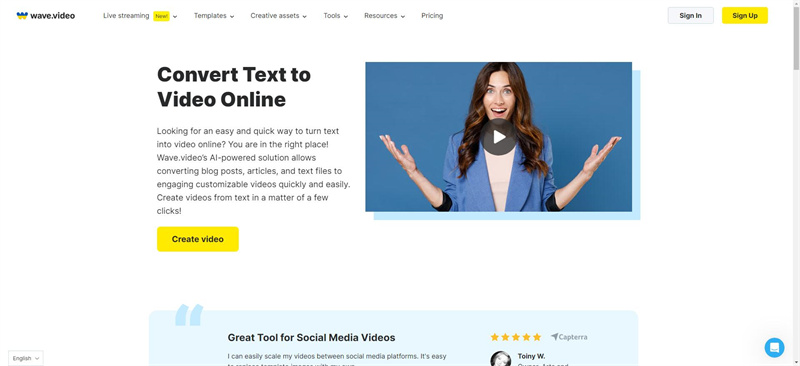 Part 2: 3 Best Online Converter to Transcribe Video to Text
Video transcription has emerged as a crucial component of content development, increasing video accessibility and search engine optimization. Thankfully, there are several internet converters that can transcribe a video to text. Three of the top online converters for turning video into text will be introduced in this article along with a description of their characteristics.
Rev.com
Rev.com is a well-known online converter that offers professional video transcription services. Its skilled transcriptionists are able to translate films into a variety of tongues, accents, and dialects. Also, Rev.com provides automatic transcribing services, which are less expensive but might not be as accurate. Time-stamping, voice recognition, and the ability to upload media in a variety of formats are further features of Rev.com.
Key Features:
Professional transcriptions.
Automated transcription services.
Speaker identification.
Various file formats.
99% accuracy guarantee.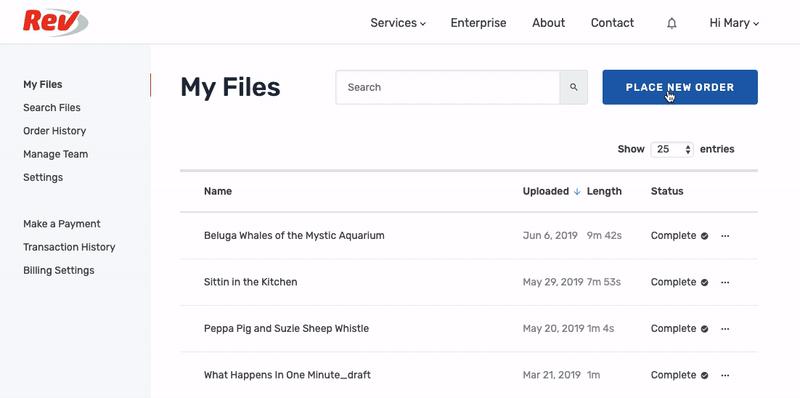 Temi.com
Temi.com is an additional online converter that swiftly and reliably transcribes videos using artificial intelligence. Temi.com's user-friendly interface enables users to submit movies from a variety of websites, including Vimeo and YouTube. Also, Temi.com provides editing tools to fix mistakes and amend the transcription, as well as the choice to download the finished text in several file formats.
Key Features:
Artificial intelligence transcription.
Quick turnaround time.
Integrated with various sources.
Comes with built-in editing tools.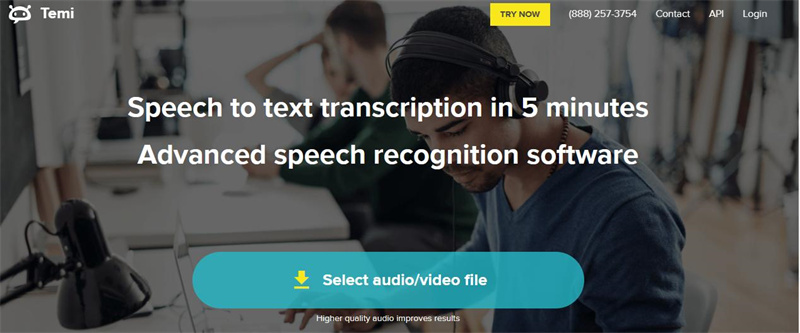 HappyScribe.co
HappyScribe.co is a flexible online converter that provides translation services in addition to video transcription. High accuracy voice recognition technology is used by HappyScribe.co to accurately translate videos. The platform includes capabilities like speaker recognition, time-stamping, and automated punctuation, and it supports many different languages.
Key Features:
Speech recognition technology.
Translation services.
Speaker identification.
Automatic punctuation.
Multiple languages supported.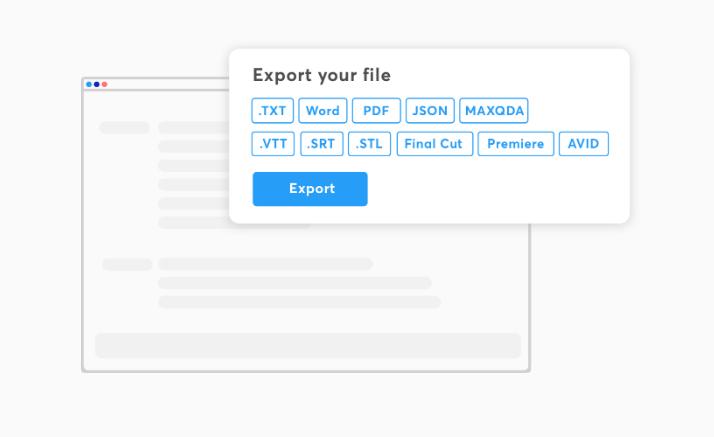 Part 3: 2 Best Text to Speech AI Video Maker for YouTube
Fortunately, there are a lot of tools that may make it easier to create interesting video material for YouTube, even though it can be a time-consuming and difficult effort. A  text to speech converter is one such technology that can easily convert textual information into interesting video content with real-sounding voiceovers.
Two of the most well-liked Text to Speech AI Video Maker tools for YouTube will be highlighted in this article.
Veed.io
You may simply and quickly make appealing videos with the aid of a variety of capabilities offered by the online video editing tool Veed.io. With only a few clicks, Veed.io allows you to post, edit, and download videos, making it the perfect tool for companies, marketers, and content producers. In order to offer you a better understanding of what Veed.io is capable of, we will highlight some of its most important features in this article.
Key Features:
You may add and change text to your movies using Veed.io.
Using Veed.io, you can also alter the audio in your videos.
You have a variety of choices on Veed.io for adding captions and subtitles to your videos.
The application gives users access to a collection of stock photos and videos.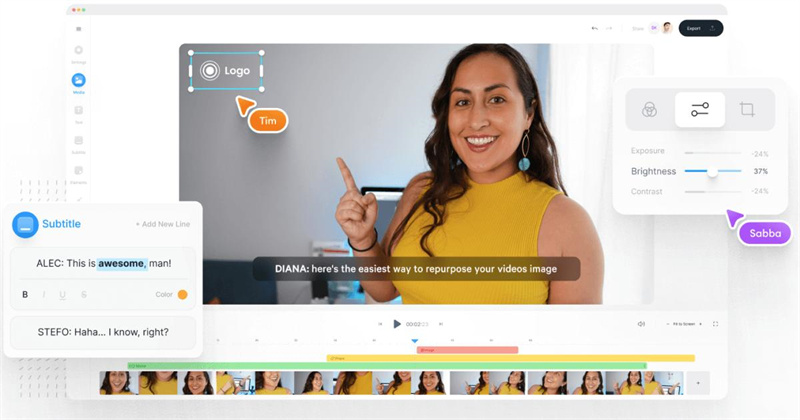 Flixier
A variety of capabilities are available on the web-based video editing software flixier for both novice and experienced users. Flixier's user-friendly user interface, which enables users to easily use the site, is one of its primary characteristics. Its cloud-based storage, which enables users to safely save their video files and retrieve them from anywhere, is another noteworthy feature.
Key Features:
User interface that is simple to utilize for navigating.
Advanced editing features, such as colour correction, effects, and video transitions.
Real-time previews provide immediate feedback on made modifications.
Support for a variety of video formats to provide video editors flexibility.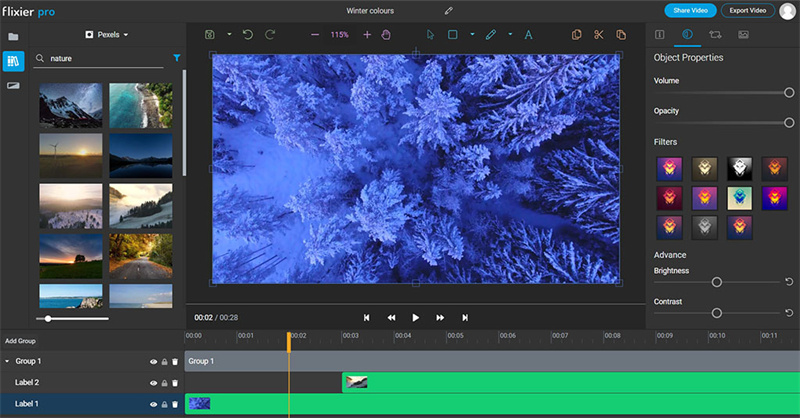 Extra Tip: Best Online Tools to Add Text to Video for Free
HitPaw Add Subtitle to Video Online is the ideal answer for you if you're a video maker seeking for a quick and easy way to add subtitles to  videos. Even the most unskilled video editors may use this cutting-edge platform because it has a variety of tools that make adding subtitles simple. You can quickly submit your movie, add subtitles in any language, and alter the text's location and appearance with HitPaw online tool.
Key Features:
Maintains video quality throughout processing.
Encourage the hand drafting of the subtitles.
How to use the text fonts that are on offer.
Make use of the subtitles' options, such as bold, opacity, font size, etc.
How to Use:
1.First, launch the HitPaw Add Subtitle to Video Online browser extension.

Create Now!

2.To load the video you wish to add subtitles to, click "Choose File" at this time.

3.Then, input the text you want to add in the left side. And you can adjust the duration.

4.Next you will need to tap on Style option to make some settings. You can change the color and position of the subtitle. Or you can drag the subtitle to the proprt position on the video directly. Finally, click Save the download the ready video.
Conclusion
How to Add Speech to Your Video is Described in This Article Top 5 Text to Video Converter for Free Online. The HitPaw's Add Subtitle to Video Online is a great option for anybody wishing to quickly and effectively add subtitles to their films. We observed many tools online, some of them are overpriced, but we suggest it.