Best 5 Photo Enhancers: One-Click to Sharpen Image Online with AI!
Have you often tried to enhance images without Photoshop but failed? Don't worry. You can now sharpen an image online with AI tools in a snap. Below are the 5 best AI photo enhancers to explore!
AI Combo Photo Enhancer: Sharpen Image within A Blink
Artificial Intelligence has gained much importance recently in the area of photo enhancement. Whether you have captured a low-quality or improper focus picture, AI photo enhancers can fix them in a blink. They can quickly identify the humans, scenes, and objects in the images, thus adjusting them precisely with creative control. Hence, you can efficiently sharpen an image online using these AI tools.
However, you must choose an online photo enhancer that is good in multiple aspects. Since exploring the market is time-consuming, let's discover the top tools before deciding.
Best 5 Photo Enhancers to Sharpen Image Online in 2023
AI photo enhancer tools are getting famous this year because they can sharpen an image online with advanced AI algorithms. Read on to learn about the 5 photo enhancers in 2023:
Price: Free plus $4.99 per month
BeFunky offers an online AI-based photo editing tool that lets you quickly sharpen your images with its auto-enhance feature. Its Sharpen DLX tool covers everything from balancing image exposure to correct colors. Besides, you can explore and use other tools like Vibrant Colors, Denoise, and HDR Deluxe.
Also, the resulting photos will be edited professionally using the latest AI technology and photo editing expertise. You can easily make the images bright and colorful with better contrast. Even you can adjust shadows and highlights without losing quality.
Pros:

Offer advanced photo editing tools to explore

Enhance photos in four easy & quick steps

Provide you with photo enhancement tips & tricks

Cons:

It doesn't show the preview sometimes

The output file has a watermark in free version
Price: Free plus $8.99 per month
If you are looking for a one-tap AI enhancer, the Fotor editor provides you with that. You only have to upload images and let the tool work on its own, offering you quick & high-definition output. You can adjust the size and brightness settings, like crop, resize, rotate, colors, fine-tune, etc.
Even it lets you do batch editing of the images as well. You can quickly make advanced edits, like denoise, blur, structure, background blur, etc. However, the specialized edits include HSL, image cutout, and curves.
Pros:

Provide you with one-tap skin retouch options

Let you compare the output and original image

Keep the processed images saved unless deleted

Cons:

Leave the watermark on the resulting image

The interface is full of ads in the free version
Price: Free plus $3 per month
UpscalePics is another user-friendly AI image enhancer. Though its functioning is based on advanced AI networks, you can effortlessly make customized changes according to your demands. Also, you have more control over the output settings compared to other tools.
In addition, it is quick and convenient for delivering high-definition results. Even you can upscale the images by increasing the picture resolution. Finally, it allows you to remove JPEG artifacts and noise while processing.
Pros:

Support WebP, JPG, and PNG formats

Offer excellent pricing for image editing

Compress the large-size pictures easily

Cons:

Consume a lot of computational power

Require you to accept cookies before work
Price: Free
In case you are searching for a completely free way to sharpen an image online with AI technology, Remini is the ultimate solution. It helps you detect the colors, faces, and various other elements to adjust them carefully for a better look.
Furthermore, you can also go for basic editing, like resizing, cropping, adjusting, adding filters, removing blemishes, and correcting red-eye errors are not a hassle. Simply, it offers super quick processing with smart enhancement.
Pros:

Turn old blurry media files into HD ones

Upscale the images without losing quality

Work on browser, Android, and iOS

Cons:

The free version requires you to watch ads

Support output with a watermark in free mode
Price: Free plus $9, $24, and $34 per month
Let's Enhance is another remarkable tool to sharpen images instantly using new AI algorithms. Also, sharpening photos for websites or printing is possible. You can enhance the resolution up to 4k without any quality loss. It comes with a wide range of editing tools like contrast adjustment, color correction, and others.
Moreover, you can quickly fix the blur, lighting, and pixelation issues by applying ML-powered HDR. Hence, making your pictures look the best is in your hands. Lastly, you can also upload and edit multiple images via batch editing.
Pros:

Remove artifacts and noise from images

Offer digital art and smart resize options

Support JPEG and PNG formats for export

Cons:

Let you edit only five photos in free mode

Lack of support for RAW formats
Bonus:

Wanna Remove Unwanted Logo/Object/Watermark from Your Image?

People are often interested in sharpening an image online with AI tools, but they may have to remove an unwanted watermark, logo, or object from their pictures. HitPaw Image Watermark Remover is the one-stop solution in this scenario.

This beginner-friendly AI tool aids you in removing the text, watermark, sticker, logo, object, etc., from your photo in a blink. Simply, its advanced features and cutting-edge technology make this tool a priority. Supporting rapid image processing, it never compromises the quality. You can efficiently perform the task by highlighting the particular area to remove. However, the brush size selection for this purpose is in your control. You can even use the zoom-in/out and drag features for ease. Lastly, this tool allows you to undo or redo the changes.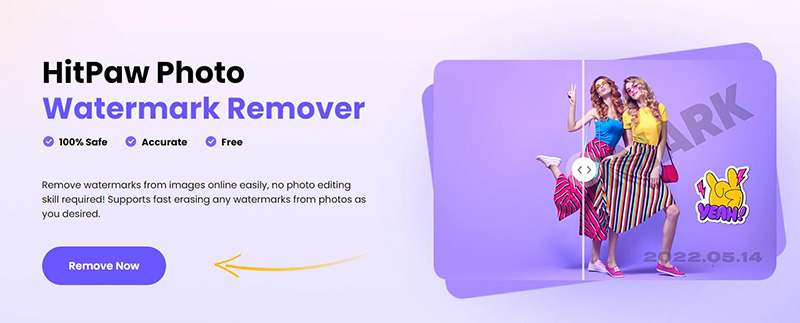 Features
Support formats such as WebP, PNG, JPEG, etc.
Work on any device with advanced AI technology
Require no technical skills to utilize this AI tool
Offer accurate and better quality results
Let you compare the original and processed image
Step-by-step guide to remove the watermark from your image
Step 1.Firstly, open the HitPaw Image Watermark Remover website. Now, head to the main interface by tapping the "Remove Now" button.

Step 2.Next, choose the "Brush Size" by moving the slider to the right or left from the right-side column. Select the watermark, logo, or object area, and once done, press the "Remove" tab.

Step 3.The last step involves using other options like the image results, resizing, and more. After that, hit the "Download" button, and you are all done!
Conclusion
Undoubtedly, images are valuable for everyone since a picture is worth a thousand words. So if you are looking for the simplest methods to sharpen an image online without spending much, the recommended AI photo enhancers are the best. However, it's up to you to choose the most suitable one.
On the other hand, you may need to remove unwanted people, objects, or watermarks. Here, HitPaw Image Watermark Remover can assist you. You can efficiently perform the task without losing image quality.