Step by Step Guide to Learn How to Remove Background in Procreate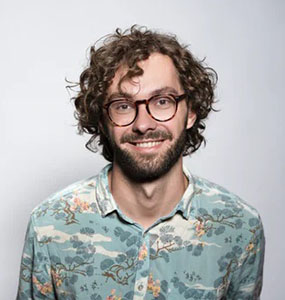 Removing the background of an image art or a picture is a crucial part of an editing application. Consider this scenario: you capture a shot and everything is perfect; no bad lighting, no blinked eyes, and no blurry movement except the background. In such scenarios, you just need a perfect editing application to serve you with the best features. In the past, you have no specific techniques to change or remove the background of an image. But now, you have the Procreate to help you with such situations.
Part 1. How to Remove Image Background in Procreate
For the purpose of exporting your final Procreate image, you should understand how to remove object from photo in Procreate and make the canvas background translucent. Below is the step-by-step guide to removing your background with Procreate's eraser tool:
Step 1. Create a new canvas
As a first step, you are required to select the 'New Canvas' option from the right-top corner of the application, followed by selecting your preferred resolution for your final image. Also; if you are working on any previous canvas, you can simply hide everything to make a new project.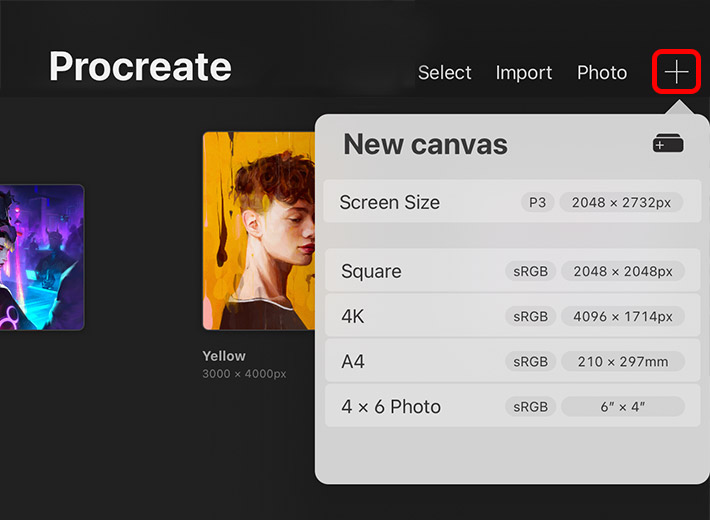 Step 2. Import the image
In addition to the last step, you have to click the "Add" button and then click on the "Insert a photo" tab. After selecting the tab, you are required to pick a photo and then you can simply import it into the new Procreate canvas.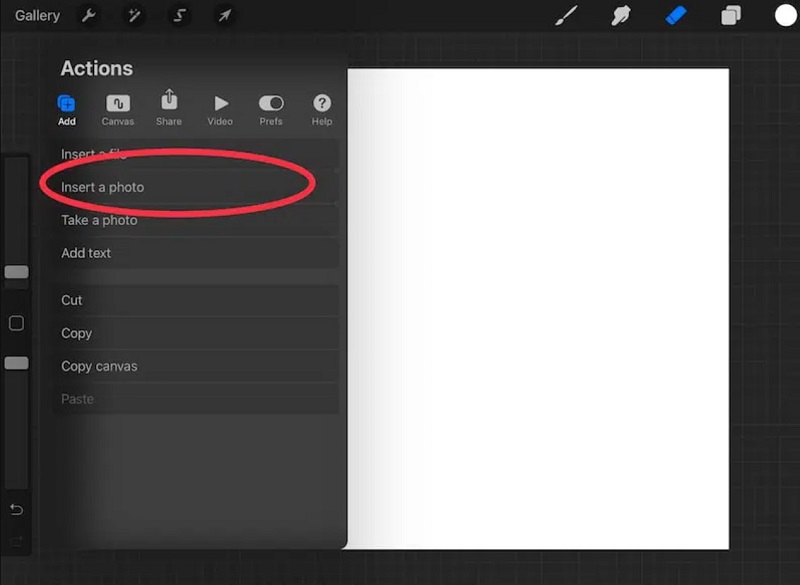 Step 3. Stretch the image
Click on the arrow icon (Transform tool) situated in the top toolbar, and start stretching the image across the canvas. And then, click on the "Uniform setting" so that the image doesn't deform. Just try to make it as stretchy as possible.
Don't worry if the background is falling off the canvas as it will be more convenient to erase the background. You just need to keep in mind that the main objective doesn't get cut off while stretching the background.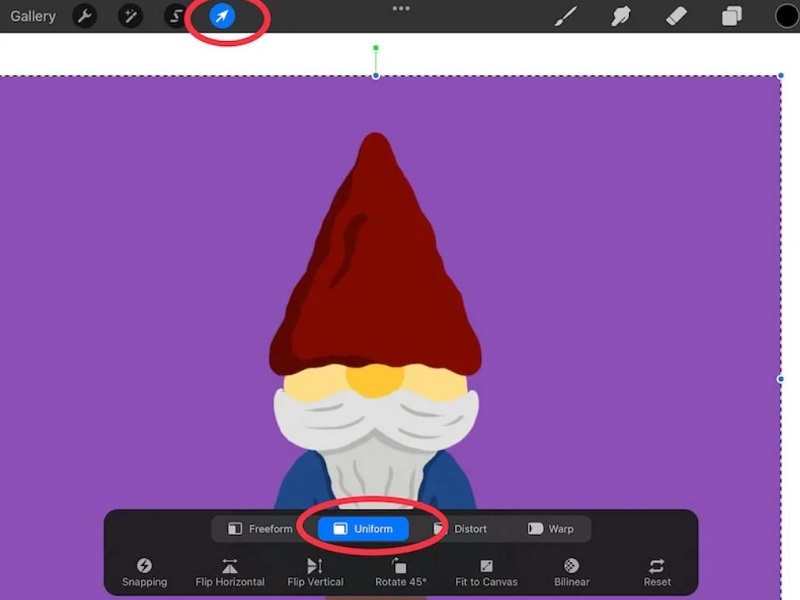 Step 4. Click on the selection tool
Furthermore, by clicking on the S-icon (Selection tool) on the top toolbar, you will get all the options concerned with the Selection tool. Here, you need to click on 'Automatic".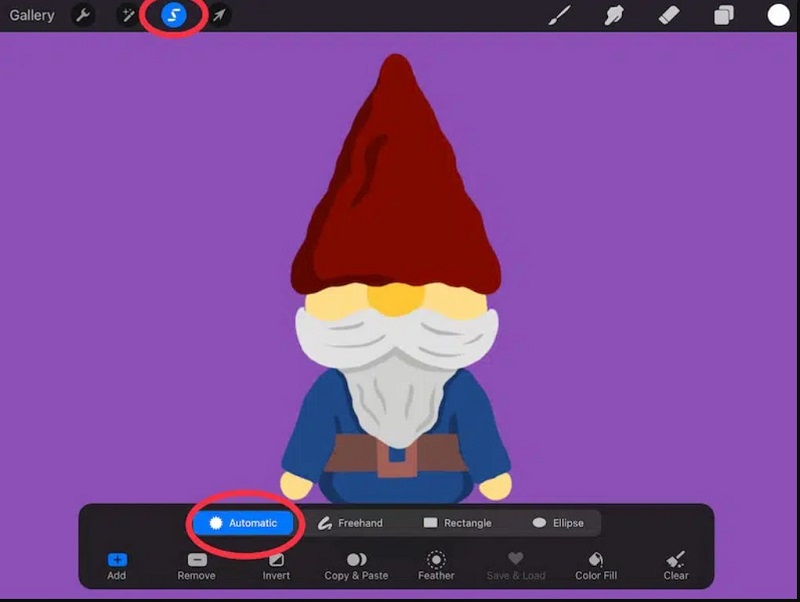 Step 5. Click on the background
After selecting the image with the Automatic selection tool, you just need to click on the background of the image that shows a change in colors of your picked image.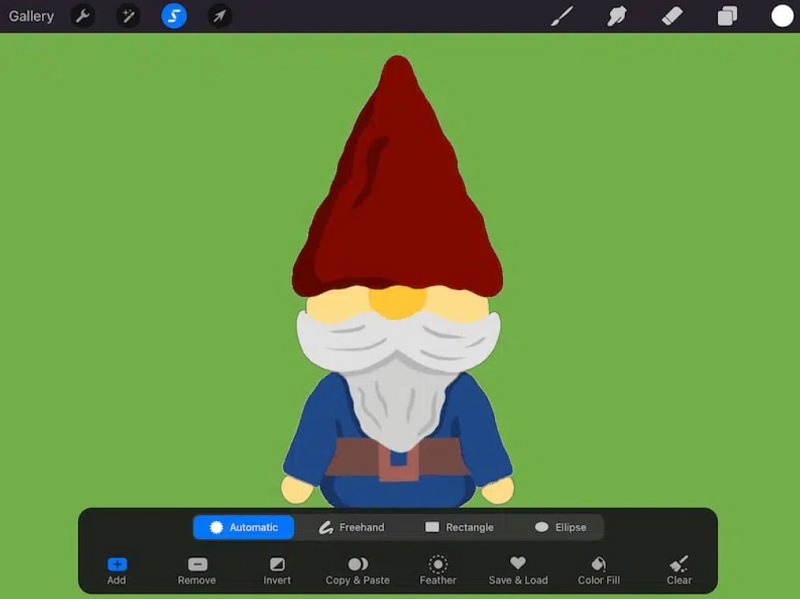 Step 6. Click on Invert
In this step, you are required to click on the "Invert" button. You will find this button in the Selection setting at the bottom bar of the options. By selecting this button, you will eventually be selecting the primary image and this is what we actually want.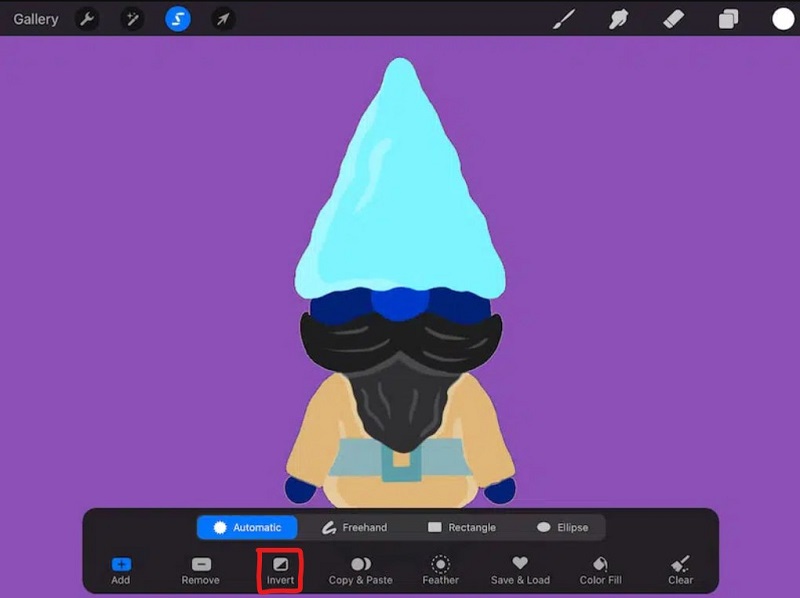 Step 7. Click on Copy & Paste
Furthermore, you need to select the "Copy & Paste" button in the Selection setting at the bottom bar of the options. As we have already selected the primary picture in the previous step, you just need to copy the selected image and paste it into a new layer.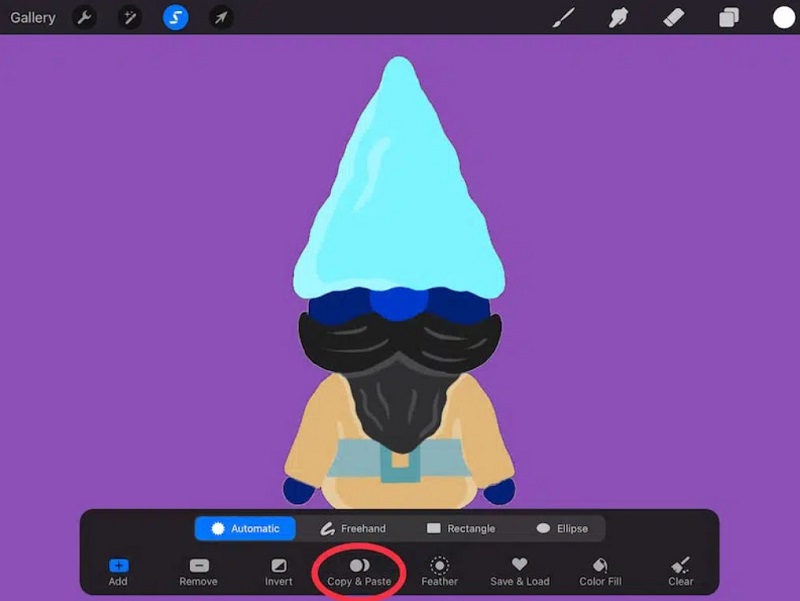 Step 8. Clean & Export
Clean the background, if anything is left behind in the backdrop; by clicking on the eraser tool (if needed).
In the final step, if you are completely satisfied with the outcome, then you can proceed with exporting your image. For that, click on the "Share" button to save the image. Here you can select your preferred format, such as PNG, JPEG, PDF, or TIFF.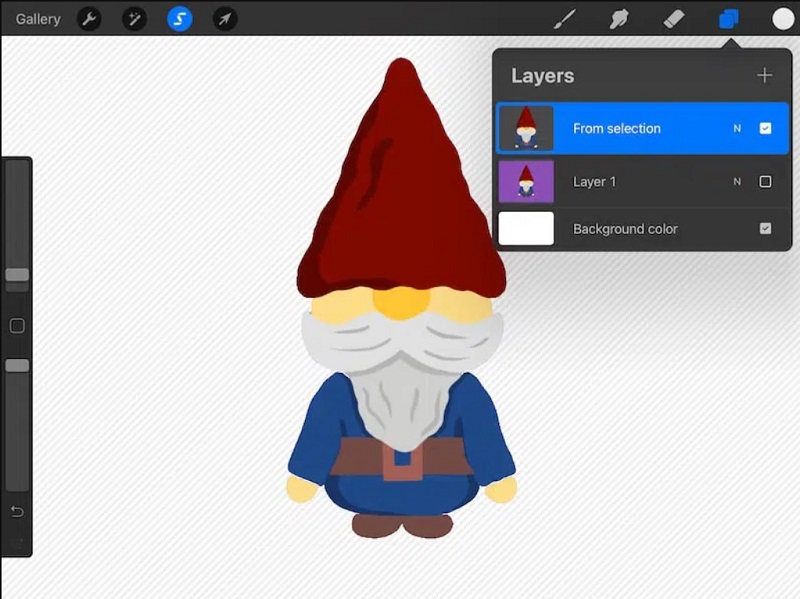 Part 2. Is Procreate for Free?
Procreate is an app for artists and designers that allows them to create and use a variety of applications. We can all agree that the features and functions of Procreate are broad and user-friendly. There is, however, a cost involved with it. If you live in the United States, you may expect to pay $9.99. Procreate Pocket, on the other hand, is a $4.99 drawing and painting app for the iPhone. To get the most out of this software, you'll have to pay a premium. The cost of living differs depending on where you reside.
Part 3. Free Procreate Alternatives You Should Know
Other applications for generating graphics and artwork exist, but none compare to Procreate. The application has a comprehensive set of tools to assist you in creating professional-looking designs, as well as a very user-friendly interface. It's an amazing tool for artists since each brush has over 100 programmable features, it can make art in 64-bit color, and it can generate ultra-high-definition canvases. Procreate, on the other hand, is limited to iOS devices like as iPads and iPhones. But don't worry; we've compiled a list of the top Procreate alternatives to help you create stunning graphics.
This is a free image background remover tool that can be used on PC, Mac, iOS and Android devices freely. It requires no installation and have a super easy operation.
Features:
Completely free and no virus
No watermark, no ads
One click to remove background from photo
Enter the HitPaw Online Background Remover URL to the browser address bar, and upload your photo.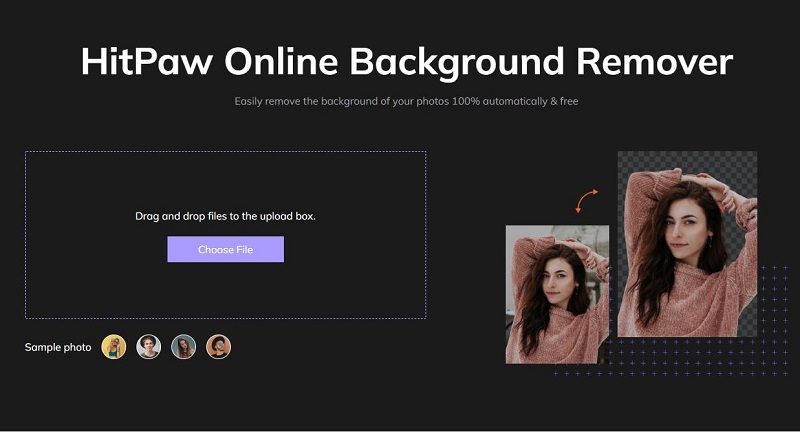 Click "Remove Background" button to remove the image automatically.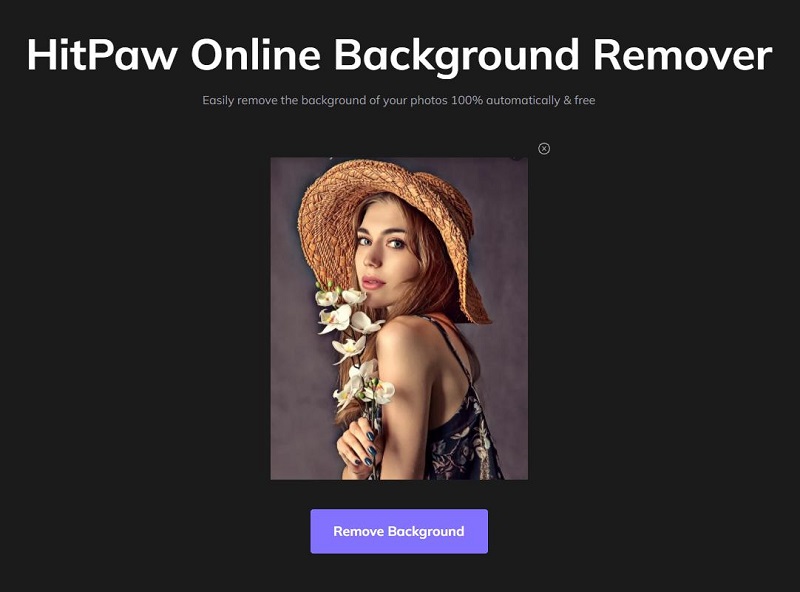 2. Autodesk Sketchbook
Architects, designers, and concept artists will benefit from Autodesk SketchBook, a drawing, and painting program. It enables users to create excellent graphics in less time while being productive on all major platforms and devices.
Architects, designers, and concept artists will benefit from Autodesk SketchBook, a drawing, and painting program. It enables users to create excellent graphics in less time while being productive on all major platforms and devices.
Because the software is cross-platform compatible, users can stay productive no matter where they are.
Features
Cross-platform
Line art import with transparent background
190+ customizable brushes
16-sector Radial Symmetry technology
Predictive stroke technology
PSD compatible on all devices
100 mpx canvas
Pricing
Free Trial Availability- Yes
Individual Subscription- $29.99/year
Enterprise subscription- $85/year
3. Assembly
Rather than working more, assembly allows you to advance professionally. Assembly is a no-code process automation program that lets you customize your workflows and save one day every week. You may either easily automate and develop your own process or select from a library of more than 50 free workflow templates. Thousands of businesses have benefited from Assembly's help in achieving a 95 percent employee engagement rate. Assembly is ideal for groups of any size and may be used by an indefinite number of people. Assembly provides a number of helpful features and connects with Microsoft Teams, Office 365, and important SSO and HRIS systems.
Features
Reporting & Statistics
Activity Dashboard
Alerts/Notifications
Customizable Reports
Third-Party Integrations
Real-Time Reporting
Activity Tracking
Customizable Branding
Pricing
Free Trial Availability- Yes
Lite Subscription- $2.80/month
Standard subscription- $4.50/month
Premium subscription- Custom pricing
4. Infinite Painter
Infinite Painter is an excellent graphic design application that was designed with the goal of delivering the best graphic design tools to artists of all levels, whether it's a hobby, a passion, or a vocation. When you go deeper, you'll find a plethora of possibilities. Although layers, forms, and selection tools are all basic concepts, some features are exclusive to our application.
What sets our product apart from the competition is our emphasis on the user experience. It's easy to use, well-organized, and very customizable. Almost every tool or function may be docked to the main interface for quick, easy access, giving pros and everyday artists the best of both worlds. You'll discover some of the best brushes on the market, ranging from natural media brushes like watercolors, charcoals, and our best-in-class pencils to design brushes like our lasso fills, with around 200 brushes to choose from. You may change the settings and make your own brushes.
Features
Best-in-class pencils
Minimal and intuitive interface
Easily group layers
Share Time-lapse recordings with your social networks
Convert any stroke into an editable shape
Import and export custom brushes and sets
Dock brushes and brush settings for quick, easy editing
Design 3D cityscapes with five different perspective guides or a standard 2D grid
Pricing
Free Trial Availability- Yes
Subscription- $9.99 one-time payment
5. Adobe Photoshop Sketch
A graphite pencil, ink pen, and blending markers are among the sketching devices that interact organically with the canvas. Brushes that are built-in give you even more creative freedom. Split View allows you to keep all of your tools and sketches on the same screen. Then, to take your sketches to the next level, import them into Adobe Photoshop CC on your PC.
Features
3D Digital Asset Management
CAD Tools
Collaboration Tools
Content Import/Export
Content Sharing
Custom Brushes
Custom Fonts
Data Storage Management
Pricing
Free Trial Availability- Yes
Subscription- $10.51/month
The Bottom Line
You now have a comprehensive grasp of Procreate Brushes, including how to choose the best ones for you. You've most likely seen these brushes in action on YouTube, where creative artists use them to create magnificent works of art rapidly. We also recommend several Procreate alternative tools that you can choose including a free online background remover tool.