6 Best AI Photo Enhancer Tools (Online & App)
As time passes, the picture quality of previous photos may deteriorate. Using high quality images is crucial if you want to attract attention. Over the past few years, image upgrading technology has become more and more advanced, making it easier to turn low-resolution images into professional and high-quality ones. Artificial intelligence to enhance image quality is becoming more and more popular among users, and this article will introduce you to a few of the most popular ai image enhancers.
Part 1: Top 3 Photo Enhancer APP (Free Concluded)
Nowadays, more and more AI image upscaler apps can easily enhance photos on iPhone or ANdroid. Here we are going to present you top 3 image enhancer apps.
HitPaw Photo Enhancer for Android
It's known to all that HitPaw Photo Enhancer is powered by AI, which can greatly upscale images, colorize image and restore old photos within seconds. You can AI enhance photos anytime and anywhere as it is available on mobile but also desktop.
Key Features:
Restore old photos with one click;
The best AI photo enhancer to beautify selfies easily;
Batch enhance images at a fast speed;
Provides powerful color correction feature;
Animate photos and create 3D animation;
Remove blemish and wrinkle to retouch photos.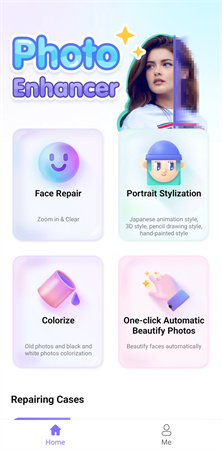 Remini AI Photo Enhancer
Remini is a famous AI-driven photo enhancer which automatically detect face, color and other elements and enhance them. It also serves as a photo editor app. You can make some edits to perfect photos like resizing, adjusting brightness and contrast, and adding filters, etc.
Key Features:
Make your blurred, damaged, old photos easily;
Enhance portraits into HD;
Available on iPhone, iPad, Android;
Supported by powerful AI technology
Vivid - AI Photo Enhancer
Vivid AI Photo Enhancer is also a powerful photo enhancer app which offers incredible AI technology. It can automatically enhance images or restore old photos to natural-level.
Key Features:
Colorize black-and-white photos;
Served as a photo sharpener, it can make every detail clearer;
Create cartoon selfies and animation portraits;
Blur image background easily.
Part 2: 3 Best AI Resolution Enhancer Online
If you don't want to install anything, you can also use online AI photo enhancer to upscale images. And here are the widely-used ones.
Let's Enhance
Let's Enhancce is one of the best ai photo enhancer which allows you to upscale photos with its online tools or app. Let's Enhancer can greatly improve the resolution of the image online, without losing any quality.
Key Features:
Upscale images to up to 16X without losing quality;
Batch enhancement feature;
Colorize photos naturally;
Edit photos for various purposes, like e-commerce, etc.
VanceAI
VanceAI is a one-stop online image processing tool. It can not only improve image quality, fix old photos, colorize images, etc. like an image enhancer, but also remove image backgrounds, compress images, etc. like an image editor.
Key Features:
Provides photo sharpener, denoiser, color correction features;
Turn image to anime or painting;
Available on Windows, Mac, Android, iOS;
Remove background from images.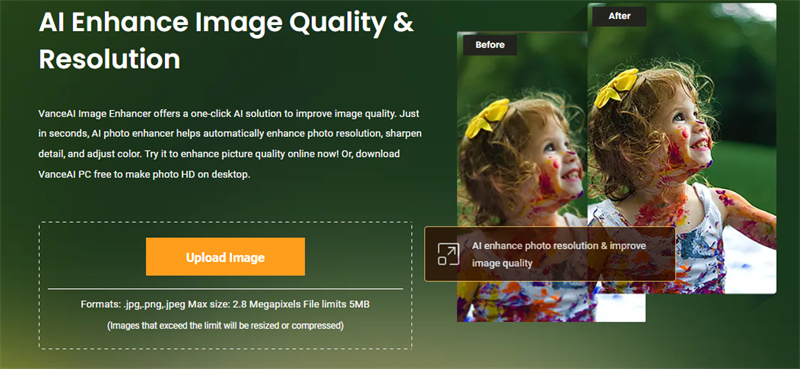 AVClabs Photo Enhancer AI
You may know the desktop version of AVClabs Photo Enhancer, but it provides an online tools to enhance photo with AI, named AVC.AI. You can use it to upgrade the image resolution from low to high and improve its quality by denoising, sharpening, face retouching, coloring, etc.
Key Features:
Restore photos online effortlessly;
Best Google AI Photo Enhancer for image upscaling;
Features AI facial detection for refining face;
Easily remove background from photos.
Extra Tip: Best AI Photo Enhancer for Desktop
If you want more features or want to have a stabler experience for photo enhancing, you can try a desktop photo enhancer. We highly recommend HitPaw Photo Enhancer here, and you must notice that we have introduced its Android version in this article. It's desktop version is extremely amazing!
Key Features:
Fast AI enhance image with one click;
Enlarge image losslessly and unlimitedly;
Bring old photos to life with color correction features;
Retouch photo as a AI face enhancer;
Fix pixelated, blurry, low-quality images;
Provides a photo to cartoon feature.
How to Use:
All you have to do is to have HitPaw Photo Enhancer on your desktop now.
1.Launch this software and upload the images you want to enhance.

2.Choose a proper AI enhancement model.

3.Click on Enhance and you can preview the result after a few seconds.

4.After selecting the image resolution and size, you can save the enhanced image.
Conclusion
AI image enhance can improve image resolution, adjust the color, contrast, and more to make the image more professional. An effective photo enhancer can really make your images look better and more eye-catching. So, we recommend HitPaw Photo Enhancer for Android to you, which can enhance images to an amazing level.