TOP 8 Old Photo Restoration Solutions in 2023 (FREE Included)
Old photo restoration is a way to cherish memories forever since they are too precious to fade. Whether you wanna give life to photos of school friends, unforgettable vacations, or lost relatives, there is a requirement for restoration services. However, you need to select an efficient tool that can enhance brightness, enlarge the image, and remove scratches & traces of time influence.
So below are the 8 leading old photo restoration solutions that are worth your time and money. Let's explore!
TOP 8 Old Photo Restoration Solutions in 2023
Price: Free, $4.95 (100 credits), $6.95 (200), $11.45 (500), and $17.95 (1000)
Platform: Online
VanceAI is a remarkable online tool to help you restore old images by using its old photo restoration technology. You can fix your photo immediately if your photo has dust, tears, sepia, spots, or scratches. Along with restoring an image, this tool will colorize the black-and-white image.
Also, its feature to detect and improve faces makes it stand above other tools. However, you are recommended to upload a file with 2.8 megapixels and 5MB size. Otherwise, resizing and compression happen while processing.
Pros
Let you preview images before download
Support batch editing to save your time
Allow you to change output DPI and format
Cons
Support image uploading less than 2000x2000 px
Offer premium output quality in paid option
Price: Free, $10 (1000 credits), $25 (2500 credits), etc.
Platform: Online
VAs the name implies, HotPot AI picture restorer assists you in restoring, repairing, and sharpening the photo machine learning algorithms. You can turn on the option of scratch to erase if there are any on your uploaded photo. The processing gets completed in three simple steps.
In addition, it offers good output image quality even in the free version. After processing, you can use its other features such as enlarge, fix the face, AI erase, colorize, artify, and more.
Pros
Work for both colored and B&W images
Provide you with a wide range of features
Flexibility in adjusting each aspect as desired
Cons
Require credits to use the output commercially
Take much time while processing for free
Price: Free (5 credits) and $30 (300 credits)
Platform: Online
Neural.love aids you in restoring old photos efficiently by reducing blur, fixing the colors, repairing scratches & damage, and enhancing the details. So you will get clearer and more attractive images than the original one. Since it offers an encrypted toolbox, you won't face any privacy issues regarding uploaded image files.
More so, you can enhance the image quality by up to 4x. The new Uncrop model is also available to make processing easier. Lastly, your file will be automatically deleted from the Amazon cloud in 183 days.
Pros
Offer facial restoration and colorization
Let you upload 50 images at a time
Help you sharpen the faces by adding details
Cons
Require a sign-up to process
Offer only four credits for free
Price: Free, $9.99/month, and 48.99/year
Platform: Online
Repairit is a fantastic online repair tool that not only restores old or scratched photos but also repairs Illustrator and Adobe Photoshop image files. Powered by AI technology, it helps you remove blemishes, improve face clarity, and colorize the photo in the end. Hence, the processed images will be clear, colorized, and intact.
Since it also supports unpopular formats, you can process the desired file without worry. Even you can preview the output files to compare the results.
Pros
Offer a clean and user-friendly interface
Support formats like BMP, GIF, WEBP, etc.
Provide you with multiple advanced features
Cons
The photo colorize option is only for paid users
The output quality is not high in free mode
Price: Free, $17.99/month, $24.99/month
Platform: Online, iOS, Android
The cutting-edge technology of Remini helps you make your old photos as good as new ones. With its one-click photo processing, you can achieve super sharp HD quality for free. Not only it offers face enhancement features but also the surroundings.
Even you can turn on the option of glow and color correction. More so, it lets you choose the target file format, along with AI models. You can share the image link with others; however, gets expire in 14 days.
Pros
Offer high-resolution output photos
Support formats like PNG, TIFF, and JPG
Allow you to preview before downloading
Cons
Unable to remove scratches properly
Leave the output with a watermark
Price: Free, $6/month (Premium), $19/month (Professional)
Platform: Online, Android, iOS, Windows, Mac
If you want to remove scratches to repair your old, damaged pictures instantly, the Image Colorize tool is efficient enough to help you. It lets you import photos in the supported format (JPG, JPEG, PNG) and process them using AI algorithms.
Furthermore, you can edit your images by adding filters, inserting frames, decorating, and fine-tuning. You can also try annotating, redacting, rotating, and cropping. Lastly, it allows you to revert the changes you made if required.
Pros
Support up to 3000x3000px photos
Help you preview images before downloading
Delete the uploads after 24 hours
Cons
It does not offer the high-quality results
Unable to colorize the photo during restoration
Price: Free
Platform: Online
PhotoBooth is a remarkable online tool that assists you in not only restoring but also enhancing old photos. After uploading, it scans the image pixel by pixel to completely fix any damage. Even its AI reverse-restore technology lets you have a good-resolution copy.
Not only quality, but also it offers instant results and safe processing. Moreover, you will receive extra enhancements with the sharpening and color correction features.
Pros
Offer a completely free photo restoration
Provide you with old photo restoration examples
Give you the right to use the processed images
Cons
It may leave some scratches behind
Lack of advanced editing functions
Price: Free
Platform: Online
Besides offering multiple other tools, LunaPic assists you in restoring photos under its adjustment features. You are allowed to upload the images from the system or via URL. Though the processing is automatic, it lets you edit the output later per your requirements.
You can change the dimension, add the number of frames, set the file size, and choose the image format. However, rotating, cropping, and removing the background are some other features to try.
Pros
Offer a slider for adjustment percentage
Help you smooth image and reduce noise
Let you share the photos on various social apps
Cons
The interface is bombarded with ads
Restore only the less damaged photos
Bonus:

Best Online Watermark Remover of 2023

Have you got an old photo with a watermark and need to remove it? HitPaw Image Watermark Remover must be your way to go!

Besides watermarks, it helps you erase the logo, object, etc. Plus, you can carry out the task quickly, bringing about high-definition results. Working on all devices, this tool lets you add photos easily using the drag & drop method. You can increase or decrease the brush size with a slider to completely cover the area to remove. Also, the feature to undo or redo the changes is in your hands. You can even drag and zoom in/out the image if required. Another thing to consider is its assurance to keep your data safe over processing images. Lastly, you can use the option to view the original image whenever required.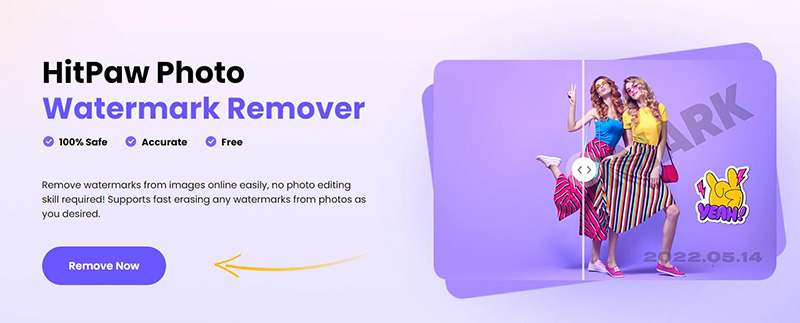 Features
Require no technical skillset to function
Support popular formats, i.e., WebP, PNG, etc.
Let you complete the task in three easy steps
Offer four sample photos for practice beforehand
Help you complete fast watermark removal
Quick steps for removing watermarks from photos online
Step 1.The first step involves opening the HitPaw Image Watermark Remover n your browser. Now, tap "Remove Now" to open the Choose file section.

Step 2.Next, you have to drag and drop the required image file in the supported format. The main interface will automatically appear. Choose the desired brush size using the slider and cover the watermark area.

Step 3.Finally, hit the "Remove" button from the right-side column and wait for a moment. Once the watermark disappears, you can press the "Download" tab to save the photo. You are all done!
Conclusion
One can easily adore memories by restoring your favorite old damaged photos. Since a trustworthy solution is required for old photo restoration, the above article provides you with the top 8 recommended tools. You can choose the one that best fits your needs in a particular situation.
However, if your restored photo has a watermark or any other object to remove, you can erase it using the HitPaw Image Watermark Remover online. It offers you complete control over the image to get the task accomplished.