8 AI Video Editor Online: Effortlessly Enhance Your Videos
In the digital age, videos play a crucial role in storytelling and content creation. Whether you're a professional videographer or just someone who loves capturing life's moments on camera, having access to powerful video editing tools can take your footage to the next level.
That's where AI-generated video editors come in. These cutting-edge software programs utilize artificial intelligence algorithms to automatically enhance your videos, making them more vibrant, polished, and engaging.
To help you navigate the ever-growing landscape of AI video editors, we've compiled a list of the 8 best options for 2023.
Part1: List of Top 8 AI Video Editor Tools of 2023
There are a growing number of AI-powered video editing tools available today that can help streamline the video creation process.
These tools utilize artificial intelligence to automate certain editing tasks and speed up overall production time. This allows content creators, marketers, and professionals to produce high-quality videos more efficiently.
The table below provides an overview of the 8 best online video editor AI in 2023, along with their key strengths and overall capabilities based on reviews and ratings.
| Rank | AI Video Editor | Best For | Overall Rating |
| --- | --- | --- | --- |
| 1 | HitPaw Online Video Enhancer | Leading AI video editor with robust editing capabilities | 9 |
| 2 | Synthesia | User-friendly for fast video creation | 8.7 |
| 3 | VEED.IO | Advanced tools tailored to professionals | 8.2 |
| 4 | Pictory | Streamlined for mass video production | 7.8 |
| 5 | Deepbrain AI | Great for professional video creation in a corporate setting | 7.3 |
| 6 | InVideo | Comprehensive editor used by professionals | 7 |
| 7 | HeyGen | Optimized for explainer and marketing content | 6 |
| 8 | Descript | Quick turnaround for multiple videos | 5.7 |
Part 2: Top 8 Efficient Video Editor AI Online in 2023
In the fast-paced world of online videos, having a reliable and efficient video editor is essential. Thanks to advancements in artificial intelligence technology, there are now AI-powered video editors that can significantly enhance the editing process.
We've compiled a list of the top 8 best AI video editors available online in 2023 to help you effortlessly enhance your videos.
HitPaw Online Video Enhancer
HitPaw Online Video Enhancer stands out as one of the best AI video editors available online in 2023.
This tool offers a user-friendly interface with powerful features that elevate your video quality effortlessly. Whether you want to unblur low-resolution videos or upscale them to 1080p or even 4K, this editor has got you covered.
Enhancer Now!
Features:
Upscale your videos to higher resolutions, including stunning 4K quality.
Unblur and upscale your videos with just a single click.
Reduce noise and enhance overall image quality.
Enhance colors, details, and smoothness of animated content.
Refine facial details, improve skin tones, and reduce imperfections in videos featuring people.
To upscale your video to 4K using HitPaw Online AI Video Enhancer, follow these easy steps:
Step 1: Open the HitPaw Online AI Video Enhancer tool.

Step 2: Click or drag your video file into the tool's interface.

Step 3: Select the appropriate AI model that suits your video from options like general denoise, animation, face enhancement, or colorization models.

Step 4: Wait for the tool to process and enhance your video using advanced AI algorithms.

Step 5: Once the enhancement is complete, download your upscaled 4K video with improved visual quality.
Synthesia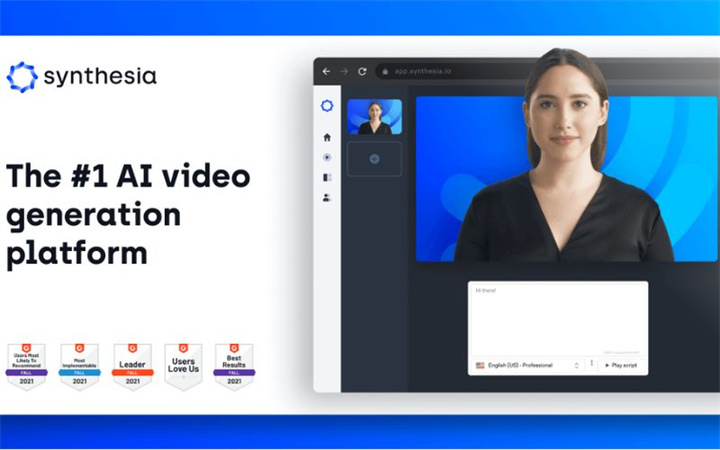 Synthesia is a groundbreaking AI-powered video creation platform that empowers users to create professional-quality videos in just 15 minutes. With Synthesia's cutting-edge technology, turning text into speech in over 120 languages has never been easier.
Features:
AI-powered video creation platform
Quick video creation in 15 minutes
Text-to-speech conversion in over 120 languages
Selection of over 140 diverse AI avatars
No equipment or video editing skills required
VEED.IO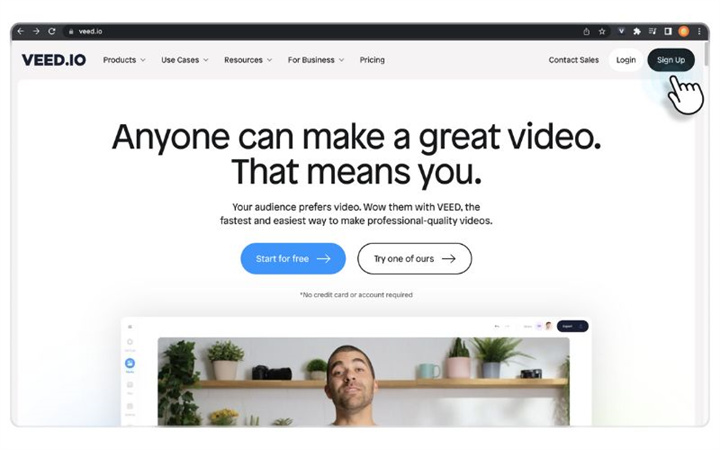 VEED.IO is a powerful and user-friendly online video editing platform designed to simplify the editing process for anyone, from beginners to professionals.
With its intuitive interface and comprehensive set of features, VEED.IO allows you to effortlessly edit your videos, add effects, enhance visuals, and share your creations with ease.
Features:
Easy-to-use editing tools for cropping, trimming, merging clips, and adjusting playback speed.
Precise audio control with volume adjustments and noise removal capabilities.
Intuitive captioning tool for adding captions or subtitles to videos.
Various visual effects and filters, including color grading options.
Pictory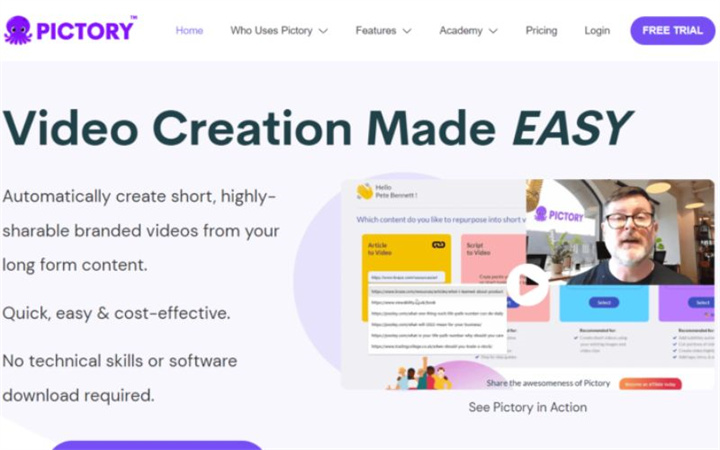 Pictory is a user-friendly video creation platform that allows you to effortlessly produce high-quality videos. With its intuitive interface and customization options, creating engaging videos aligned with your brand has never been easier.
Features:
Script-to-video conversion
Customizable scene settings
Wide range of templates
Extensive media library (images, videos, music tracks)
Deepbrain AI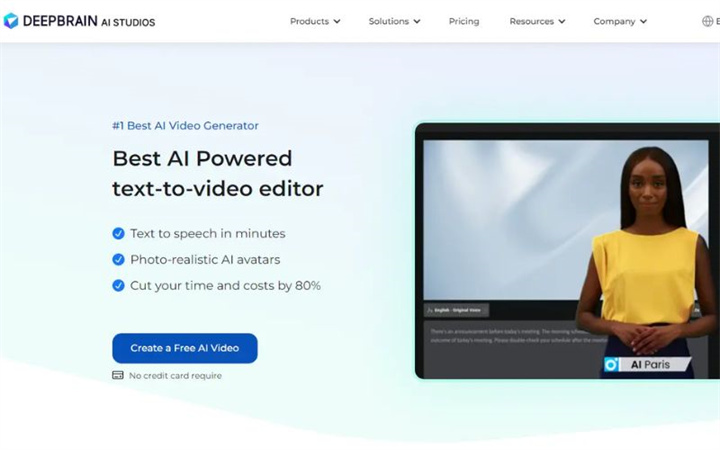 DeepBrain AI is a cutting-edge platform that revolutionizes the field of artificial intelligence. With its advanced technology and user-friendly interface, DeepBrain AI empowers users to harness the power of AI to create personalized and engaging content.
Features:
ChatGPT-powered narrative generation
Scene customization with diverse AI avatars
Text editing and scene management tools
Export options for video or audio files
InVideo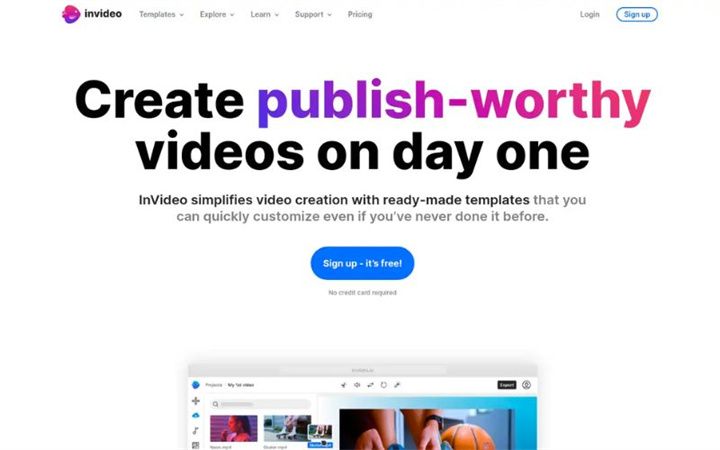 InVideo is a powerful online video editing platform that enables users to create stunning videos with ease. With its intuitive interface and extensive range of features, InVideo has become a popular choice among content creators and businesses alike.
Features:
Extensive library of pre-designed templates for various video styles.
Ability to upload custom media files such as images, audio, or video clips.
Variety of text options including fonts, colors, sizes, and animations.
HeyGen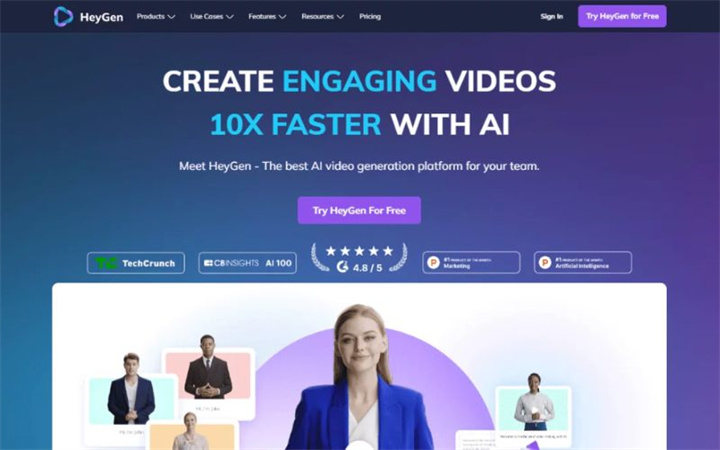 HeyGen is a cutting-edge online platform powered by AI technology that allows users to generate realistic and natural-sounding human-like voices. With its advanced algorithms, HeyGen has become a popular choice for creating voiceovers, podcasts, and other audio content.
Features:
Wide selection of high-quality voice options, including different accents and languages.
Customization options to adjust the tone, pitch, speed, and emphasis of the generated voice.
Text-to-speech conversion with efficient pronunciation accuracy.
Intuitive user interface for easy navigation and seamless workflow.
Descript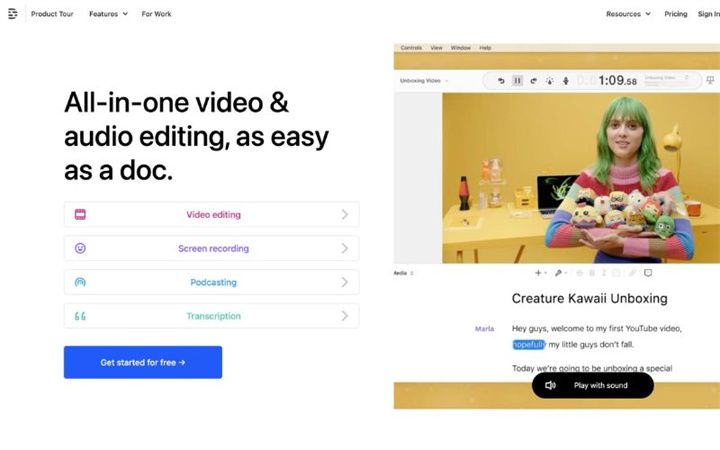 Descript is a versatile audio and video editing software that simplifies the process of creating, editing, and publishing multimedia content. With its unique features and user-friendly interface, Descript has become a go-to tool for content creators, podcasters, and video editors.
Features:
Transcription-based editing allows users to edit text to modify corresponding audio or video.
Text-to-Speech feature offers the ability to generate realistic voiceovers directly from edited text.
Multitrack timeline enables precise control over audio components for seamless mixing and arrangement.
Part 3: FAQs About Video Editor AI:
Q1. How to edit video with AI online?
A1. For online AI video editing, try HitPaw Online Video Enhancer for effortless and high-quality enhancements using AI algorithms.
Q2. Is there an AI that can edit videos?
A2. Yes, HitPaw Online Video Enhancer is an AI-based tool that can automatically edit and enhance videos with its advanced algorithms.
Q3. What is the best free AI tool for video editing?
A3. HitPaw Online Video Enhancer is a highly recommended free AI tool for video editing. It offers advanced features and uses AI algorithms to enhance videos effortlessly without any cost.
Q4. Is there a free online video editor?
A4. Yes, HitPaw offers a free online video editor that allows you to edit videos without any cost. It provides a user-friendly interface and a range of editing features to enhance your videos easily and efficiently.
Final Thought:
The use of AI animation video generators has revolutionized the way videos are created and edited. With tools like HitPaw's online video editor, content creators can effortlessly enhance their videos with AI algorithms, saving time and resources.
The ability to generate animations automatically adds a dynamic touch to videos, making them more engaging and visually appealing. Embracing these AI-powered tools opens up endless creative possibilities for video production while streamlining the editing process.